Smoked New Potato Salad
the Editors of Publications International, Ltd.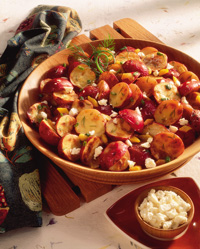 Smoked New Potato Salad
Yield
Makes 6 servings
Ingredients
| | |
| --- | --- |
| 2 | cups hardwood chips |
| | Dill Vinaigrette |
| 2 | pounds new potatoes |
| 1 | medium yellow or red bell pepper, halved |
| 1 | tablespoon olive oil |
| 2 | tablespoons (1 ounce) crumbled feta cheese |
Preparation
Cover hardwood chips with water and soak for at least 30 minutes. (If using wooden or bamboo skewers, soaking in water 30 minutes to prevent burning.) Prepare Dill Vinaigrette; set aside.
Place potatoes in large saucepan and cover with water; bring to a boil over high heat. Reduce heat to medium and simmer 8 to 10 minutes or until crisp-tender; drain and cool. (Potatoes can be prepared ahead and refrigerated for up to 1 day.)
Grill bell pepper halves skin sides down on covered grill over medium coals 15 to 25 minutes or until skin is charred, without turning. Remove from grill and place in plastic bag until cool enough to handle, about 10 minutes; remove pepper skin with paring knife and discard. Chop pepper; set aside.
Cut potatoes into halves and place in medium bowl. Drizzle with oil; stir to coat potatoes evenly. Spray hinged wire grill basket with nonstick cooking spray. Place potatoes in basket, arranging in single layer; close securely. (Or, thread potatoes onto 5 or 6 prepared skewers.) Drain hardwood chips and sprinkle over hot coals. Grill potatoes on covered grill over medium to hot coals 12 to 16 minutes (6 to 10 minutes if using skewers) or until golden, turning once. Remove to serving bowl; add bell pepper and gently stir in dressing. Sprinkle with cheese; mix gently. Garnish as desired.
Nutritional Information
| | |
| --- | --- |
| Calories | 188 |
| Calories from Fat | 28 % |
| Total Fat | 6 g |
| Saturated Fat | 1 g |
| Cholesterol | 4 mg |
| Carbohydrate | 31 g |
| Fiber | 8 g |
| Protein | 4 g |
| Sodium | 93 mg |
Advertisement
Check out more recipes for Salads
Advertisement