Snake Calzones
the Editors of Publications International, Ltd.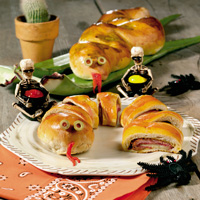 Snake Calzone
Yield
Each snake makes 12 to 14 servings
Ingredients
| | |
| --- | --- |
| 2 | loaves (16 ounces each) frozen white bread dough, thawed |
| 4 | tablespoons mustard, divided |
| 2 | tablespoons sun-dried tomato pesto, divided |
| 2 | teaspoons Italian seasoning, divided |
| 10 | ounces thinly sliced ham, divided |
| 10 | ounces thinly sliced salami, divided |
| 1-1/2 | cups (6 ounces) shredded provolone cheese, divided |
| 1-1/2 | cups (6 ounces) shredded mozzarella cheese, divided |
| 2 | egg yolks, divided |
| 2 | teaspoons water, divided |
| | Red and yellow liquid food coloring |
Preparation
Line 2 baking sheets with parchment paper; spray with nonstick cooking spray. Roll out 1 loaf of dough into 24X6-inch rectangle on lightly floured work surface. Spread 2 tablespoons mustard and 1 tablespoon pesto over dough, leaving 1-inch border; sprinkle with 1 teaspoon Italian seasoning.
Layer half of ham and salami over dough. Sprinkle 3/4 cup of each cheese over meats. Brush edges of dough with water. Beginning at long side, tightly roll up dough. Pinch edges to seal. Transfer roll to prepared baking sheet, seam side down; shape into S-shaped snake or coiled snake (leave 1 end unattached to form head on coil). Repeat with remaining ingredients.
Combine 1 egg yolk, 1 teaspoon water and red food coloring in small bowl. Combine remaining egg yolk, remaining teaspoon water and yellow food coloring in another small bowl. Paint stripes, dots and zigzags over dough to make snakeskin pattern.
Preheat oven to 375°F. Let dough rise, uncovered, in warm place 30 minutes. (Let rise 40 minutes if using a coil shape.) After rising, taper one end of each roll to form head and one end to form tail. Score tail end to form rattlers, if desired.
Bake snakes 25 to 30 minutes. Cool slightly. Use olives for eyes and pepper strips for tongues. Slice and serve warm.
Tip
Snake can be decorated further by using olives for eyes and a salami or red pepper strip for tongue.
Advertisement
Check out more recipes for Kid-Friendly Recipes
Advertisement