Spicy Island Chicken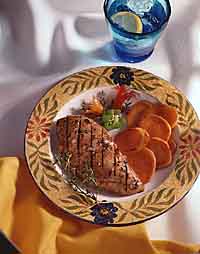 Spicy Island Chicken
Yield
Makes 6 servings
Ingredients
| | |
| --- | --- |
| 1 | cup finely chopped onion |
| 1/3 | cup white wine vinegar |
| 6 | green onions, finely chopped |
| 6 | cloves garlic, minced |
| 1 | habañero or serrano pepper,* finely chopped |
| 4-1/2 | teaspoons olive oil |
| 4-1/2 | teaspoons fresh thyme leaves or 2 teaspoons dried thyme leaves |
| 1 | tablespoon ground allspice |
| 2 | teaspoons sugar |
| 1 | teaspoon salt |
| 1 | teaspoon ground cinnamon |
| 1 | teaspoon ground nutmeg |
| 1 | teaspoon black pepper |
| 1/2 | teaspoon ground red pepper |
| 6 | boneless skinless chicken breasts |
*Habañero and serrano peppers can sting and irritate the skin, so wear rubber gloves when handling peppers and do not touch your eyes.
Preparation
Combine all ingredients except chicken in medium bowl; mix well. Place chicken in resealable food storage bag and add seasoning mixture. Seal bag; turn to coat chicken. Marinate in refrigerator 4 hours or overnight.
Spray cold grid with nonstick cooking spray. Adjust grid to 4 to 6 inches above heat. Preheat grill to medium-high heat.
Remove chicken from marinade. Grill 5 to 7 minutes per side or until chicken is no longer pink in center, brushing occasionally with marinade. Do not brush with marinade during last 5 minutes of grilling. Discard remaining marinade.
Serving Suggestion
Serve with grilled sweet potatoes.
Nutritional Information
| | |
| --- | --- |
| Serving Size: | 1 chicken breast |
| Calories | 164 |
| Calories from Fat | 27 % |
| Total Fat | 5 g |
| Saturated Fat | 1 g |
| Cholesterol | 69 mg |
| Carbohydrate | 3 g |
| Fiber | 1 g |
| Protein | 26 g |
| Sodium | 256 mg |
Check out more recipes for Island