When it comes to backyard barbeques, preparing meals outdoors is part of the fun, so why head inside when it's time for dessert? Many of your favorite sweets can be cooked right on the grill, meaning you get to spend more time with friends and family. Grilling can also help bring out new flavors and textures in fruit-based desserts and other sugary treats, so classic recipes will be even sweeter. These 10 grilled desserts will keep you out of the kitchen and help you create the perfect ending to your next summer cookout!
All you need to make the dessert on the next page is a grill, a pan, fresh fruit and chocolate.
With a cast iron skillet or pan, you can create a fun, delicious dessert without ever going near the stove. For a fast and easy fondue, heat up prepared toppings usually used on ice cream -- think hot fudge or caramel -- and serve with a variety of bite-sized dippers, like fresh strawberries, brownie bites and crisp apple wedges. You can also melt bags of semisweet chocolate chips, or use morsels made from white chocolate or butterscotch to add a little variety to your grilled dessert feast. The pans and skillets you use for indoor cooking can get scorched and discolored on a hot grill, so use disposables or have a set of cookware reserved just for grilling.
As gourmet cupcake shops continue to sprout up across the country, the cupcake craze shows no signs of slowing down. In fact, these pint-sized treats are more popular than ever and are sure to please any summer barbeque crowd. Grilling lends a unique texture to cupcakes that simply can't be achieved by baking them in the oven, and best of all, the technique can be used with virtually any of your favorite recipes.
Whip up a batch of homemade batter, or keep things easy with a boxed cupcake mix. Drop spoonfuls of the mixture into a standard cupcake tin, then place it on a cookie sheet for even grilling. To give your desserts a fruity twist, try this recipe, which substitutes an orange peel for the standard paper liner.
You don't have to turn on the oven during the summer to cook dessert for your brood. Keep the heat outdoors where it belongs by preparing your pies and cobblers on the grill. This skillet method of baking isn't so different from the way the settlers did it, and fruity cobblers and crumbles lend themselves well to grilling. You can probably even modify your own favorite recipes for the grill. Just keep these things in mind:
Cook on medium, indirect heat.

Use an 8- to 10-inch cast iron skillet. It will absorb the heat and distribute it evenly.

Don't drape crusts over the edge of the skillet. Instead, tuck them inside.

Cook on a covered grill.

Rotate the skillet halfway through cooking.
Pile heaping spoonfuls of hot cobbler on a plate, then pair with ice cream or a fruity sorbet.
Put a new twist on the classic banana split with a sundae made using a grilled banana. To prepare this sweet treat, cut a slit down the length of a fresh banana, then wrap it in foil and place it on the grill until it's soft and warm. Spoon vanilla ice cream into the opening so that the peel serves as the dish. Top with hot fudge, caramel sauce, sprinkles and nuts.
For an easy variation on the banana sundae, try cutting grilled bananas into slices and topping with drizzled chocolate or caramel. Serve with whipped cream, and don't forget the cherry!
Summer cookouts and hot apple pie seem to go hand in hand, so why not combine the two with a grilled skillet pie? Start with a heavy cast iron skillet, then add a premade pie crust before loading the pan with your favorite filling. Almost any traditional pie recipe will work, or you can experiment to find combinations that are just right for the grill.
Need some ideas? Take advantage of summer's bounty with a pie loaded with fresh apples, peaches or berries. If you prefer a slightly more decadent dessert, try a chocolate pecan pie for the ultimate in melted, gooey sweetness. Keep an close eye on your dessert as it cooks, however, as heating times vary based on the type of grill you're using. Slice and serve with scoops of ice cream or finish with a tall, cold glass of milk.
Looking for a grilled dessert that's hearty, filling and seriously delicious? Build a DIY sweet sandwich bar, right in your own backyard. If you're wondering how a sandwich could possibly qualify as dessert, picture grilled bread stuffed with sweet fillings like Nutella, marshmallow cream, peanut butter, cream cheese, honey and cinnamon. Combine these ingredients with fresh strawberries, sliced bananas and other fruits, then smush them between slices of thick ciabatta or cinnamon raisin bread before placing them on the grill. Once the ingredients inside have melted and the bread is crispy and golden, sprinkle each sandwich with powdered sugar or serve with a generous dollop of whipped cream.
S'mores have long been a favorite dessert for folks sitting 'round a campfire. Fortunately, a hot grill can easily do the job of melting marshmallows even when there's no fire in sight. Spear marshmallows on wooden or metal skewers, then hold them over the grill until you achieve just the right blend of gooey center and toasted outer shell. Sandwich the marshmallows between two graham crackers, and add a square of chocolate or two to create a sticky, sugary treat. Add a unique twist to this dessert by replacing the chocolate with a peanut butter cup or swapping the graham crackers for a pair of chocolate chip cookies.
Dessert pizza is the ultimate in anything-goes sweet treats for the grill. Start with a premade pizza crust or flatbread, then brush it with melted butter or oil before piling on the toppings. Go gourmet with a fruit and cheese combination, or if you prefer more traditional desserts, keep things simple with cinnamon, sugar and melted butter for a sweet, French toast-style dish. You can also add chocolate or caramel sauce, chopped fruit, chocolate chips or your favorite bite-sized candies. Line the top of the grill with foil before cooking, or place your pizza on a cookie sheet for even, consistent grilling.
Grilled fruit serves as a healthy and refreshing summer dessert, and when it's prepared correctly, it can be as beautiful as it is delicious. Pineapple slices, mango pieces and even strawberries grill well and can be served with sweet dipping sauces. You can also grill stuffed fruits, like apple or peach halves filled with brown sugar, cheese, nuts or berries.
To create a colorful fruit medley, make kabobs using small wooden skewers. Strawberries, mangos, pineapples, apples and peaches work well, but experimenting with different summer fruits can be part of the fun. Add a warm honey glaze and serve with whipped cream or a scoop of your favorite sorbet.
With virtually unlimited serving options and a thick, hearty texture that holds up well on the grill, pound cake might just be the perfect dessert for summer barbecues. Mix up a batch of your favorite batter and bake from scratch on the grill, or save time with a prebaked cake from the grocery store. Cut thick slices and lay them on the grill until they are toasted to perfection, then dress them up with delicious toppings and extras. Create strawberry shortcake by adding fresh whipped cream and sliced berries, or drizzle the warm cake with chocolate syrup. Serve with fruit on the side, or add a scoop of fruity sherbert or sorbet to create a refreshing summer treat.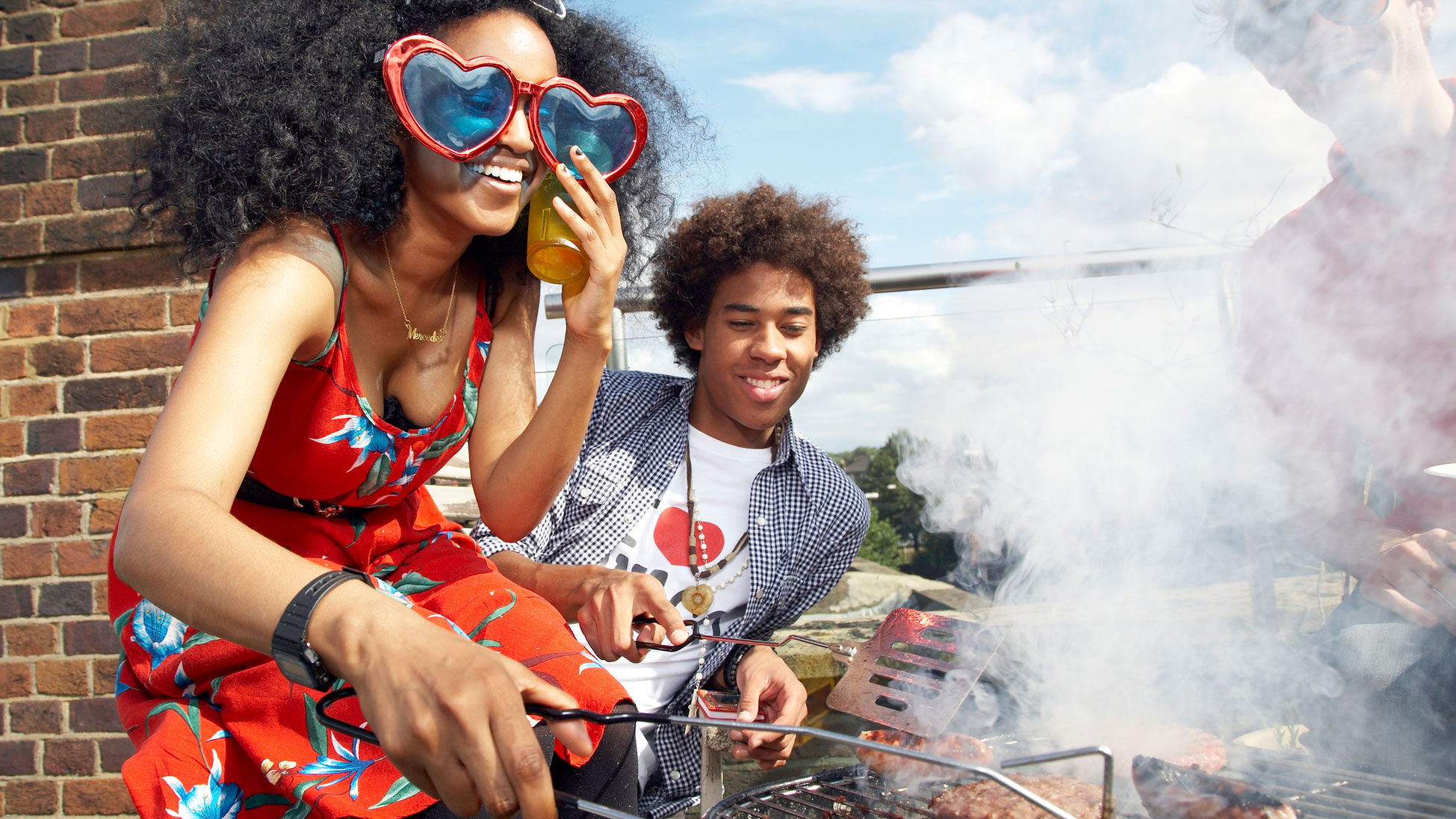 Up Next
Barbecue season is upon us in all its mouth-watering glory. What's your BBQ IQ? Find out with this quiz.
---
Related Articles
Sources
Girl Scouts of the United States of America. "National S'mores Day." Aug. 10, 2007. (Jan. 18, 2012) http://blog.girlscouts.org/2007/08/national-smores-day.html

Hughes, Chris. "Try Grilling Dessert This Summer." NWF Daily News. May 27, 2009. (Jan 18, 2012) http://www.nwfdailynews.com/articles/grill-17699-sugar-tablespoons.html