Memphis might be called the birthplace of the grilling and barbecue rub, in the same sense that it's the home of the blues and the home of rock 'n' roll. If the technique didn't originate there, its popularity did.
Legend credits one man and one restaurant: Charlie Vergos and the Rendezvous. Vergos was the son of Greek immigrants. His rub recipe evolved from traditional Greek seasonings his grandfather used to make chili and the Cajun cooking he discovered in Louisiana.
The Rendezvous recipe is by no means the only one in town, of course -- not when the city boasts 100 barbecue joints or more. This recipe is a round-up of the best of the local flavor.
1/4 cup paprika

2 T. packed brown sugar

1 T. onion powder

1 T. garlic powder

2 tsp. ground black pepper

1 1/2 tsp. celery seed

1 tsp. oregano

1 tsp. cayenne pepper

1 tsp. chili powder
Related Articles
Sources
Ashby, Andrew. "This Little Piggy Went to Memphis." Memphis Daily News. May 15, 2006. (June 17, 2010) http://www.memphisdailynews.com/editorial/Article.aspx?=30255

Brown, Alton. I'm Just Here for the Food. Stewart, Tabori & Chang. New York: 2002.

Encyclopaedia Britannica 2010. "William Cowper." Encyclopaedia Britannica Online. (June 15, 2010) http://www.britannica.com/Ebchecked/topic/141302/William-Cowper

California Barbecue Association. "BBQ FAQ: Rubs." July 22, 2007. (June 8, 2010) www.cbbqa.org/wiki/index.php?title=BBQ_FAQ:_Rubs

Childress, Tricia. "Eating High on the Hog in Charlotte." Creative Loafing. Oct. 14, 2008. (June 15, 2010) http://charlotte.creativeloafing.com/gyrobase/eating_high_on_the_hog_in_charlotte/Content?oid=376506

DeWitt, Dave, and Chuck Evans. "Chipotle Flavors: Smokey Chiles Basics." Fiery-Foods.com. (June 16, 2010) http://www.fiery-foods.com/cooking-with-chiles/143-chipotle-flavors/93-pepper-profile-chipotles

DeWitt, Dave, and Chuck Evans. "Pepper Profile: Ancho/Poblano." Fiery-Foods.com. (June 16, 2010) http://www.fiery-foods.com/pepper-profiles/151-capsicum-annuum-specieismost-common-varieties/92-pepper-profile-anchopoblano

Edge, John T. "Charlie Vergos, Memphis Barbecue King, Dies." New York Times. March 30, 2010. (June 10, 2010) http://dinersjournal.blogs.nytimes.com/2010/03/30/Charlie-vergos-memphis-barbecue-king-dies/

Global Gourmet. "Global Destinations: Jamaica." January 2007. (June 7, 2010) http://www.globalgourmet.com/destinations/jamaica/jamjerk.html

High, Lake E., Jr. "A Very Brief History of the Four Types of Barbeque Found in the USA." (June 15, 2010) http://www.scbarbeque.com/History.html

Kagan, Sarah. "Marinades, Rubs, and Sauces: Recipes and Tips." Epicurious.com. (June 8, 2010) www.epicurious.com/articlesguides/holidays/grilling/rubsandsauces

Penzeys Spices. "Chipotle Peppers." (June 10, 2010) http://www.penzeys.com/cgi-bin/penzeys/p-penzeyschipotle.html

Vergos, Nick. Tennessee Barbecue Project. Southern Foodways Alliance. Oct. 12, 2002. (June 10, 2010) http://southernfoodways.com/documentary/oh/tnbbq/memphis/rendez_vous.shtml

Vergos, John. Southern BBQ Trail. Southern Foodways Alliance. July 2, 2008 (June 10, 2010) http://southernbbqtrail.com/tn/rendez/rendez.shtm

What'sCookingAmerica.net. "Questions and Answers: What Is Ancho Powder?" (June 10, 2010) http://whatscookingamerica.net/Q-A/AnchoPowder.htm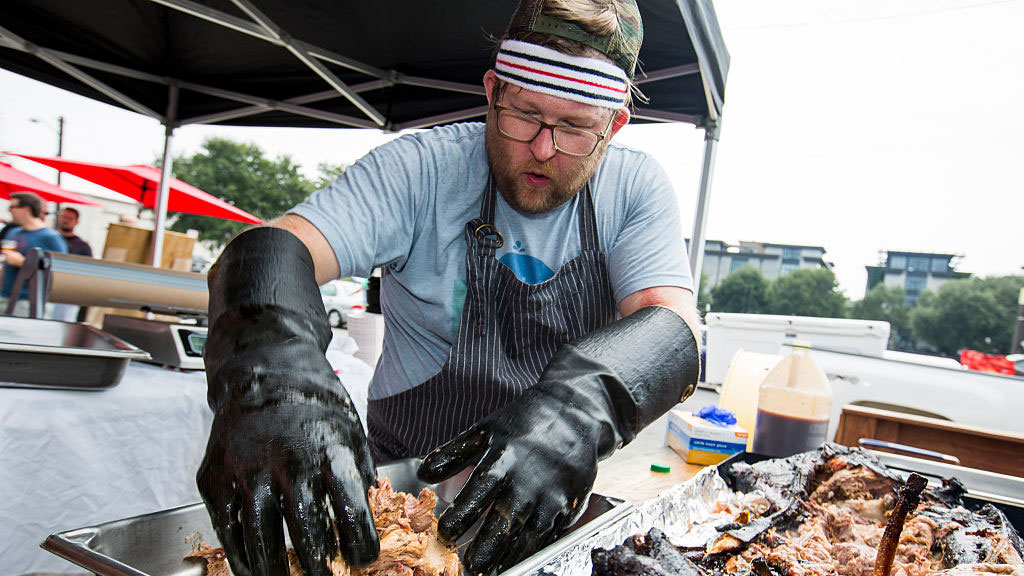 Up Next
Come with HowStuffWorks on a mouthwatering-journey through the history, politics and techniques of barbecue.
---