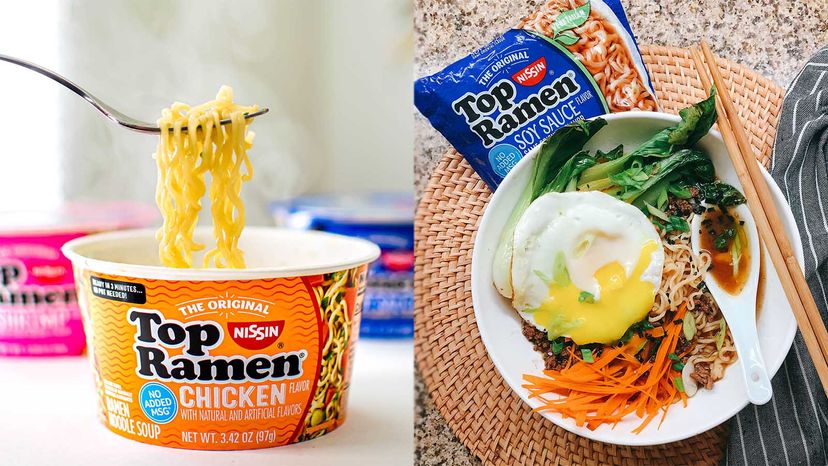 Who among us hasn't dined on a cheap bowl of ramen noodles — you know, the kind you plop in a boiling pot of water and 180 seconds later eat steaming hot? If you didn't practically survive on the stuff in your 20s, well, you must have won the lottery (or at least been quite the budding chef).
One of the most recognizable instant ramen noodle brands is Nissin; we can thank them for cheap eats like Cup Noodles and of course the original Top Ramen. They were created by Taiwanese-born Momofuku Ando. Influenced by the food shortages following World War II in Japan, Ando spent a year working in his backyard shed to bring the people a delicious and affordable noodle dish they could make quickly. Ando officially released "Chikin Ramen" in Japan in 1958, sparking a noodle revolution.
Just 10 years later while visiting the U.S., Ando learned most Americans didn't own chopsticks or even the appropriate bowls to properly enjoy ramen. Instead they were eating forkfuls of the stuff from cups. That's when a lightbulb went off and Ando created Cup Noodles and established itself as a brand in America in 1970.
That was 50 years ago, and in honor of this milestone anniversary, Nissin is officially on the hunt for its first "chief noodle officer." If this sounds like the dream job to conquer all dream jobs, all you have to do is share your tastiest ramen recipe on social media using the hashtag #HowDoYouTopRamen.
"Nissin is proud of our place in history and all that we've done too bring new innovations and delicious Top Ramen products to people across the U.S. for the past 50 years," Mike Price, CEO of Nissin Foods USA, said in a press statement. "The Chief Noodle Officer is the perfect way to celebrate this important company milestone. If you're a noodle fanatic or self-proclaimed ramen recipe guru, this dream job is for you."
"Top Chef All-Stars: Los Angeles" Season 17 winner Melissa King has been tapped to judge submissions from ramen devotees and to decide who will be crowned chief noodle officer.
"Anyone can be chief noodle officer. The only skill required is creativity." King says in an email. "I'll be judging this individual's innovation and ability to make their bowl of ramen stand out from the rest!" King adds that the contest came about when Nissin was looking for inventive ways to help the Top Ramen family grow.
So what comes along with chief noodle officer position? Well, you'll get the chance to sample all the new flavors of ramen before they're released to the public; a mentorship with Nissin CEO Mike Price; and $10,000. Oh yeah it also comes with 50 years' worth of ramen noodles.
Applicants must be at least 18 years old, be a U.S. citizen, hold "oodles of passion for noodles," and be willing to use their lifetime supply of ramen to help develop recipes and offer product feedback.
Whip up your wildest instant ramen recipe (pro tip: chili ponzu sauce topped with an egg) post a pic of social and tag #HowDoYouTopRamen. Naturally, the search began on National Noodle Day, which fell on Oct. 6 this year, and runs until Oct. 30.