Valentine Surprise
the Editors of Publications International, Ltd.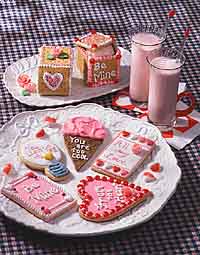 Top to bottom: Valentine Surprise, Valentine's Day Cookie Cards
Yield
Makes 6 servings
Ingredients
| | |
| --- | --- |
| | Pink and white decorating icings |
| 18 | whole plain graham crackers or chocolate-flavored graham crackers |
| 6 | scoops (about 1/2 cup each) strawberry-flavored ice cream or frozen yogurt |
| | Assorted valentine candies, jelly beans or small fresh flowers |
| | Pastry bags and assorted decorating tips |
| | 1/2-cup ice cream scoop (optional)* |
*If you don't have an ice cream scoop, simply measure out 1/2 cup of ice cream and place on graham cracker halves as directed.
Preparation
Spoon icings into pastry bags fitted with decorating tips; set aside.
Break graham crackers crosswise in half. Place 1 scoop ice cream in center of each of 6 graham cracker halves.
To form sides of each box, stand 1 graham cracker half along each of the 4 sides of each graham cracker half topped with ice cream. Pipe icing along seams to secure. Tops boxes with 6 graham cracker halves; pipe icing along remaining seams.
Place boxes in freezer; freeze 1/2 hour. Remove boxes to work surface. Decorate boxes as desired with icing and candies, using icing to secure candies. Freeze until ready to serve.
Advertisement
Check out more recipes for Valentine's Day
Advertisement