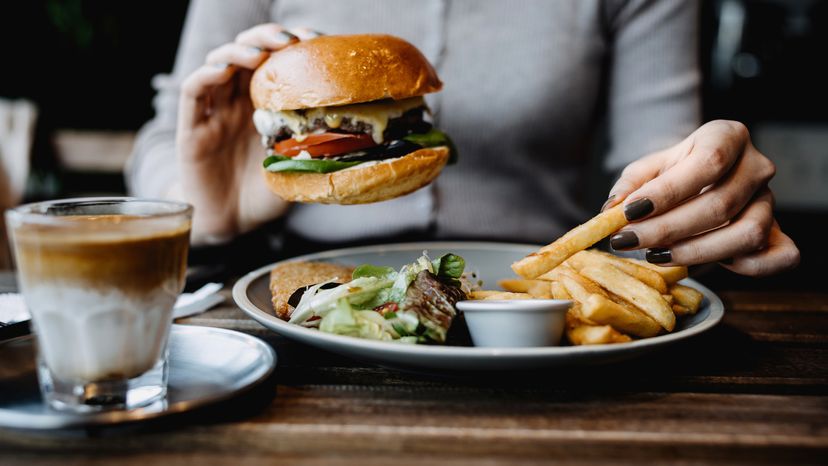 Olestra is a fat substitute. It is found in a number of snack foods, from potato chips to frozen desserts. In these products, you'll find it in the ingredient list under its brand name, Olean.
Chemists create olestra by combining two naturally occurring substances, sucrose and vegetable oil, to form a molecule that is not found anywhere in nature. Yet the resulting synthetic molecule tastes just like real fats do! Fat is what makes candy bars and french fries so filling (and fattening). With olestra, you get the taste of the fat without any of the calories of the fat, because your body has no way to digest olestra.
So what makes a molecule of olestra indigestible? If you have read How Fats Work, you know that a typical fat molecule is essentially three long molecules made of carbon and hydrogen hooked together (see How Fats Work for details). In olestra, there are six to eight chains instead of three. These extra chains make olestra's molecular structure much different from that of the typical fat molecule. The reason that your body cannot digest olestra is similar to the reason that your body cannot digest wood (see How Food Works for details). A cellulose molecule is too long for your stomach to process because your stomach lacks the right enzymes to handle it. Olestra is the same way. Olestra simply passes through your stomach and intestines unchanged. Olestra chips have calories from the potatoes, corn or other foods they contain, but no calories from the olestra (unlike a normal chip that contains 9 calories for every gram of fat).
Here are the nutrition labels from a bag of regular full-fat potato chips and from a bag of chips made with olestra: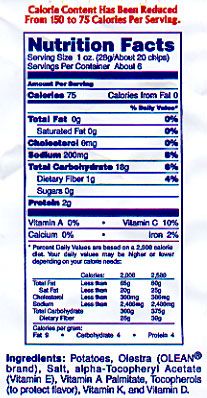 Many scientists and doctors are worried about whether olestra is safe for people to consume. They originally wanted the Food and Drug Administration (FDA) to reject Procter & Gamble's petition to market a line of foods containing it. One big fear is that eating olestra may lead to nutritional deficiencies. Fats normally bind to the fat-soluble vitamins A, D, E, and K in your intestines, and when your body absorbs the fat, these essential vitamins come along for the ride. The same vitamins also stick to the fake fat, olestra. Instead of being taken up into the body, they are excreted, unused, with it. If you consume excessive amounts of olestra-containing foods, you may not get enough of these important vitamins in your diet.
Vitamin deficiency can have serious consequences. Vitamin D, for example, is involved in calcium metabolism and bone formation. An older woman who eats too much olestra could be at an increased risk of fracturing her already fragile bones! Because of potential problems like these, any food containing olestra must have vitamins A, D, E and K added.
Olestra may also deprive the body of an important family of nutrients called carotenoids. There are about 500 different carotenoids. These red, yellow and orange pigments give fresh fruits and vegetables their color, and they're also found in green leafy vegetables. A lot of evidence suggests that these nutrients may protect you against heart disease, prostate cancer and degeneration of the macula, the part of your eye that lets you see fine details like newsprint. In clinical studies, people who ate olestra had reduced carotenoid levels in their blood. However, since researchers still aren't quite sure how (or even if) carotenoids might prevent these diseases, it's hard to say whether olestra's effect on carotenoid levels is harmful to health.
Olestra also has one drawback common to many indigestible substances like dietary fiber or cellulose. These substances simply pass straight through your system, so eating too much at once can cause you some problems. Procter & Gamble has this to say about potential problems with olestra:
The vast majority of people can thoroughly enjoy snacks made with Olean cooking oil, and will not notice any effects. In fact, a recent study published in the Journal of the American Medical Association (January 14, 1998) found that people eating Olean chips report no more digestive symptoms than those eating full-fat chips in a single sitting. A nationwide survey conducted before Olean snacks were ever sold found that 41 percent of people reported one or more digestive symptoms within the month prior to the survey. This shows that digestive effects are very common, and can have many causes. Of course, eating too much of any food may cause stomach upset. Olean is a replacement for fat, not for common sense.
Here are some interesting links: