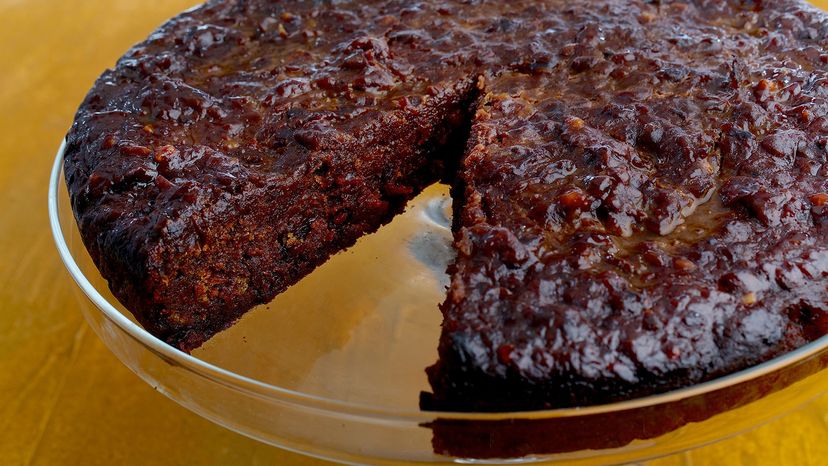 Black cake is served at Christmas in households all over the Caribbean.
Deb Lindsey for The Washington Post via Getty Images
All across the English-speaking Caribbean, the Christmas treat known as black cake is such a cherished and anticipated tradition that preparations for next year's cake often start on New Year's Day. That's because one of the distinctive ingredients of this dense, spiced cake is an assortment of dried fruits — raisins, currants, prunes and citrus peel — steeped for months in a boozy bath of rum, wine and/or cherry brandy.
Black cake goes by many names: Jamaican Christmas cake, Caribbean fruitcake, rum cake, etc., but whatever you call it, know that it has little in common with American-style fruitcake.
Black cake is a revolution of its own, a distinctly Afro-Caribbean twist on an old-school British baking tradition that includes English plum puddings and dense European fruitcakes. Black cake is also the traditional wedding cake in the Caribbean.
We spoke with Candice Goucher, professor emerita of history at Washington State University and author of "Congotay! Congotay! A Global History of Caribbean Food," to learn more about the origins of black cake and why you can't celebrate a legit Caribbean Christmas without it.
Colonial History in a Cake
Tucking into a slice of black cake is like eating a piece of Caribbean colonial history. In the 17th and 18th centuries, more than a dozen Caribbean islands were part of the British West Indies, a colonial outpost built on a lucrative sugar industry powered by enslaved African labor.
Life on a sugar plantation was brutal and cruel. To quell rebellion and release social pressures, plantation owners would hand out rations of rum, a potent alcoholic beverage made from fermenting the sweet juice pressed from sugar cane.
On Christmas, New Year's and Easter, the rum flowed freely and role-reversal rituals took place, including the temporary swapping of "master" and "slave." During at least two of these holiday bacchanals, the enslaved laborers decided not to return to their original oppressed roles. The Barbados slave revolt of 1816 happened during Easter and the monumental Jamaican slave revolt of 1831-1832 (also known as the Baptist War) started during Christmas.
The British introduced the tradition of English plum puddings which were often soaked in brandy to preserve them on the long sea voyages. But in the Caribbean, brandy was replaced with the more-available rum.
"Black cake itself has been described as something between an English plum pudding and a pound cake, but it's much more than that," says Goucher.
The signature ingredient in black cake (beside the rum) is a jet-black syrup called "browning" made from burnt sugar that is similar to molasses. It's a staple of Caribbean cuisine that lends sweetness and depth to both savory dishes like chicken, and desserts. In black cake, browning is the star.
"It gives the cake an almost bittersweet caramel flavor and that darker, more nuanced flavor is what makes black cake so unique," says Goucher. "It tastes much more like a really moist chocolate cake as opposed to a fruitcake."
A Dessert You Can Drink
In the days before refrigeration, alcohol and sugar were two proven ways to preserve a dessert. The traditional English plum pudding was meant to be eaten a full year after it was prepared, the dried fruits and other ingredients preserved by generous amounts of cognac, brandy, sherry and port. If a plum pudding or other fruit-filled Christmas cake is at risk of drying out during its long incubation period, it is "fed" with a few more douses of booze to keep it moist.
The same is true of black cake. The dried fruits are soaked for months or up to a year in rum and cherry brandy until they are fully infused with alcohol. Then the rum-saturated fruits are either lightly ground or fully blended (depending on whether you prefer a cake-like or pudding-like texture) to add to the cake's dark color and incredibly rich flavor. Hard sauce or whiskey sauce makes a nice accompaniment to the cake.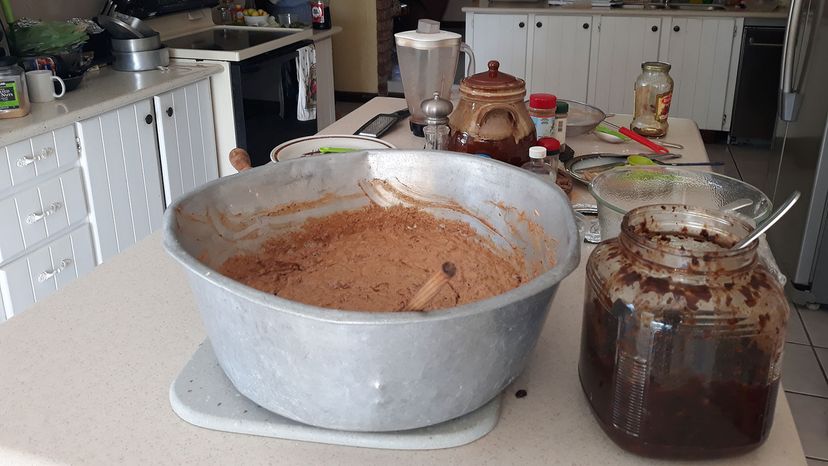 A jar of soaked fruits sits next to the batter for a Jamaican Christmas cake or black cake.
Kathryn Whitbourne
Christmastime in the Caribbean means visiting family and friends in their homes and having a thin slice of rich and boozy black cake along with a glass of sorrel (a red drink made with the leaves of the sorrel or red hibiscus plant). Any leftover cake is generously fed with rum and kept moist for the next guests. In fact, a home baker may make several cakes to give some as gifts or just to make sure there is enough to last for the Christmas season.
"In Caribbean culture, rum is intimately connected to the rituals of remembrance," says Goucher, "and that's what the Christmas season is all about. It wouldn't be Christmas in the Caribbean without that dense, fruity, complex, dark, spicy, full-of-rum cake."
Make Your Own Black Cake
Making your own black cake from scratch takes some serious dedication and advanced planning. While many Caribbean bakers soak their dried fruit in rum for a whole year, you'll at least want to soak the fruits for a few weeks. (If you're out of time, a cheat is boil the fruit in some rum and/or sherry for five minutes, cool it and refrigerate it overnight. You'll get an approximation of the right taste.)
And then there's browning, the signature syrup made from burnt sugar. You can buy bottles of premade browning, like the popular brand Grace, or you can make it yourself. The recipe is simple, just two cups of granulated sugar and a cup of water, but it takes a practiced hand.
To make browning, the sugar is cooked in a heavy-bottom pot over medium heat until it begins to liquefy and caramelize and take on a dark brown hue (it can get smoky, so turn on the oven fan and open some windows). Right before the sugar turns from brown to black, take the pot off the heat and carefully mix in hot water (cold water will make the sugar harden back up).
There are countless recipes for black cake (and every Caribbean-born person will tell you that their mother's is the absolute best), but this one from The New York Times uses both dark rum and Passover wine for added sweetness.
The key, says Goucher, is in the final step, when you mix in the ground fruits and browning into the cake batter.
"You don't want it to be brown," she warns. "You want it to be black."
HowStuffWorks earns a small affiliate commission when you purchase through links on our site.