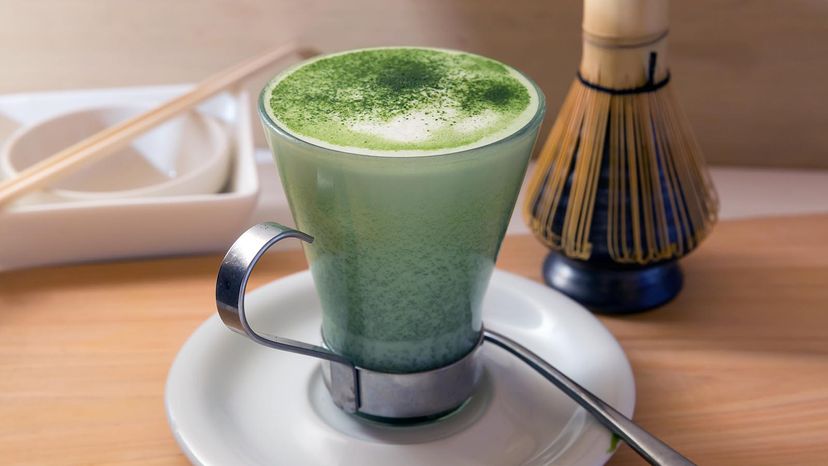 If it seems like matcha green tea is everywhere, that's because it is. The powdered green tea is the cool kid in the tea aisle, lauded for everything from its shamrock color and herbal flavor to a dazzling spectrum of health benefits.
Drinking matcha became popular with 11th century Zen Buddhist monks trying to stay awake for all-night prayers. Then the samurai started sipping it before battle. World-class matcha grows in Uji, Japan, near Kyoto, so matcha is that city's unofficial flavor. You'll find it in the serene traditional tea service at the Arashiyama Bamboo Grove and in the green tea Kit Kats at the train station.
Matcha is ubiquitous in the U.S. too. Hipster Brooklyn pie shop Four & Twenty Blackbirds is whipping Japanese Ippodo matcha into a $42 verdant custard pie. And even Dunkin' Donuts now serves hot and cold matcha lattes.
So how did Americans come to embrace this ancient green tea? And is it truly a wonder drink that can help us think more clearly, lose weight and fight off cancer?
The matcha craze started simmering in 2015, and we have actress, wellness influencer and goop founder Gwyneth Paltrow to thank. It really exploded in the U.S. when Paltrow posted a picture on her Instagram, says Anna Kavaliunas, a health coach and co-author of "Matcha: A Lifestyle Guide". Paltrow called her Chalait matcha latte a "dreamy new discovery."
The post sparked 21,000 likes — and a lot of curiosity. The Kermit the Frog color made it "so Instagrammable," says Kavaliunas. "It was the peak of the wellness craze with powders and tonics and meditation. All this stuff was booming."
Soon, lots of people were trying matcha. Some were just being trendy. But others, who can't tolerate coffee's taste or caffeine jolt, tried matcha and liked it.