Who doesn't love going out for a fancy meal? Making reservations, dressing up nice and enjoying an incredible meal prepared by a talented chef -- dinner out can be a real feast for the senses.
With so many of us on tight budgets these days, though, going out to eat is a rare occurrence. As we try to save money, we cut some luxuries and stay home instead. But fear not, foodies -- we have some good news for you. With just a little know-how, you can enjoy restaurant quality meals right at home without breaking the bank. Keep reading to find out how, and bon appétit.
You need good tools to build a good meal. Every chef worth his or her salt knows there are certain tools one can't live without. Here are the basics for a functional kitchen. 
Remember, you don't need to buy all top-of-the-line equipment for your kitchen. However, one thing you should splurge for is a good knife. The right knife will last you many years. Choose a stainless steel chef's knife that fits your grip well and won't rust.
If you want to cook like a chef, you should also have the following on hand: 
Immersion blender (more convenient than a regular blender)

Cheese grater/zester (look for a multi-surface tool)

Saucepans

Skillets (regular and nonstick)

Vegetable steamer

Dutch oven

Measuring cups/spoons

Sturdy cookie sheets and cake pans

Casserole dish (preferably glass)

Tongs (to protect meat or fish when flipping)

Thermometer (look for "instant-read")
4
Use the Best Ingredients You Can
Good food comes from good ingredients. Buy the best you can afford. Shop the farmer's market to get the freshest local produce and eggs. Chefs advise buying vegetables with leaves and roots still attached -- that way you know they are fresh. Don't forget your herbs, either. Dried herbs don't come close to matching the same earthy flavors as newly picked.
When shopping for meat, always get the best cut you can find. The United States Department of Agriculture (USDA) grades beef on eight levels. However, you should use only the top three -- prime, choice or select. Make sure the USDA stamp appears on the meat's label to ensure you're getting a quality cut. Look for a nice marbling effect.
If you're really going for that fine dining taste, be prepared to temporarily step away from your diet. Buy full-fat butter, cream and cheese. The fat is where the flavor is! And speaking of flavor, don't forget to buy high-quality olive oil.
3
Make Friends with Your Spice Rack
Why do we enjoy restaurant food so much? The flavor. Our favorite establishments serve dishes with big, bold flavors that keep us coming back for more. Here are a few ways to add zest and flavor to your home-cooked meals.
Spices and herbs give your dishes an international flair and unique essence. Check out some popular cuisines and their associated flavors:
Caribbean -- nutmeg, allspice, ginger

French -- rosemary, tarragon, thyme, marjoram

German -- nutmeg, mace

Indian -- cumin, tumeric, coriander, pepper, saffron, cinnamon

Italian -- garlic, onions, parsley, peppercorns

Latin -- cumin, onions, Mexican oregano

Scandinavian -- cardamom
[source: Real Simple]
Besides pleasing your palate, herbs and spices benefit your body in other ways. They contain antioxidants, minerals and vitamins. Spices naturally rev up your metabolism, too. And using more spice helps you use less salt, which is great news for your blood pressure. So spice up your life!
2
Technique, Technique, Technique
Most chefs go to school for years to perfect their cooking styles. Master the following techniques at home and you'll find yourself succeeding at any recipe that comes your way.
Browning/searing

Making a pan sauce

Making a roux

Making a vinaigrette

Grilling

Sautéing

Roasting

Braising

Poaching

Broiling

Blanching vegetables

Making stock
Home chefs should also learn proper knife skills. Knowing which knife to use in which situation makes the cooking experience more efficient as well as safer for your fingers. It's also a good idea that you learn how to cut up a whole chicken. You'll use all the different parts of the chicken, and it's also much cheaper to buy a whole chicken than to buy individual pieces. You should also learn how to make perfect pasta and rice, as they are staples of many meals.
You can find instructions on these techniques in any good cookbook or online. Or perhaps your community offers cooking classes.
1
Prep and Plate Like a Pro
Fine dining isn't solely about flavors and taste. It's about the overall sensory experience. Even the most plain, everyday meal feels more exciting when served with good silver, on fine china and by candlelight. It doesn't take much to make your meals a feast for the eyes as well as the stomach.
Start by setting a proper table. Use the good dishes, cloth napkins and stemware for your drinks. When plating the actual meal, keep these tips in mind:
Your plate should be big enough so the food isn't crowded, but not so big that the portions look tiny.

Use neutral or white-colored plates to let the colors of the food stand out.

Experiment with height and placement -- make a mound of rice instead of a pile. Lean your protein against it.

Put the sauce under the meat instead of on top. The meat looks more appetizing and the sauce adds a nice contrast.

If you use garnish, use only edible and complimentary items, like a bright yellow lemon wedge for salmon.

Try some artistic techniques, like using a small offset spatula to artfully smear sauce across the plate.

Wipe the rim of the plate before serving to remove any stray drops of sauce or food.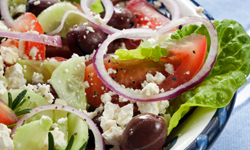 Up Next
Are you looking for some salad recipes that save you money? Check out this article and get 5 salad recipes that save you money.
---
Related HowStuffWorks Articles
Sources
"Back to Basics: Martha's Cooking School Lessons." MarthaStewart.com. 2009. (July 21, 2009) http://www.marthastewart.com/photogallery/cooking-school-lessons?lnc=a9e6cafb74ece010VgnVCM1000003d370a0aRCRD

Bockleman, Christine. "10 Things Your Restaurant Won't Tell You." Smart Money. May 3, 2007. (July 21, 2009) http://articles.moneycentral.msn.com/SavingandDebt/ConsumerActionGuide/10ThingsYourRestaurantWontTellYou.aspx

Braverman, Eric. "20 Anti-Aging Herbs and Spices to Add to Your Diet Now." AlterNet. Dec. 24, 2008. (July 21, 2009) http://www.alternet.org/healthwellness/114694/20_anti-aging_herbs_and_spices_to_add_to_your_diet_now/

Chapelle, Emily. "Seven Ways to Present Food Like a Chef." StartCooking.com. 2009. (July 21, 2009) http://startcooking.com/blog/416/Seven-Ways-to-Present-Food-Like-a-Chef

Fletcher, Janet. "STOCK TIPS: Chefs offer their do's and don'ts for making this essential base." SFGate.com. Oct. 31, 2007. (July 21, 2009) http://www.sfgate.com/cgi-bin/article.cgi?f=/c/a/2007/10/31/FD0JSAGEJ.DTL

Gold, Amanda. "Kitchen Essentials: 10 techniques every cook should know." SFGate.com. July 9, 2008. (July 21, 2009) http://www.sfgate.com/cgi-bin/article.cgi?f=/c/a/2008/07/08/FDTA11HHDM.DTL

"How to Plate Food Like a Pro." How to Cook Gourmet. 2009. (July 21, 2009) http://www.how-to-cook-gourmet.com/platingfood.html

Knowlton, Andrew. "Five Tricks to Cook Like a Chef - On a Budget." bonappetit.com. March 5, 2009. (July 21, 2009) http://www.bonappetit.com/blogsandforums/blogs/bafoodist/2009/03/five-tricks-to-cook-like-a-che.html

Ramsay, Gordon. "Chef's tips with Gordon Ramsay." The Times. Sept. 8, 2008. (July 21, 2009) http://www.timesonline.co.uk/tol/life_and_style/food_and_drink/gordon_ramsay/article4685525.ece

"Spice Up Your Meals." Real Simple. 2009. (July 21, 2009) http://www.realsimple.com/food-recipes/cooking-tips-techniques/recipe-upgrades/spice-up-your-meals-10000001177806/

"USDA Prime Graded Beef. The Most Tender & Flavorful of Steaks." PrimeSteakhouses.com. 2009. (July 21, 2009) http://www.primesteakhouses.com/how-usda-grades-beef.html

"Your First Kitchen." Epicurious. 2009. (July 21, 2009) http://www.epicurious.com/articlesguides/kitchenequipment/essentials/firstkitchen