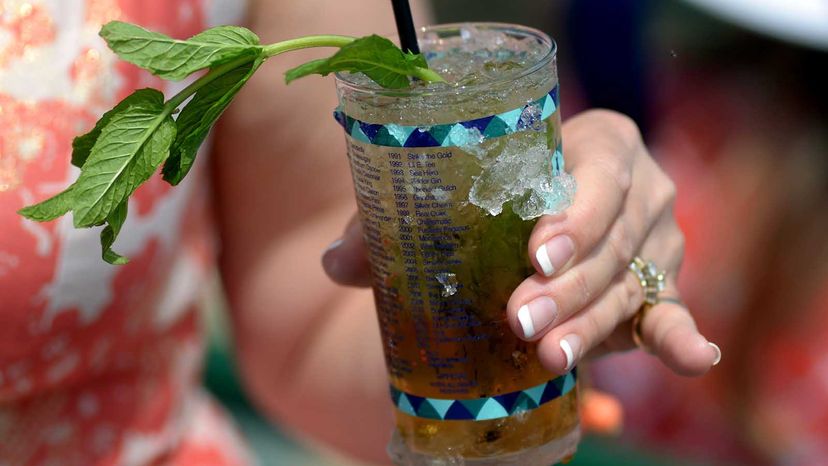 The mint julep has been the official cocktail of the Kentucky Derby at Churchill Downs since 1938.
Dylan Buell/Getty Images
Every first Saturday in May is the Kentucky Derby, when the first race in the Triple Crown series is run at Churchill Downs in Louisville. It's a storied horse race, with traditions like big hats and cocktails, specifically the mint julep.
This Churchill Downs staple — a cocktail with bourbon, fresh mint, ice, sugar and water — has been the Kentucky Derby's official drink since 1938, but experts believe its history here goes well beyond the '30s. Churchill Downs representative Sara Brown Meehan told Good Morning America that some say racetrack officials planted mint for the cocktail as early as 1875, when the famed race began.
A Mint Julep History
Mint juleps are as synonymous with the Kentucky Derby as oversized hats, but these cocktails actually originated more than 400 miles (643 kilometers) away. Virginia is credited with spearheading the mint julep movement. The first account dates back to 1803, when Englishman John Davis defined it as "a dram of spirituous liquor that has mint in it, taken by Virginians of a morning," in his book "Travels of Four and a Half Years in the United States of America."
At that time, the bourbon wasn't the spirit of choice. In fact, any spirit would do. It wasn't until the 1770s when Virginians moved west — taking the mint julep with them — that Kentucky added a signature twist to the cocktail: bourbon. Virginians used rum and brandy in their mint juleps, but Henry Clay, a Kentucky senator in the early 1800s, introduced bourbon, Kentucky's renowned spirit, as the base.
As a beloved Kentucky drink, the mint julep slowly seeped its way into Derby culture. Records even show broadcasters lamenting the lack of the drink during Prohibition from 1920 to 1933.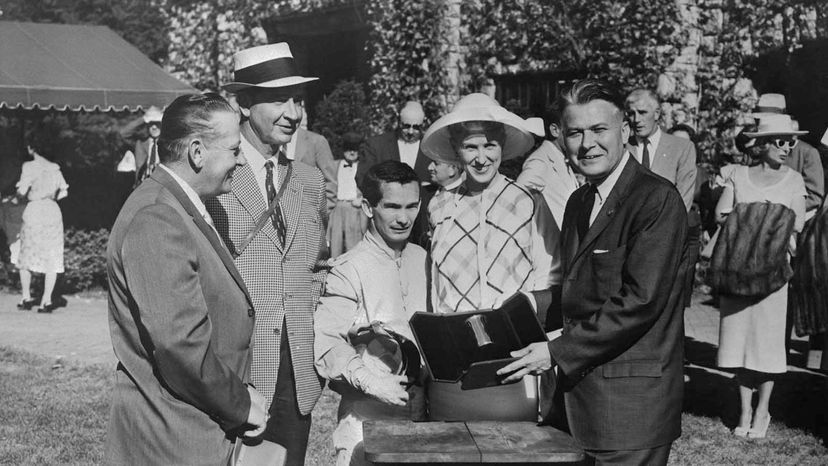 Race officials once gave julep cups as trophies for first-place jockeys. Here (from left) trainer R. L. Wheeler, owner Cornelius V. Whitney, jockey Willie Shoemaker and Mrs. Whitney pose as Kentucky Governor Bert Combs presents a julep cup in 1960.
Bettmann/Bettmann Archive/Getty Images
The Signature Silver Cup
In Kentucky Derby culture, the julep cup is just as important as the cocktail itself. These sleek sterling silver cups predate the derby. The cups date back to the 1800s when early Kentucky silversmiths from Lexington and Louisville debuted the design.
"It was a popular gift for christenings, weddings or a graduation," Natalia Cardenas, brand ambassador for the derby's official bourbon, Woodford Reserve, says in an email. "Records dating back to the 1800s show that julep cups were being given out as prizes at the county fair."
Race officials used julep cups as trophies for first-place jockeys in the 1820s. The signature design, known for a wide-footed base and either a beaded rim or bands at the top, is more than just decorative. "It is meant to be held only by touching the top or the bottom, allowing the silver to frost over," Cardenas says.
Since its inception, the julep cup has taken many forms. In 2008, Churchill Downs debuted the largest mint julep glass in the world: a 6-foot-tall (1.8-meter) cup with a 206 gallon (779-liter) capacity; that's the equivalent of 5,000 mint juleps. Woodford Reserve and Tiffany & Co. also auctioned off three luxe julep cups in 2011. The cups, which started at $2,000, boasted 24-karat-gold bases that the high-end jeweler used for horse racing trophies in 1876. The Derby typically serves its juleps in glass souvenir cups, though.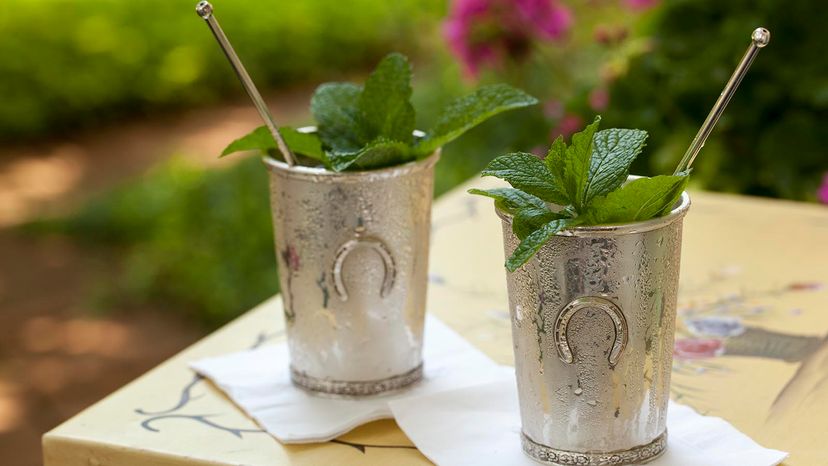 The signature sterling silver mint julep cup is as important to the cocktail as its ingredients.
Jon Lovette/Getty Images
Make a Mean Mint Julep
They may be best served in sterling silver cups, but crafting a mint julep at home doesn't have to be daunting. Cardenas gave us her recipe for making a Woodford Reserve mint julep:
Ingredients
5 to 8 fresh mint leaves

0.5 ounce simple syrup

crushed ice

2 ounces of Woodford Reserve Kentucky Straight Bourbon Whiskey
Directions
Lightly muddle the mint and simple syrup in your mint julep cup.

Add the bourbon and pack tightly with crushed ice.

Stir until the cup is frosted on the outside.

Top with more crushed ice to form an ice dome and garnish with a mint sprig.
Cardenas recommends Woodford Reserve Kentucky Straight Bourbon Whiskey because its flavor is powerful enough to stand up to the ingredients, and at 90.4 proof, it can last for a handful of races. "Be sure not to over-muddle the mint, as it tends to make the drink bitter," Cardenas says. "Make sure your simple syrup is equal parts sugar to water, and crushed ice is best because it dilutes and chills the cocktail the fastest." To make crushed ice at home, Cardenas says just wrap up a few ice cubes in a clean dish towel and crush it with a rolling pin or kitchen mallet.
Molly Wellmann, a renowned mixologist in Cincinnati, says she looks for bourbon that creates a well-balanced drink for her mint juleps. "Old Forester is an excellent choice because it isn't too spicy and the corn shows through," she says in an email. "I wouldn't recommend using a high-rye bourbon." Wellmann also tops her juleps with a splash of dark rum for creativity. "It's a throwback to when the spirit of choice was rum, and it really brings out the caramel and vanilla notes."
Originally Published: Sep 5, 2020