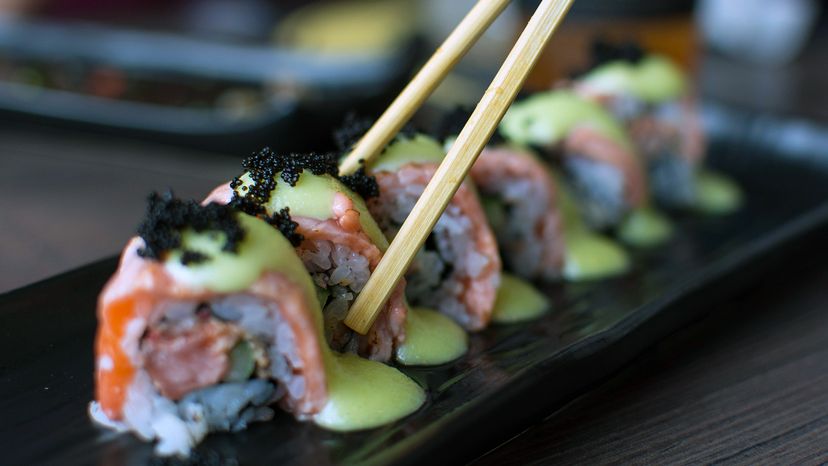 Seafood's got a justified health halo: It's generally lower in calories than other proteins, with beneficial fatty acids. So it's easy to assume that sushi is also healthy. Problem is, all the things rolled up with that heart-healthy tuna and salmon roll can add up — in calories, sodium, fat and carbs. In fact, some of the most popular sushi rolls can have half a day's worth of sodium, turning your sushi night out into a not-so-healthy meal.
First, some food purists might disagree, but sushi has long been a platform for flavors. Sushi's origins trace back to prehistoric times, when people living in Southeast Asia's mountain regions packed fish with rice and pressed it down with weight to preserve it. The rice produced lactic acid as it fermented, pickling the fish, which sometimes took up to a year. When it came time to eat, people tossed the rice and ate only the fish. There's not a lot of efficiency in a system that takes up to 12 months and discards a lot of food.
By the 15th century, Japanese cooks realized if they added even more weight to the rice and fish, they could cut that fermentation time down to a month — this new process was called mama-nare zushi. And in the 17th century, the idea of adding vinegar to the rice helped cut down the processing time (no more fermenting) even more, and it added to the flavor, prompting people to start eating cooked rice with the fish. Eventually, sushi stalls became popular in Japan in the 19th century, with vendors setting out sliced pickled ginger and soy rice. Sushi went from a long process for preserving fish to a fast food served with condiments.
And today in America, sushi has its own unique interpretations: liberal uses of tempura batter to fry otherwise healthy seafood and vegetables for crunch; ingredients like cream cheese and mayo that add creaminess, mouthfeel and fat; and rolls that even swap the seafood for marbled steak and pork belly.