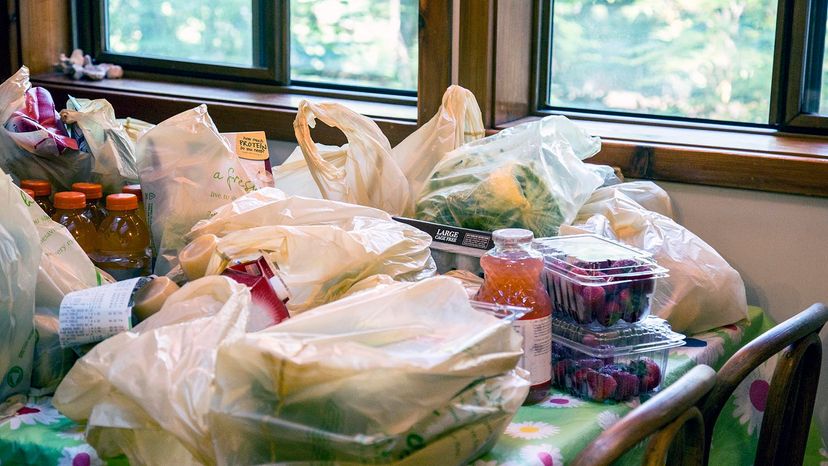 If you don't have enough counter space to designate a dirty area and a clean area, you can make your table the dirty area for your groceries. Just be sure to sterilize it once you've put all the groceries away.
Ronnie Kaufman/Getty Images
Wash your hands has become the mantra of 2020. And we've all heard about the importance of cleaning and sanitizing surfaces. But once you've made your home a haven for sheltering in place, how do you bring new items into your sanitized safe zone? We still have to eat and get essentials, after all, so how do we get those groceries, takeout meals and mail-order products inside and ensure we do it safely?
Concern over how to do just that led one physician, Dr. Jeffrey VanWingen, to record a video about how to properly sanitize groceries and other food items once you bring them inside your home. After VanWingen uploaded the video to YouTube, it quickly went viral — receiving more than 17 million views in just a few days — and sparked discussion among experts who have helped the Grand Rapids, Michigan, family physician make updates.
"I'm glad I stirred the pot in that way," he says. "As a primary care physician, my focus is on prevention. I really think it's important for people to do the best they can to not contract COVID-19." That's because each person who gets it, statistically infects two or three other people.
"Things are evolving," VanWingen says. "We're becoming more aware, and we're trying to share best practices." One of those practices is to think of your groceries as just another surface that has to be sanitized.
Do You Really Need to Disinfect Your Groceries?
Despite ongoing recommendations about sanitizing surfaces and washing hands, touching everyday objects is not the main way coronavirus is transmitted. "It's from being in close proximity with others," says VanWingen.
According to the Centers for Disease Control (CDC), there is "likely very low risk of spread from food products or packaging that are shipped over a period of days or weeks at ambient, refrigerated or frozen temperatures" because of coronaviruses poor survivability on surfaces.
Nevertheless, the much-cited National Institutes of Health (NIH) study found that coronavirus can live up to three hours in the air, 24 hours on cardboard and 72 hours on hard surfaces like plastic and stainless steel. Hence the ongoing recommendation to wash your hands and sanitize surfaces. When groceries have just come from the store where numerous people may have touched them recently — or worse, sneezed on them — sanitizing that packaging too starts to sound like a pretty good idea.
Still, VanWingen admits that the data from the NIH study offers the worst-case scenario of coronavirus viability in a lab.
"In the real world that virus degrades with time," he says. But because on the front side of a pandemic people will be accused of doing too much and on the backside of not doing enough, he enlisted his 16-year-old son, Manny, to help him film the video. In the case of groceries, it's better to be safe than sorry.
How to Unpack and Disinfect Your Groceries
If you have the time right now (and let's be honest, you probably do) go ahead and take the extra step to disinfect your groceries.
"People are safe in their homes in a stay-at-home order, but the most concerning thing was people moving out of their homes," VanWingen says. "The one thing that people can do is that they can go out and get food." In his video, he explains how to unpack your and clean your groceries using the "sterile technique" similar to the one used in medical field. Here are the basic instructions:
If possible, leave your groceries outside or in the garage for three days. This allows them to meet the 72-hour viability time frame determined by the NIH. If you use a shopping service, have the delivery person leave the groceries outside.

If you must bring groceries inside immediately — for instance for perishable items — use VanWingen's modified sterile technique to remove possible coronavirus from containers and from groceries themselves.

First, sanitize a table or countertop with a standard disinfectant like one of the EPA-approved types, including Clorox disinfecting wipes and certain Lysol sprays. Designate one area as the "clean" section and the other as the "dirty" section.

When you bring everything inside, put your groceries on the area you designated as "dirty."

Saturate a cloth with disinfectant and start wiping! Items in hard plastic are easy to clean, but other products should be removed from their wrapping or containers. For example, pull the cereal bag from the box and throw away the box. Then put the cereal bag in the clean section. You can also dump bread from its bag into a plastic container rather than sanitizing the bread bag.

Wash all fruits and vegetables. In an older version of the video, VanWingen recommended using soap and water, but he now advocates for washing in water only.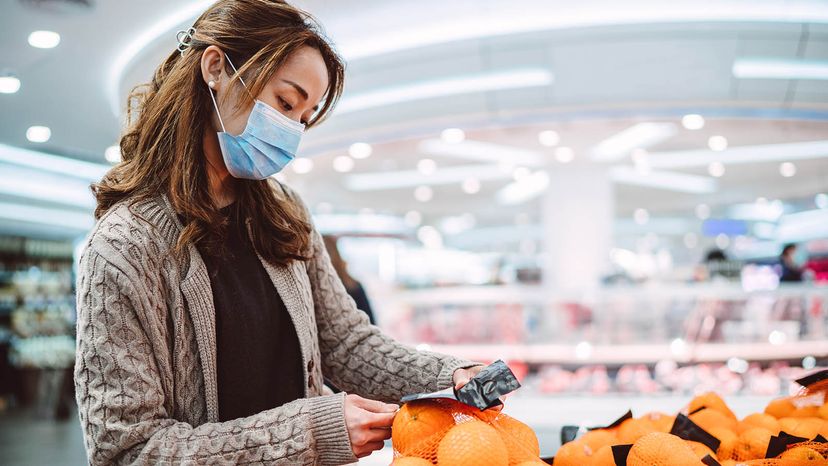 If you must go to the grocery store, consider wearing a mask. And only touch items you are going to buy.
Images By Tang Ming Tung/Getty Images
Tips for Safe Grocery Shopping
Of course, before you can even unload those groceries, you have to get them. And that means grocery shopping safely — and that starts in the store. When you go, practice social distancing, don't touch your face, come home and immediately wash your hands, VanWingen explains. Consider wearing a mask.
"One important thing that masks do is to prevent us from spreading it to others on some level," he says. "And also, it's a great reminder for us not to be touching our face."
Although it might be tempting to get the kids out of the house, grocery shopping is not the time. In fact, you should plan what you want to buy before you go so that you can minimize your time in the store. Avoid picking up items to look at them — only touch what you intend to buy.
Stay at least 6 feet (about 2 meters) away from other shoppers and store employees. Some grocery stores are limiting the number of shoppers permitted inside at one time, and marking distance placement for checkout lines.
Are Takeout or Drive-thru Meals Safe?
You can follow similar steps whether your food comes from take out or a drive-thru. Minimizing contact during the food exchange is best. In a Consumer Reports article, Tobie Stanger cautions that even if restaurants, stores or warehouses are cleaned, the delivery person may or may not take the same precautions. Many delivery services employ independent contractors who are not well monitored. Have any deliveries left on your doorstep, and pay and tip electronically.
Again, once your meal enters the home, take it out of the container or wrapper, VanWingen says. The food itself is not the issue with coronavirus.
"It's the wrappers that I'm more concerned about," he says. Even better, pop your to-go food in the microwave for a bit. Heat destabilizes coronavirus.
Despite providing many precautions, VanWingen does not want people to fear food.
"This is not a foodborne illness," he says. "Knowledge is the best way to combat fear. If we do the best that we can, we're going to do our part, every person out there, to lower the curve"