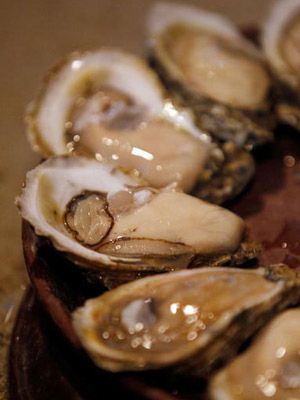 Often paired with hot sauce and crackers, raw oysters may not be the prettiest food, but that doesn't stop oyster lovers from swallowing a dozen of them whole. Just be careful. Raw oysters contain the bacteria vibrio vulnificus, which can be harmful.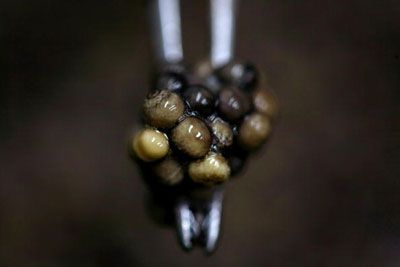 The slimy, unfertilized fish eggs perched on these chopsticks represent an expensive delicacy called caviar. Caviar is so delicate that experts say it should never be served with metal utensils because the metal will alter its flavor.
Not only are natto beans slimy and sticky in texture, but they also have a very pungent odor. Nevertheless, their flavor is mild, and they're a popular breakfast item in Japan. Natto beans are made from fermented, salted and sugared soybeans.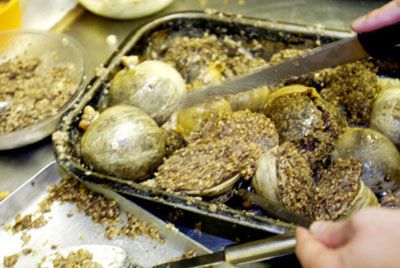 It's called haggis, and get a load of what it's made of: a sheep's heart, liver and lungs -- minced -- then mixed with onion, oatmeal and spices. To make things even more appetizing, the ingredients are cooked inside the animal's stomach.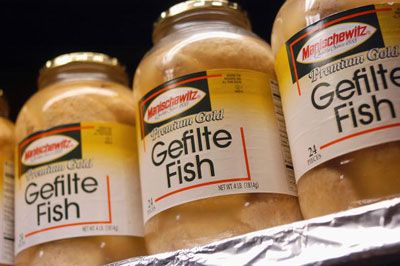 Here you see a jar of gefilte -- balls of ground up fish (usually carp or pike), matzah meal and chopped veggies. The fish patties turn up on dinner tables during Jewish holidays, and they're often served cold.
Chewy chicken feet are a favorite delicacy in China. The country is particularly fond of importing feet from the United States, where chicken are bred to have large breasts (for white meat), and wind up with large feet as well.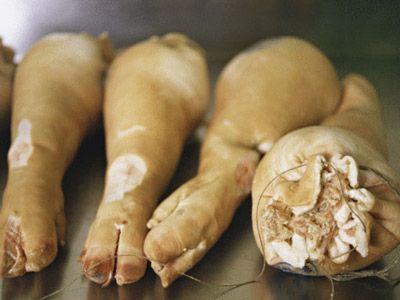 Stuffed pig trotters, aka pig's feet, may look unappealing, but some of today's trendiest restaurants are putting them back on the menu in the name of sustainability. Plus, if they're cooked just right, they're quite tender and tasty.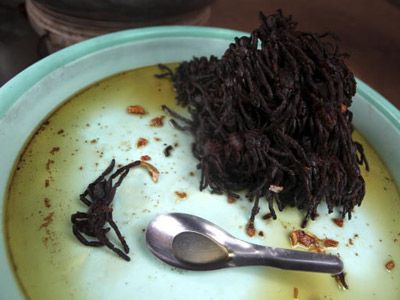 Cambodians first began eating deep-fried tarantula during a food shortage. But now the fried spiders are regarded as a treat. You'll see both locals and tourists alike stuffing these chewy, juicy arachnids in their mouths.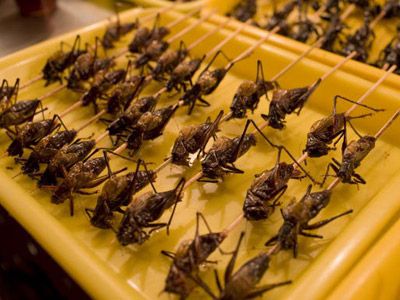 These fried grasshoppers on a stick, photographed at a market in Beijing, are actually packed with protein, making them a healthy snack.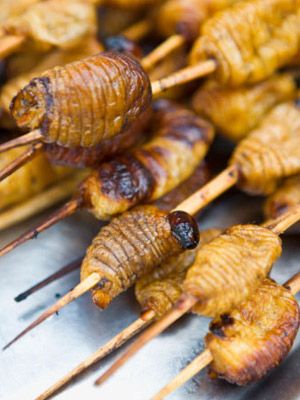 Why stop with fried grasshoppers when you can eat fried larvae? Seasoned, fried beetle larvae on skewers are a common snack in some parts of the world.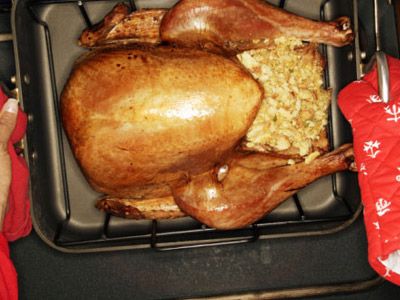 If you're at all squeamish about handling raw meat, then the idea of ramming chopped celery inside a turkey's carcass before you cook the bird probably doesn't seem appealing. And yet many an American roasts turkey with stuffing each Thanksgiving.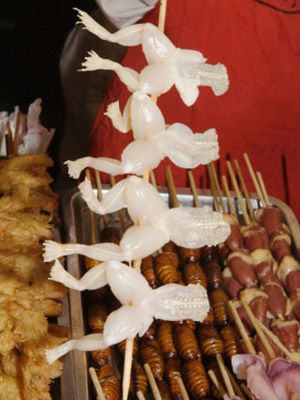 These frog legs skewers were found at a street market in Beijing, but the frog legs delicacy is most often associated with the French, who fry them in butter and garlic and pair them with an onion sauce.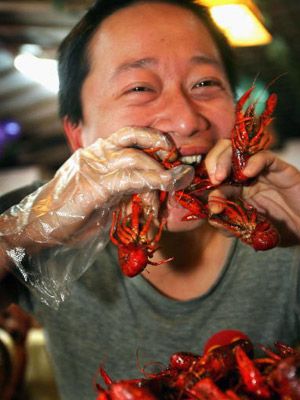 This man is participating in a spicy crawfish eating competition. A true crawfish aficionado will suck the juices right out of the creature's head; supposedly the head is its most delectable part.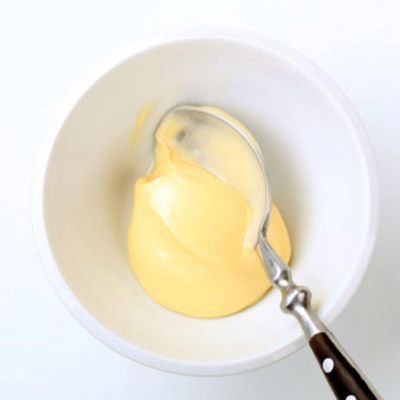 Mayonnaise is a simple mixture of oil, egg yolks and vinegar. But everyone knows someone who can't stand the sight, not to mention taste, of it. Which side of the fence are you on?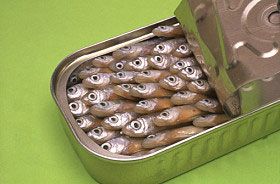 It's tough to look a creature in the eyes before you eat it. Nevertheless, these canned sardines grace grocery shelves. Sardines are oily and high in fat, but they're also quite nutritious.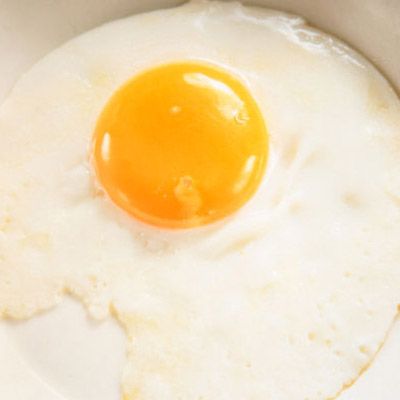 Something about the potentially runny yolk of a fried egg doesn't always please the senses. But this dish is good for you. According to one study, if you eat a fried egg every morning, it will have a positive effect on your blood pressure levels.
Whichever way you slice it, a block of canned meat is rarely visually appealing. And it doesn't help SPAM's case that it's coated with a slimy film of clear gelatin. But there's really no mystery about this "mystery meat": It's pork shoulder and ham.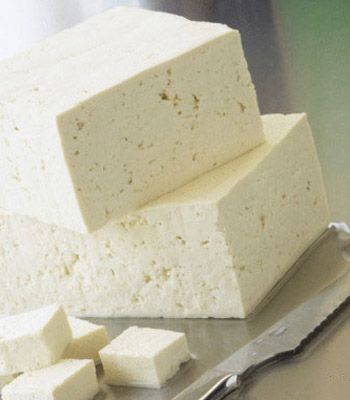 Carnivores may cringe at the texture of tofu. (It's weird when something tastes like meat but feels like cheese.) Nevertheless, tofu is very healthy and rich in protein. Also, it absorbs flavor like a champ, making it a very versatile ingredient.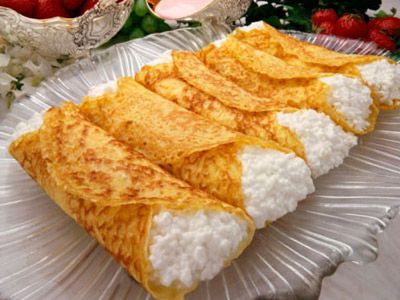 Something about the milky/lumpy cheese curd texture of cottage cheese can curb a person's appetite for the snack. But all cheese is made from cheese curds. These curds simply haven't been pressed to make a block of cheese.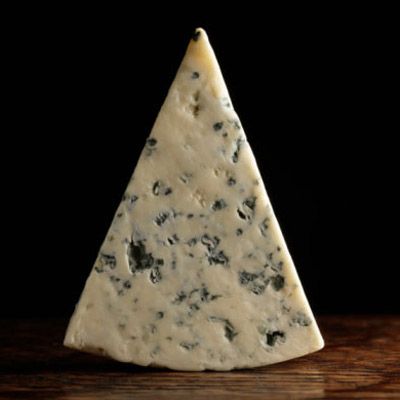 Speaking of cheese curds, how do you feel about cheese curds mixed with bits of mold? Gorgonzola blue cheese is a combination of cheese curds and mold spores, aged to perfection.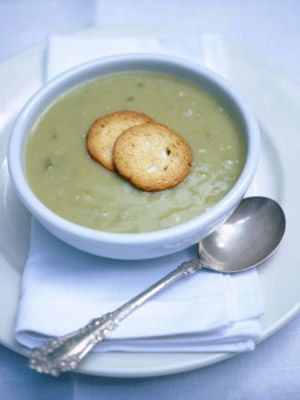 It didn't help pea soup's image when the special effects team used it to simulate vomit in the movie "The Exorcist." Nevertheless, the dried peas used to make this soup are good for you; they're high in fiber -- a positive for your cholesterol.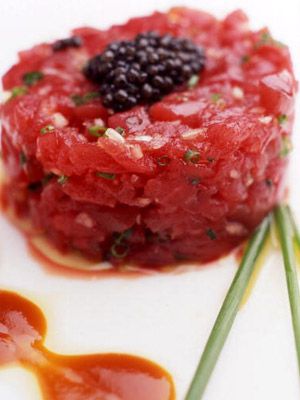 If you fear bacteria in raw meat, then no matter how attractively steak tartare is presented on the plate, it probably seems unappetizing to you. But never fear, when this raw beef is prepared properly, it's perfectly safe to eat.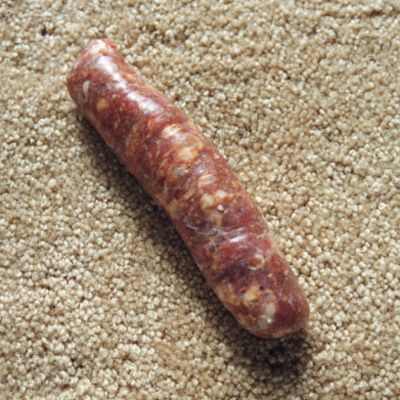 It appears this sausage has fallen on the carpet. But five-second-rule aside, what makes sausage seem gross? Perhaps it's because traditionally this product is made by grinding up various cuts of meat and stuffing them into the animal's intestines.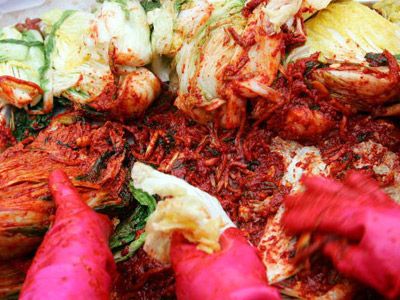 Kimchi may look somewhat bloody in appearance, but this traditional Korean dish is actually made with fermented cabbage and spicy red pepper.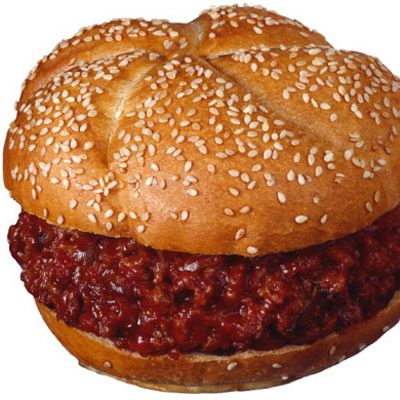 True to its name, the sloppy joe looks like slop. But it's really a tasty combination of ground beef, onions and tomato sauce.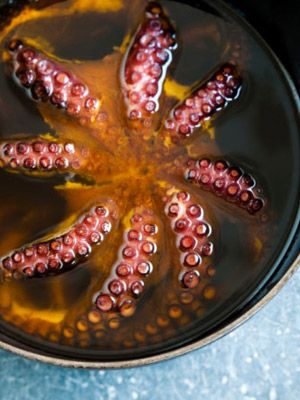 This grilled octopus is floating in a bowl of olive oil. Grilled octopus tentacles is a popular dish in many countries, particularly in the Mediterranean and in Asia.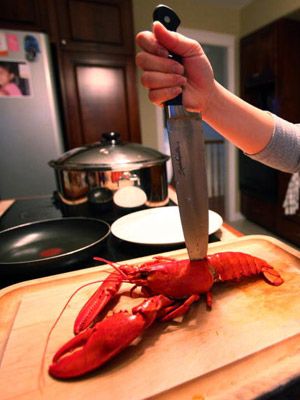 Most likely, the person holding that butcher knife is about to cut this lobster lengthwise for grilling or roasting. Lobster may not look pretty, but its mild, sweet taste puts it in high demand, which makes it an expensive treat.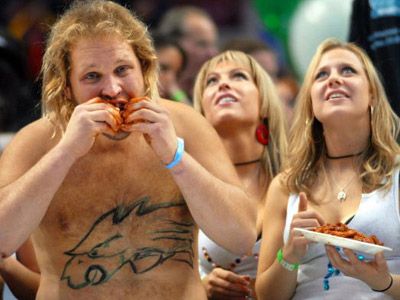 This shirtless participant in the 2007 Wing Bowl, a chicken wing eating contest in Valley Forge, Pa., is coated with the buffalo wing's signature red sauce. Wings are messy eats, no doubt. About 15,000 people turned out to watch the wing-eating mayhem.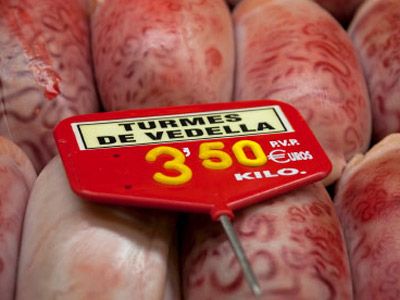 What you see in the picture above are veined ox testicles. When bull or sheep testicles are breaded, seasoned and deep-fried, they're called Rocky Mountain or prairie oysters, or calf fries, and they're typically eaten as an appetizer with dipping sauce.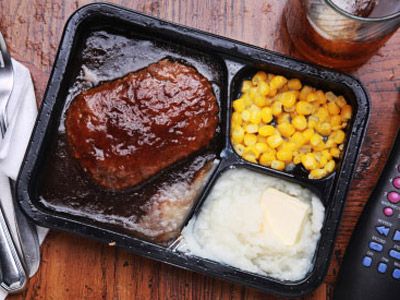 Whatever mystery meat has graced this TV tray doesn't look tasty. Here's a little TV dinner trivia: One reason Swanson launched its TV dinner line in the 1950s was to do something with its 260 tons of turkey leftovers from Thanksgiving.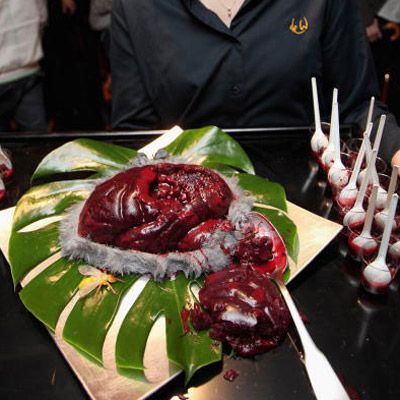 These "monkey brains" were served up at a charity event showing of "The Raiders of the Lost Ark." As you can see, gelatin has the capacity to look disgusting; some gelatin molds include bits of chicken, green beans and even mayonnaise.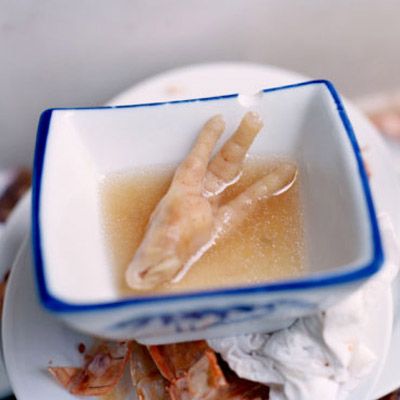 Speaking of gelatin, according to cooks, when chicken stock is made from boiled chicken feet, the stock has a more robust flavor, and the gelatin in the feet give it a thicker texture.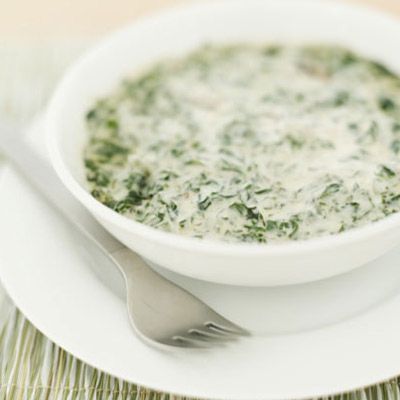 The oozing, milky quality of creamed spinach may make your stomach turn, but Popeye was right: Spinach does a body good, via its antioxidants and anti-cancer agents.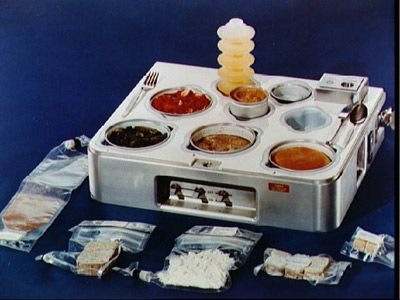 The Skylab program of the 1970s used trays like this to keep food in place. This tray contains, from top left, orange drink, strawberries, asparagus, prime rib, a dinner roll and butterscotch pudding. Sitting outside of the tray are grape drink, beef pot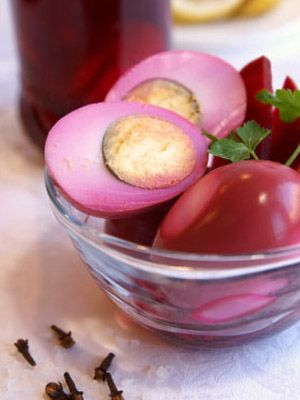 Pickled eggs take on an unnatural pink hue when they're prepared with pickled beets, which share their red tint with the eggs. This dish is often served at Easter.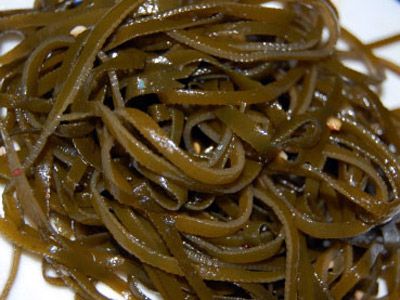 This seaweed salad may look like a plate of slimy worms, but edible seaweed is a healthy and tasty staple in the Japanese diet. It's also a popular side item at sushi restaurants around the world.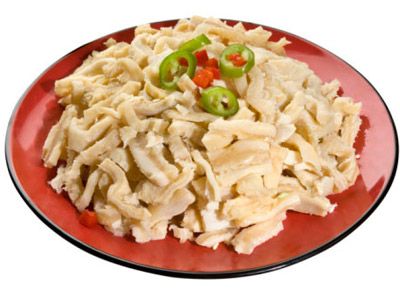 This heaping plate of beef tripe, garnished with a few sad sliced jalapeños, represents the cooked stomach tissue of a cow. Tripe is cheap, nutritious and low in fat, which is a win-win-win for consumers.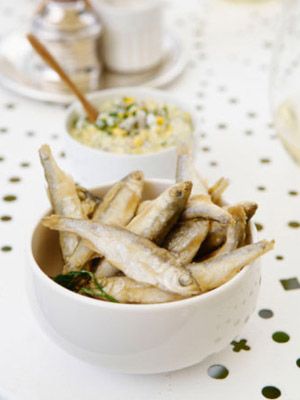 These fried fish served with a mayonnaise-based dip were photographed at a hotel restaurant in France. The small fish, with heads attached, are served like French fries. You pop them in your mouth and wash them down with glass of local wine.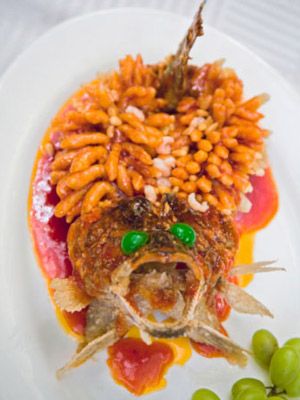 This carp's mouth looks ready to strike, but not all fried carp is presented with such drama. In Poland, fried carp is a traditional dish served at Christmas Eve dinner. The fish is typically kept alive in water until cooking time.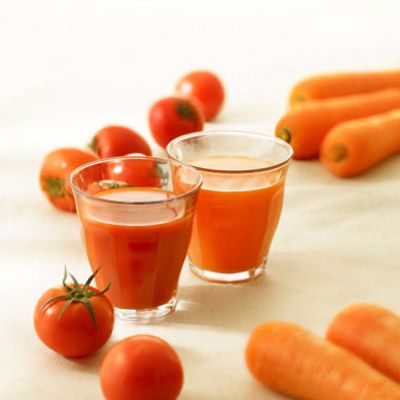 When vegetables are squeezed and ground into juice, some people find the pulpy result difficult to stomach. But carrot juice is a great source of Vitamin A, B and E, and tomato juice serves up Vitamin C and potassium.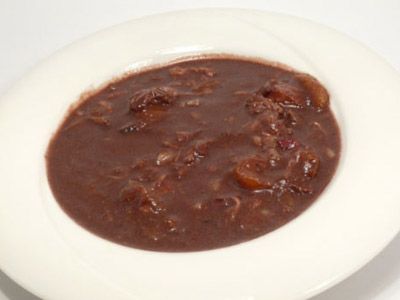 This may look like beef stew, but it's actually blood soup. To make Polish blood soup, you must chop off the head of a live duck and collect its blood in a cup. The soup also includes vinegar, onions, celery, parsley and sugar, among other ingredients.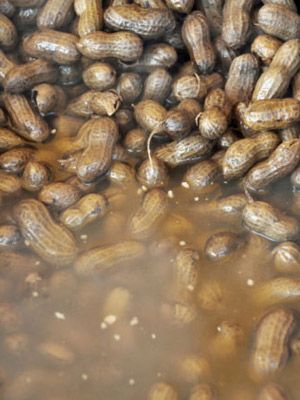 When peanuts are boiled in salty water, both shell and nut turn brown and mushy. The peanuts may not look pretty, but this warm, salty snack is popular in the Southeastern United States, where it's sold at roadside stands between May and November.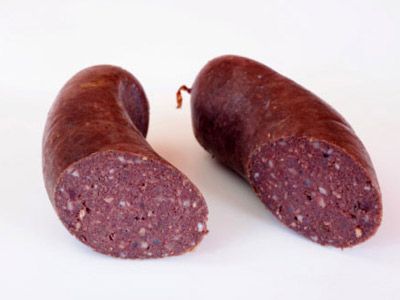 Speaking of food that's made with animal blood, have you ever eaten black pudding? This sausage is typically a combination of pig's blood, pork fat, oatmeal and seasonings.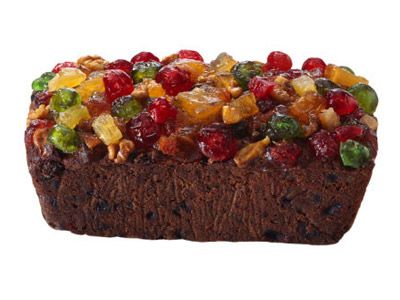 If any cake has a reputation for displeasing both the eyes and the mouth, it's the fruitcake. Some blame late night talkshow host Johnny Carson for giving the fruitcake a bad rap in United States, since he often made the cake the butt of his jokes.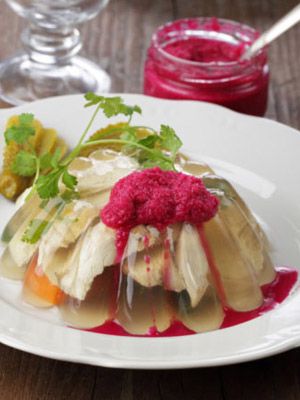 Aspic is a traditional French dish. Meat stock is used to create a gelatin mold, and within that mold, you'll find some intriguing ingredients, including cold pork, chicken, hard-boiled eggs and vegetables.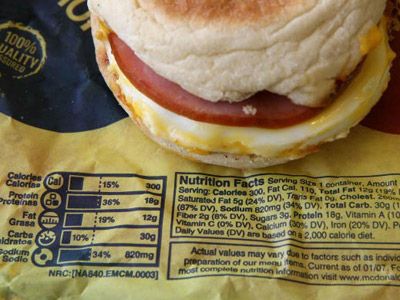 If you're a health fanatic, then the sight of this fast-food ham and egg biscuit probably doesn't appeal to you. In 2008, California passed a law that requires fast-food chains to print nutrition facts where customers can see them, as pictured here.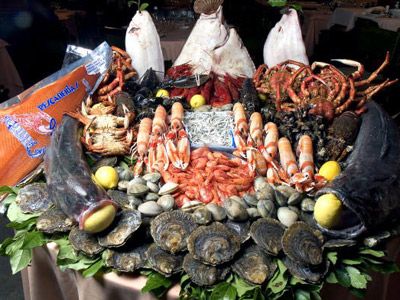 This spread depicts just about every unappetizing-looking mollusk, crustacean and fish you can think of, including spider crabs, eels, lobster and salmon.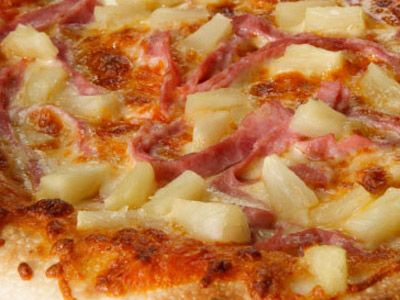 Many people object to idea of throwing sweet toppings on the traditionally salty pizza. But the Hawaiian pineapple and ham pizza is here to stay. And oddly, it was invented in 1962 by a restaurant owner in Chatham, Ontario -- not Hawaii.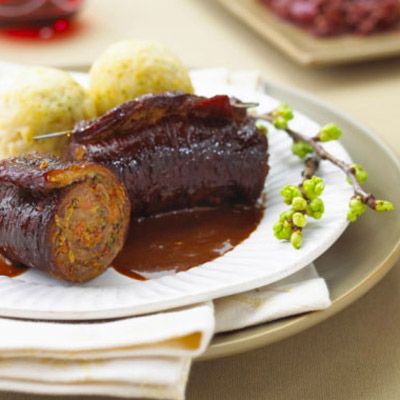 What you see in this picture is rouladen, a beef roll that's typically filled with bacon, pickles, mustard and onions and drizzled with a sauce made with veggies and broth.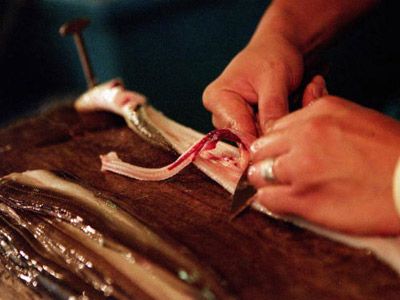 And last but not least in this gallery of unappetizing foods, is the eel. In this picture, you see the hands of a Tokyo fishmonger, who is preparing to filet the slippery fish.