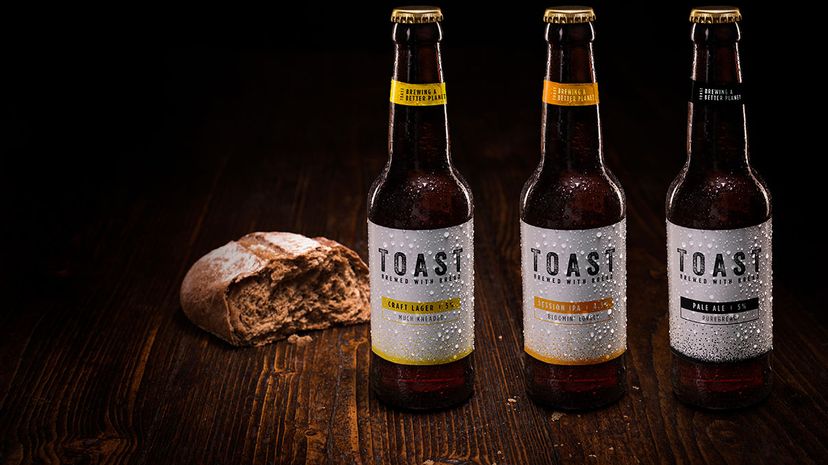 Nearly 1.1 million tons (1 million metric tons) of bread goes to waste every year in the United Kingdom — that's about 2.73 Empire State Buildings. A new brewery, called Toast Ale, aims to end to that waste by turning fresh, surplus loaves into craft beer.
"There's a slice of bread in every bottle," says Rob Wilson, chief toaster at Toast Ale.
Since Toast Ale launched in the U.K. in 2016, it has saved a total of 11 tons (10 metric tons) of bread from becoming trash there. In July 2017, Toast Ale expanded to the United States, where up to 40 percent of all food ends up in landfills. By this time next year, says Madi Holtzman, the company's United States director, Toast Ale will be saving 907 kilograms of bread a month in New York City alone, nearly 12 tons a year. If all goes well, the company will put itself out of business.
Here's why. Profits from beer sales go directly to the nonprofit Feedback, founded by social entrepreneur Tristram Stuart, who conceived of Toast Ale, and is a vocal advocate for reducing all kinds of food waste, not just bread, but also produce, dairy and meat. Globally, food waste amounts to 1.4 billion tons (1.3 billlion metric tons) per year, according to the U.N. Food and Agriculture Organization. Stuart's mission in life is to eliminate food waste entirely. If he succeeds, there won't be any surplus bread to brew Toast beers.
They have a long road ahead.