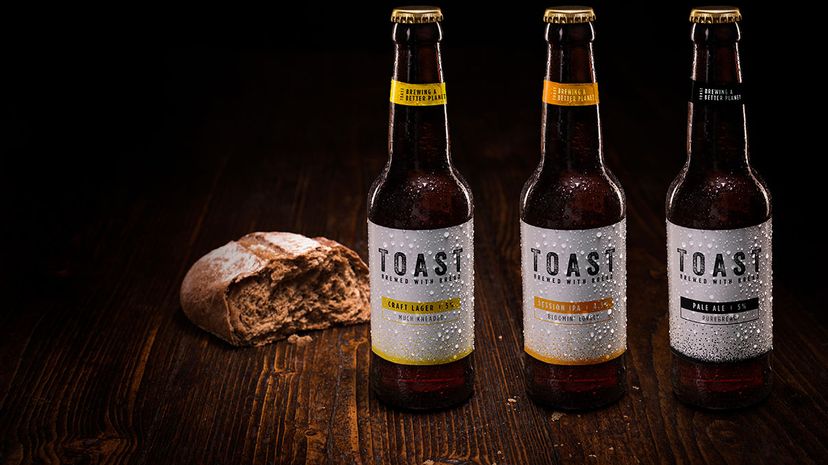 On display are three of the different beers that Toast Ale makes in its quest to reduce food waste and provide the world with craft beer in the process. Left to right are a lager, a session IPA and a pale ale.
Rob Wilson/Toast Ale
Nearly 1.1 million tons (1 million metric tons) of bread goes to waste every year in the United Kingdom — that's about 2.73 Empire State Buildings. A new brewery, called Toast Ale, aims to end to that waste by turning fresh, surplus loaves into craft beer.
"There's a slice of bread in every bottle," says Rob Wilson, chief toaster at Toast Ale.
Since Toast Ale launched in the U.K. in 2016, it has saved a total of 11 tons (10 metric tons) of bread from becoming trash there. In July 2017, Toast Ale expanded to the United States, where up to 40 percent of all food ends up in landfills. By this time next year, says Madi Holtzman, the company's United States director, Toast Ale will be saving 907 kilograms of bread a month in New York City alone, nearly 12 tons a year. If all goes well, the company will put itself out of business.
Here's why. Profits from beer sales go directly to the nonprofit Feedback, founded by social entrepreneur Tristram Stuart, who conceived of Toast Ale, and is a vocal advocate for reducing all kinds of food waste, not just bread, but also produce, dairy and meat. Globally, food waste amounts to 1.4 billion tons (1.3 billlion metric tons) per year, according to the U.N. Food and Agriculture Organization. Stuart's mission in life is to eliminate food waste entirely. If he succeeds, there won't be any surplus bread to brew Toast beers.
They have a long road ahead.
The Inspiration for Toast Ale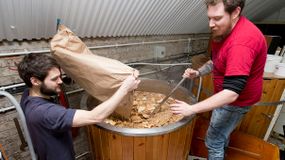 You can see all the bread floating in the brewery's mash tun. Commercial brewers tend to favor using malted grain rather than loaves of bread for their beers, but it can be done.
Tom Moggach/Toast Ale
Stuart was inspired to create beer from bread after a trip to Belgium, where he discovered a beer called Babylone, based on a 7,000-year-old practice of making beer from fermented bread. When he returned to the U.K., Stuart described it to Wilson, the chief toaster who at the time was running the U.K. office for Ashoka, a nonprofit organization that finds and invests in social entrepreneurs. Wilson says that the idea of brewing beer from unused bread instantly resonated with him.
"It combined everything that I am personally interested in and curious about and passionate about," Wilson says. "I'm passionate about ending food waste, passionate about my craft beer. I'm passionate about interesting, sustainable business solutions to environmental and social problems. This just ticks all of the boxes."
Six months after first talking with Stuart about the concept, Wilson came on board Toast Ale full time. He said the company has four fundamental principles: produce a first-class product, put the equivalent of a slice of bread in every bottle, communicate the issue in a sensible, nonpreachy way and pour the profits into Feedback.
The recipes for Toast's beers originated from the brewers at Babylone, who were kind enough to share theirs with Stuart. Toast refined them and created a pale ale in partnership with Hambleton Ales in Ripon, and worked with Wold Top Brewery in Yorkshire to create an IPA and a lager. In the brewing process about one-third of the malted barley normally used to brew beer is replaced by bread.
Partnering with established breweries is another layer of Toast's waste-reduction ethos, says Holtzman.
"Rather than do the resource-intensive process of building a whole facility, we would rather use the breweries that already exist and the knowledge at those breweries, so that we can focus on maximizing the quantity of bread that we're able to recover," she says.
The Enormous Issue of Food Waste
Why so much bread — and food for that matter — goes to waste is a troubling matter that has raised the concern of countries around the world. The United Nations has set a goal to cut food waste in half by 2030. This past May, Feedback published a report with funding from the Rockefeller Foundation that looked into the problems of food waste in the produce industry, with a focus on the supply chains in Peru, Senegal, South Africa, the U.K. and parts of Europe.
The report found that a concentration of power allows supermarkets "to dictate the terms and conditions by which food is grown, harvested, and transported." Supermarkets demand that produce look a certain way, forcing suppliers to throw out perfectly good produce. Because the cost falls on the supplier, supermarkets are not incentivized to help reduce waste.
Bakeries are also not incentivized to reduce waste, but for different reasons. Wheat is heavily subsidized and so flour is cheap. Bakeries can afford to bake extra to meet unexpected demands and ensure that shelves are always full.
"No one wants to buy the last loaf of bread," says Holtzman.
At the end of the day, unsold bread can go to any of three places: to a charity to feed people, to a farm to feed livestock or to a landfill.
"It's fundamentally important to us that we're not taking bread that could feed humans," says Holtzman.
But there is so much excess bread, that charities often have to turn down what bakeries have to offer. In New York, Holtzman works with Bread Alone, an organic, family-owned bakery headquartered in Lake Katrine, New York, that donates any surplus they don't give to charities or farms. Anyone living in New York can buy Toast Ale at Whole Foods and through Food Kick, an online grocery delivery service. Toast also has expanded to Iceland and South Africa.
But you don't even have live in any of these places to drink Toast Ale. You can brew it yourself. The company publishes a home brew recipe online for anyone wanting to tackle it on a hyperlocal level.
"We've open-sourced our recipe so that people can home brew our beer," says Wilson. "We're not precious about that."
Toast Ale's primary goal is to get the message out.
"Ultimately success will be when there's no more food waste, when there's no more bread going to waste," says Wilson. "If we can shut the brewery up one day and say 'mission accomplished,' that would be a wonderful, wonderful day."