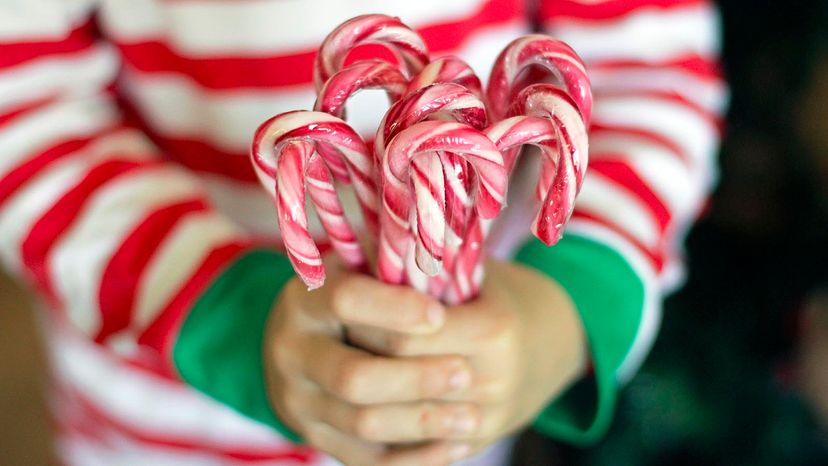 Kids and candy canes just go together at Christmastime.
Isabel Pavia/Getty Images
It's hard to imagine a Christmas without candy canes. In fact, you'd have to go back some 350 years to find one void of the hard candy treats. As with many traditions, it took centuries for the holiday staple to evolve into the red-and-white striped, crook-necked peppermint sticks we know today.
And now, "nothing is more iconic during this time than candy canes," says Carly Schildhaus, senior manager of public affairs for the National Confectioners Association.
Where Did Candy Canes Originate?
It's no surprise that the best resource for the history of candy canes comes from the National Confectioners Association. The trade organization charged with representing the $37.5 billion industry of chocolate, candy, gum and mints, has collected quite a history on the sweet treat. And according to them, these striped candies were first associated with Christmas way back in 1670.
In those days, sugar sticks were used to soothe fussy babies. But, according to confection lore, those solid white sticks became connected to the holiday when a choirmaster at the Cologne Cathedral in Germany gave them to his young singers to keep them quiet during the rather lengthy living creche ceremony. (Ideally before the sugar high kicked in.) In an effort to jibe with the nativity theme, the choirmaster had the local candymaker bend one end of the sticks so they resembled small shepherds' crooks.
German-Swedish immigrant August Imgard is believed to have brought the candies to the United States in 1897 when he decorated a small blue spruce in Wooster, Ohio, with paper ornaments and sugar sticks (made hangable due to that crook-neck shape) in honor of Christmas.
In the 1920s, Albany, Georgia, candymaker Bob McCormack popularized candy canes as Christmas treats in his town, complete with red-and-white stripes. He eventually opened Bobs Candies to commercialize them.
Pulling, twisting, cutting and forming the candy cane crooks by hand became such a laborious task that in the 1950s, Bob's brother-in-law, Gregory Keller — a Catholic priest — invented a machine to do the handiwork. Future generations of McCormacks streamlined the packaging and distribution process, enabling the holiday candy cane tradition to spread nationwide. By the late 1950s, Bobs Candies was producing 1.8 million candy canes every day with sales topping $3.3 million.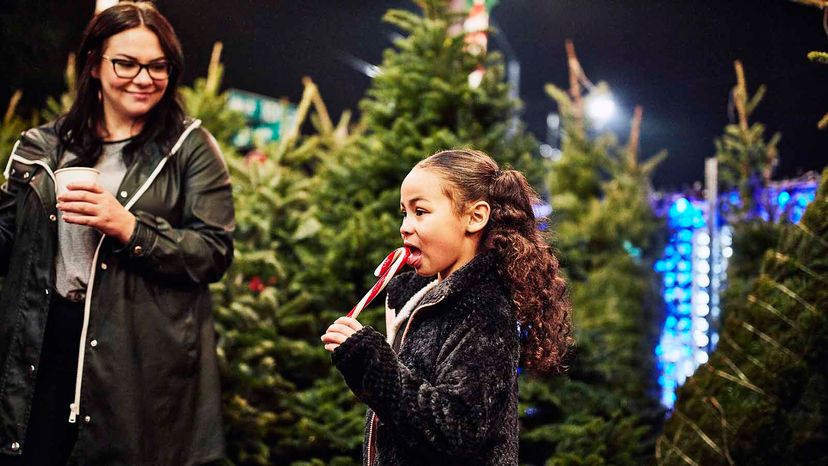 Many families still adorn their Christmas trees with candy canes. And then the kids sneak a few when their parents aren't looking!
Thomas Barwick/Getty Images
Peppermint Meets Candy Canes
Candy canes weren't always peppermint flavored, either. In fact, the original candies were simply sugar sticks. In the early 1900s, candymakers added peppermint, though when exactly remains somewhat of a mystery.
The use of peppermint as a flavoring dates back to the Renaissance, when candymakers were also apothecaries. Back then, peppermint was used more for its medicinal purposes. Its pungent taste helped mask the flavor of unpleasant-tasting drugs. The mint was also used to settle upset stomachs and freshen foul-smelling breath. (In fact, the popular peppermint breath-freshener Altoids were invented in 1781 by London confectioner Smith & Company.)
It took another 100 years or so for the apothecary and candymaker jobs to split into their own professions, due in large part to slave labor on sugar plantations that resulted in the plummeting price of sugar and a boon in candy making. The first known reference to peppermint sugar sticks — complete with a recipe to make them — didn't appear until the 1844 cookbook "The Complete Confectioner, a Pastry-cook and Baker."
The Modern-day Candy Cane
Peppermint reigned as the sole candy cane flavor for more than a century. But these days, candy canes can be found in a rainbow of colors and flavors, Schildhaus says. "The types of candy canes vary, ranging from the classic red-and-white peppermint canes to unique and innovative flavors, including fruit flavors, sour flavors and more."
Beyond more traditional spearmint, blueberry, strawberry, butterscotch and root beer flavors, there's now Oreo-, Nerds candy- and even mac-and-cheese-flavored candy canes for sale for the more adventurous at heart.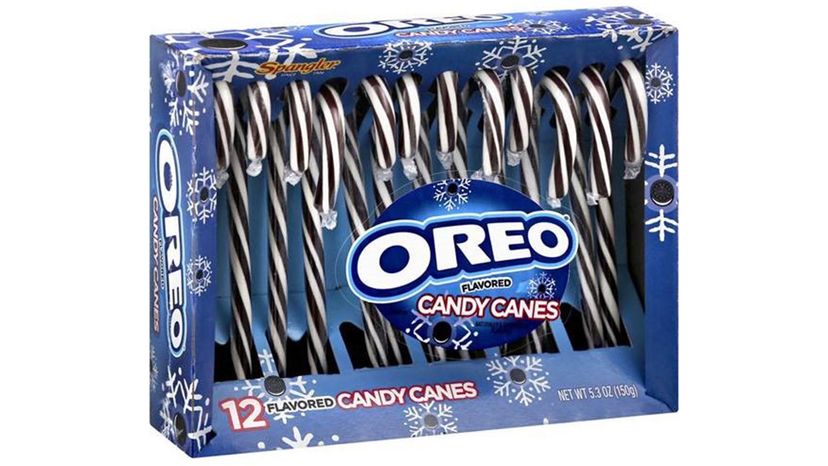 Today's candy canes come in way more flavors than just peppermint. Spangler even has Oreo-flavored candy canes.
Spangler
A Holiday Tradition
Of course, candy canes can be enjoyed any time of the year, but they remain a holiday staple, according to the National Confectioners Association. Ninety percent of candy canes are sold between Thanksgiving and Christmas with the single biggest week for sales being the second week of December. (Presumably when most people decorate their Christmas trees with them.)
One other tidbit to mark on your holiday calendars: National Candy Cane Day. It's celebrated each Dec. 26 in the United States.
Originally Published: Oct 27, 2009