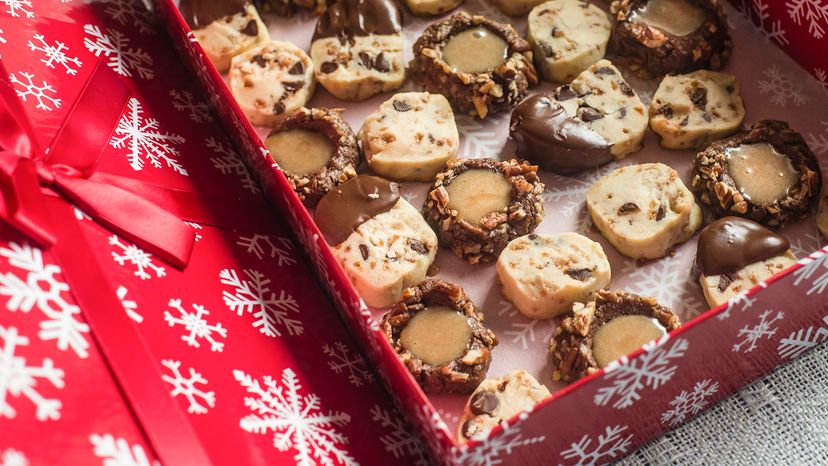 Bars and brownies like these ultimately ship much better than cookies like gingersnaps and meringues.
Image by Sherry Galey/Getty Images
Baking and sending homemade cookies for the holidays is a sweet tradition. That's because everyone loves getting cookies. But nobody loves getting a box of cookie crumbs. The good news is getting your fresh-baked cookies through the mail so they arrive to their recipient as deliciously as the day you baked them isn't rocket science, but there definitely is a science to it.
We talked to experienced baker Susan Reid, the former food editor of Sift Magazine, for her expert tips. She likes to approach mailing a box of cookies like she's the cookie herself. "You have to mentally take the trip along with your food and imagine how it's going to get there," she says. "Mentally shake it in a box up and down 15 times and open the box. That's what you just gave someone." To avoid sending out a big batch of crumbs, keep reading for Reid's simple tips.
1. Bake Tough Cookies
Forget about fragile cookies like thins, snaps and meringues — they just aren't good candidates for shipping. Instead, choose sturdy cookies that are more likely to survive the trip intact. "You always want something that's a good keeper or something that ages well, and those tend to be on the drier side. A gingersnap, any kind of shortbread, biscotti, things with booze in them," Reid says. "Those always taste better." She also suggests sandwich cookies with fillings, especially if you can gild them and dip them in chocolate.
Also, don't feel stuck on round cookies or cookies made with cutters. Brownies and bars are great options for care packages, and they pass Reid's shake test. They don't break easily, and you can cut short bars or turn them sideways to fill in awkward spaces. "My family is a family of engineers, and a favorite saying is 'a tight load is a safe load.' If things can't shift inside the box and what's in there can't move, they're going to get [to their destination] in much better shape."
Sturdier cookies are tend to stay fresher longer. "Find a cookie that's dry to start with, or moist to start with, like brownies," Reid suggests. "Hermits and brownies will keep longer."
2. Pick Cookie-friendly Containers
It's not easy to pack a round container tightly, so skip those metal tins decorated with Santa and holly, and instead go with durable boxes and square tins. "The Post Office has flat-rate boxes that are really sturdy and they're small enough that you can fill them up pretty tight without breaking the bank," Reid says.
If you're sending round cookies, Reid says she has seen people reuse potato chip and popcorn canisters as shipping containers. Just wrap the cookies and wipe out the can out first.
3. Cushion the Cookies
The first thing to keep in mind when you're packaging food is to be sure everything that you pack with is food-safe material. That means don't buy your packing materials from the office supply store. "Even though it may be good packing material, it may not be something you want to eat off of," Reid says.
Reid says all you really need to pack your baked goods is some bubble wrap, an empty bread bag with a twist tie, and cupcake papers or parchment paper, depending on the shape of your cookies.
Then simply stack your cookies inside the cupcake papers. (The idea is to use them to create the same kind of cushioning inside a candy box.) Put a layer of bubble wrap in the bottom of the box or tin, then put the empty bread bag in the box. Fill the bag with the cookie-filled cupcake papers, stacking them as necessary.
If you're sending bar cookies, you can skip the cupcake papers, and simply stack and layer the bars inside the bread bag between layers of parchment. Then close up the bag with a twist tie, and top it with another piece of bubble wrap.
4. Ship Them
As we mentioned, if you're sending sturdier cookies, they should be able to handle shipping. Ship them two- to three-day service, and (fingers crossed) your cookies will arrive to their destination as delicious as you'd hoped.
One last piece of advice: If there's a fragile family favorite that you've just got to send to make someone's day, Reid's advice is to find another way to deliver the same flavor in another format. "A lot of times people want to send a box of cookies that's something they grew up with, like brandy snaps. Those are going to break," she says. "Instead, make them, crunch them up and use them to coat the edges of sandwich cookies."
Originally Published: Dec 10, 2018