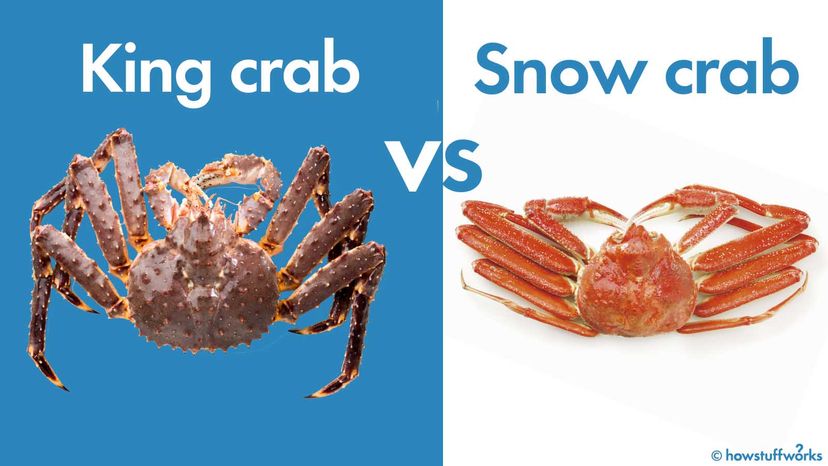 King crab and snow crab are both delicious, but they have a lot of differences.
ansonmiao/ GYRO PHOTOGRAPHY & amanaimagesRF/Getty Images/HowStuffWorks
Eating crab may be heavenly, but ordering it is far from straightforward. Edible crab varieties come in different shapes, sizes, textures and flavors. And two of the most common varieties — snow crab and king crab — are hardly one and the same.
What's the difference between snow crab and king crab legs? And which crab tastes better? Like all things edible, it depends on each crab lover's taste buds. Here are the key differences between snow crab and king crab so you can choose wisely on your next seafood splurge.
Location and Season
Before we dive into the good stuff — taste — let's examine where each crab comes from. The snow crab thrives in frigid waters around Alaska, Maine, Canada, Norway, Russia and even Greenland. Snow crab season kicks off in April, when the first ice breaks. It runs through late October or early November.
The three primary commercially harvested king crab species enjoy cold water as well, and they're typically found around Alaska and the Bering Sea. The red king crab and blue king crab live closer to mainland Alaska, while the golden king crab's habitat extends along the Aleutian Islands in the Bering Sea. (If you've ever seen the TV show the "Deadliest Catch" they're fishing for Alaskan king crab in the Bering Sea.) The king crab season is shorter; harvesting often goes from about late October to early January, although seasons are frequently cut short due to weather. Limited availability is one reason king crab is pricier than snow crab.
Size
Size is another factor when it comes to king crab price. As the name alludes, king crab are massive creatures. They can reach up to 20 pounds (9 kilograms), and their legs are large and thick. Their legs are typically shorter than the snow crab's and because they're also much more rigid — and covered in spikes — eating king crab legs typically requires a tool.
Snow crabs, on the other hand, have long, lean legs that have thin shells you can easily crack with your hands. Their legs can reach between 2 and 4 pounds (0.9 and 1.8 kilograms). Male snow crabs are roughly double the size of females, which means any snow crab you order is likely to be male.
Texture and Flavor
Last but not least, the key difference between snow crab and king crab legs is how they taste. The snow crab has a sweet, slightly briny flavor and a firm texture. Snow crabmeat breaks off in long pieces, and is often shredded, almost like corned beef. It's a delicious, more affordable crab leg option, with a market price of about $25 per pound, according to CrabPlace.com.
King crab, on the other hand, is truly a meal fit for a king. King crabmeat is snowy white with streaks of red. It has a sweet, mild flavor that's often compared to lobster. It breaks off in large, thick and tender chunks that are well worth the around $47-per-pound splurge.
Originally Published: Jun 26, 2020