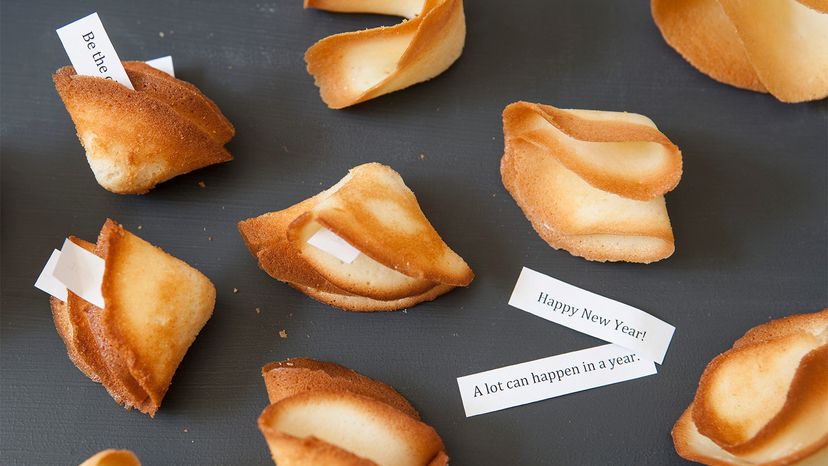 A batch of homemade fortune cookies is not difficult to make in your own kitchen.
Education Images/Getty Images
It's something you can always depend on after a heaping plate of beef and noodles or kung pao chicken. A 107-ish calorie cookie that enlightens, illuminates and occasionally teaches those who crack it open a few words of Mandarin.
But the first thing you should know about fortune cookies is they do not come from China. In fact, it wasn't even a Chinese person who first created the beloved confection. What makes this 100-year-old cookie even more exciting than the fortune found inside is the history — and mystery — within. Here's everything you've ever wanted to know about the fortune cookie.
The History of the Fortune Cookie
It's likely that we'll never truly know who invented the fortune cookie, but all signs point to a Japanese immigrant named Seiichi Kito. The story goes like this: In 1903, Kito opened the now-historic confectionary shop in Los Angeles' Little Tokyo called Fugetsu-Do. Inspired by the savory Japanese confections called tsujiura senbe found in temples and shrines in Kyoto, Kito started hiding little "fortune slips" (omikuji) within his cookies.
But others claim it was a Chinese immigrant and founder of Los Angeles' Hong Kong Noodle Company, David Jung, who came up with the idea for fortune cookies when he began handing out "baked cookies filled with inspiring passages of scripture" to the unemployed. In case you're wondering, Kito called out Jung for allegedly stealing his idea and maintains that it was he who originally invented the cookie.
Regardless of who first developed the idea, it was certainly the Chinese who managed to secure the public's association with these little cookies and their home country. Some say the culture shift happened during World War II, while the Japanese were unjustly rounded up and send to internment camps. It's speculated that Chinese restaurant owners took advantage of the gap in the marketplace by producing their own fortune cookies, effectively erasing Japan's influence on the cookie.
By the mid-20th century, it is estimated that more than 250 million fortune cookies were produced every year by both fortune cookie companies (Wonton Food Inc. produces an estimated 4.5 million fortune cookies per day) and independent Chinese bakeries. At Wonton Food Inc., each fortune has to be approved before it goes into the cookie.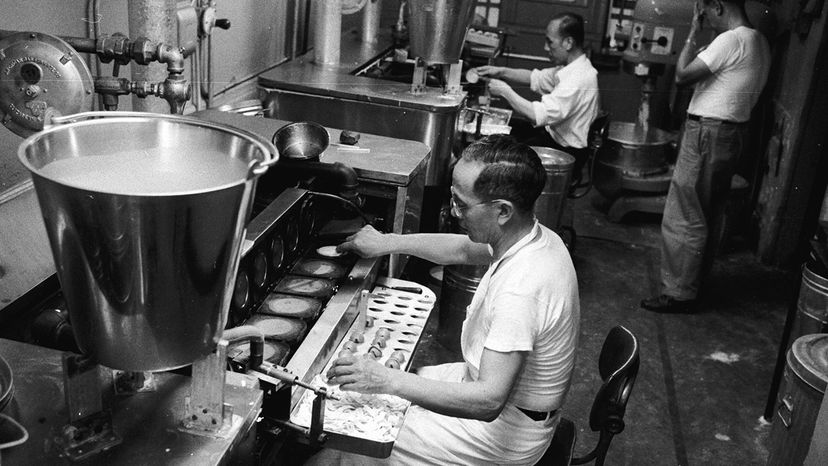 Fortune cookies are made at a factory in Chinatown in San Francisco, circa 1955.
Evans/Getty Images
How Do You Make Fortune Cookies?
So, what goes into fortune cookies aside from the actual fortune? Chef, YouTuber, cookbook author and TV host, and Pailin Chongchitnant lists this super-simple recipe on her site Hot Thai Kitchen.
Ingredients
1 egg white, room temp

3 ½ Tbsp. caster sugar or superfine sugar

Pinch of salt

¼ tsp vanilla or other flavoring of your choice (almond extract and lemon zest are some good ideas)

¼ cup all-purpose flour

2 Tbsp. melted butter
Directions
Whisk egg white until frothy.

Add sugar and whisk together until the mixture is smooth and glossy.

Add vanilla and salt; whisk to combine.

Add flour and whisk just until smooth. Whisk in melted butter.

Spoon drops of the batter into the shape of a circle onto a flat baking sheet.

Bake at 350 degrees Fahrenheit (176 degrees Celsius) for 8 to 10 minutes or until the edges of the cookies begin to brown.
Once you pull them out of the oven is when the magic happens.
"What you want is for the browning to happen around the edges and a little bit into the center," says Pailin in an email. By baking the fortune cookies in the oven just long enough to cook the dough, the cookie can be folded with a fortune inside without it breaking.
"Let [your cookie] cool in a muffin tin so it holds its shape," continues Pailin, "and they'll crisp as they cool." Pailin says it's totally fine to put your cookies back into the oven at 275 degrees Fahrenheit (135 degrees Celsius) for eight to 10 minutes if they're too soft.
"I love fortune cookies," adds Pailin. "I love how even adults get a bit of a childlike excitement when opening them to see what's inside. Also, most of the time Chinese restaurants don't have much in ways of dessert options, so for people who feel like a meal isn't complete without something sweet (like me) it's a nice treat."
Now, there are fortune cookie machines like the Kitamura FCM-8006W that suck fortunes into place and use "metal fingers to fold the fortune in half to trap the fortune inside" and can produce up to 8,000 cookies in an hour.