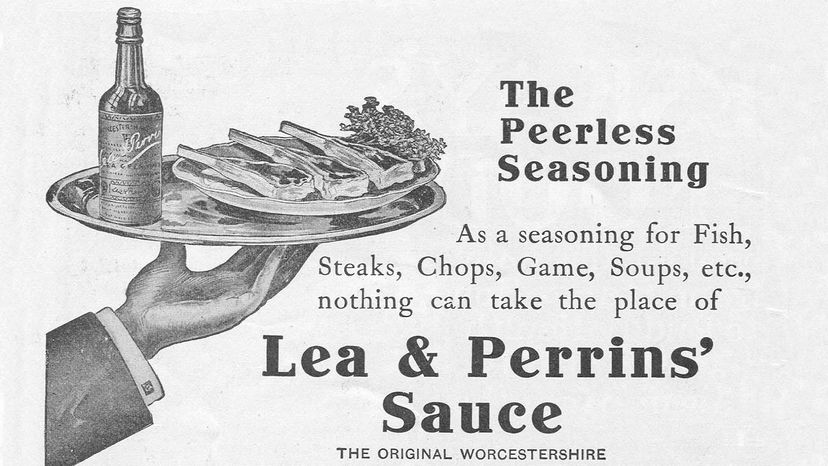 Lea & Perrins is one of the most well-known brands of worcestershire sauce on the market.
Jay Paull/Getty Images
It's that brown sauce with an unpronounceable name: Worcestershire sauce, a tasty, tangy addition to red meats, soups and pretty much anything that needs braising. (For the record, sauce creators Lea & Perrins say it can be pronounced "WUST-ter-shire," "WOOS-ter-sheer" or "WOOS-ter-sher.")
Worcestershire sauce is used to make good things even better, because it packs a lot of umami, or a savoryness. "In recent years there has been a newfound interest in 'umami,' or the fifth taste [after salty, sweet, bitter and sour], often described as 'deliciousness,'" says Seamus Mullen, chef at the Institute of Culinary Education, in an email interview. "The umami brings out the natural flavorings in food, makes steak taste more steak-y, mushrooms more shroomy."
Worcestershire sauce is made up of a lot of tasty ingredients, including anchovies, red onion, molasses, garlic, tamarind and malt and/or cider vinegar. "The vinegar and tamarind bring a punchy acidity to the sauce and the molasses and onion balance out the sweetness," says Mullen.
The ingredients for a blue cheese mushroom and onion stuffed burger include mushrooms, onions, ground mustard, blue cheese and Worcestershire sauce.
Brianna Soukup/Portland Portland Press Herald via Getty Images
But the true magic happens during the lengthy fermentation process, which takes 18 to 24 months. This last and most critical step was something of a happy accident when in the early 1800s two Worcester, England-based chemists (John Lea and William Perrins) were charged with duplicating a recipe enjoyed by a British nobleman while traveling in Bengal, then part of India.
Their first effort was an utter failure, however, and the chemists left it to languish in jars in the cellar. A few years later they rediscovered the batch and were thrilled to realize that the fermentation had turned it into the perfect savory sauce. They started selling it in 1837, it came to the U.S. in 1839 and is sold in over 75 countries today.
While the Lea and Perrins recipe remains a closely guarded secret, several competitors sprung up to make similar versions (the BBC counted at least 30 others in Worcester alone.) In fact, you can even try making it yourself at home.
"While the aging and fermenting process might be a bit much to undertake at home, you can make a very tasty approximation of Worcestershire sauce by simmering soy sauce, mustard powder, malt vinegar, tamarind paste, garlic and spices, anchovy paste, tomato paste, ginger, molasses and spices," Mullen says. Simply mix and simmer to sauce consistency. Then strain and reserve. Spices, he says, can include coriander seed, mustard seed and clove, as well as orange peel and black pepper. (Food.com has a simple recipe that skips a lot of these ingredients, but commenters say it tastes close to the original.)
Other Uses for Worcestershire Sauce
The beloved sauce isn't relegated to steaks and such, either. It can be added to pretty much anything that needs zinging, be it a Bloody Mary, fondue, cheese sauce, eggs, popcorn, potatoes, salad dressing or a grilled cheese sandwich. Lea & Perrins even recommends a splash of it in place of your normal salt and pepper dashes.
The continuing enthusiasm over umami flavor is carrying over into the Worcestershire market, and the recent uptick is expected to continue, projected through 2025, at least. "Umami hounds have been on the hunt for heritage condiments like Lea & Perrins's original recipe and there is an ever-increasing trend toward finding new applications for the sauce," Mullen explains. "From marinades to cocktails, Worcestershire sauce is having a moment."
Originally Published: Nov 9, 2020