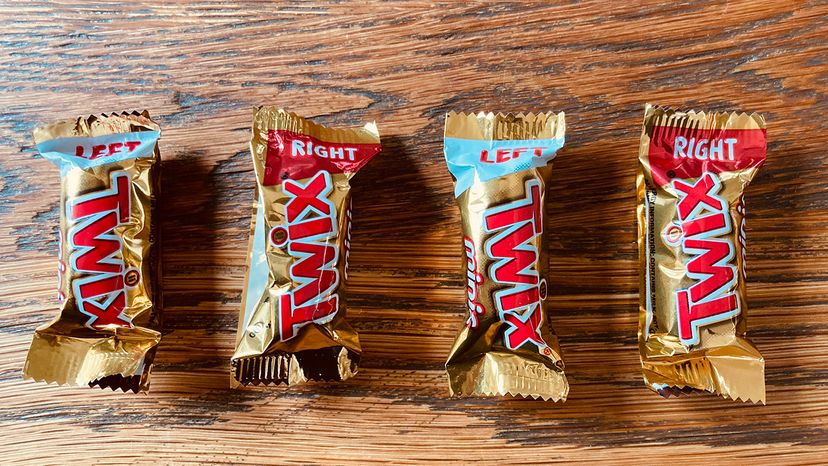 You've certainly seen the ads claiming that left Twix and right Twix are different to their cookie cores. They're even sold in packs of left-only and right-only sticks to appease partisan fans of each. But how different could these two twin Twix really be?
Let's break down the essentials of a Twix bar. There's a crunchy cookie with a layer of caramel on top, and the whole thing is covered in milk chocolate. According to the packaging, one crucial difference is in the application of the caramel: It "flows" onto the right Twix and "cascades" onto the left Twix.
Mars Inc. has never confirmed if there is indeed a difference betwixt the two, so we did some digging. The company did set up a clever website sharing "Our Story." This lore states that brothers Earl and Seamus (no last name given) created the cookie-caramel-chocolate combo together but differed in opinion on how to pour the chocolate. The argument came to blows, and they separated the operation into two factories to make left Twix and right Twix. This old-timey story even has an illustration of a newspaper reporting on the split dated 1920.
If you prefer fun to facts, you can stop here. This story is entertaining, and there's no shame in sticking to it.
The candy curious can follow along on the true Twix story. It was invented by Forrest Mars in the United Kingdom at Mars Limited headquarters in 1967. At that time, it was called Raider, not Twix, a name the candy would carry for decades in most of the world. When it was introduced in the United States a decade later, however, it was called Twix.
In the 1990s, Twix tried some new moves that proved popular, including replacing the caramel with peanut butter and selling a frozen version. There were other flavors available globally at different points in Twix history, including mint, orange, and cookies and cream.
In 1999, Mars Inc. started a campaign to change the name from Raider to Twix worldwide, a move that not everyone loved. In some places, Twix became a shorthand for renaming a product to improve its image or sales rather than changing it.
In 2012, the left Twix versus right Twix ad campaign began, and it continues to this day. The left Twix and right Twix packaging first appeared in 2017. So while there's little evidence that there's any difference at all between the two bars, we leave it entirely up to you which Twix you prefer.
May this be the most heated argument you get into today.