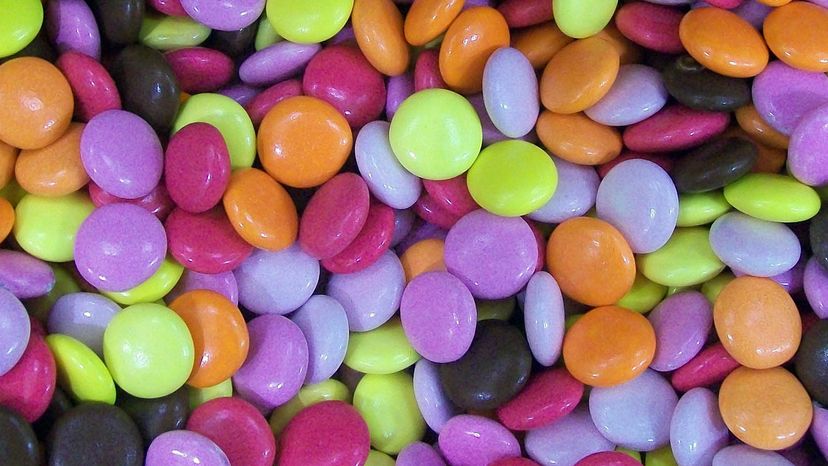 Eye-popping candy is the name of the game every Saturday as Swedes dive into pick-n-mix candy displays in shops all over the country.
Peter O'Connor/Flickr (CC BY-SA 2.0)
IKEA, meatballs, the Swedish Chef – gosh, it seems the Swedes really have thought of everything. For those of us whose knowledge of this Nordic country ends at furniture stores and Muppets, allow us to introduce you to a Scandanavian tradition called Lördagsgodis (aka "Saturday sweets" or "Saturday candy"), a celebration of all things sugary that happens every weekend. For real. It's a tradition that could've been conceived by Homer Simpson himself. Here's everything you ever wanted to know about Lördagsgodis.
Sweden Loves Its Candy
The first thing you should know about Sweden is that it's a country that loves sweets. A study conducted by Jordbruksverket (Swedish Board of Agriculture), found that Sweden actually has the highest candy consumption per capita in the world. The board concluded that the average Swede eats about 35 pounds (16 kilograms) of candy per year. Thirty-five pounds – that's literally three times the average amount of sugar recommended by the World Health Organization.
In the 1940s, the Swedish government explored the hazards of sugar (by way of some truly awful experiments performed on patients in a mental hospital), in which the dangers of overeating sugar were uncovered. In response, Swedes were urged by the government to limit their candy-eating habits to just one day a week. Saturday was chosen and Lördagsgodis was born.
"Swedes are extremely particular when it comes to candy," says Tyler Graybeal, owner of the aptly named Sweetish Candy, purveyors of Swedish and Nordic treats, in Lancaster, Pennsylvania. "There's definitely a large fan base for Salty Licorice, but the majority of Swedes that I've seen have their personal mix. This is where the function of a pick-n-mix wall comes in. Having a huge selection of loose Swedish candy helps with everyone's cravings from old to young. Within loose Swedish candy some go for sweet or sour or chocolate or marshmallows or licorice or a mix of all!"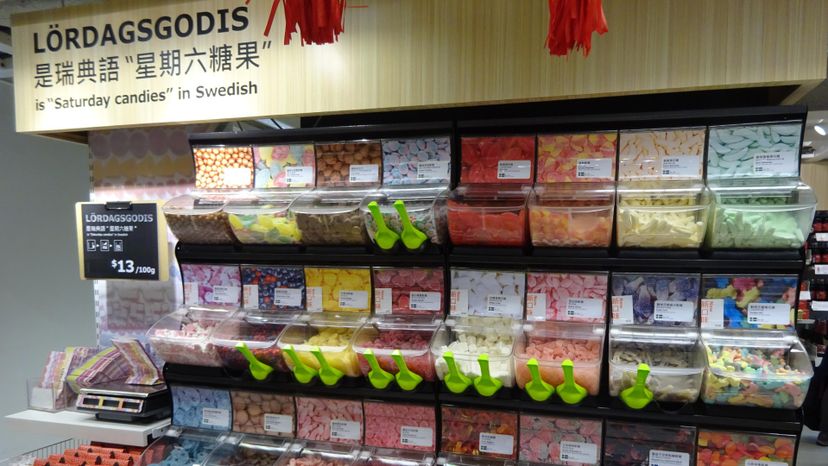 The IKEA pick-n-mix candy wall display in the Park Lane Hong Kong Hotel is a celebration of the Swedish tradition of Lördagsgodis.
Wikimedia Commons (CC By-SA 4.0)
The pick-n-mix wall is a staple of Swedish gas stations, drug stores and supermarkets: a bulk candy wall comprised of dozens of different types of jellies, toffees and chocolates. Basically, it's like your run-of-the-mill Sweet Factory, except in every store and with far more choices. It's no wonder the government has to gently mandate a national cutback on sugar.
One New Yorker article titled "How to Eat Candy Like a Swedish Person" speculates the Swedes candy obsession came about with the same brand of Nordic enthusiasm as their love of coffee because of the country's lack of sunlight. The northernmost town in Sweden – a tiny spot called Kiruna – experiences polar nights from Dec. 11 to Jan. 1. That's 22 days without the sun. Factoring in that definitive connection between depression and sugar, it starts to become clear why this Scandinavian country of a hair over 10.2 million people can't stop snackin' on sweets.
On the holiday/tradition spectrum, you should think of Lördagsgodis more closely to Sunday brunch than Thanksgiving; that is to say it's not the type of event where people dress up and give thanks.
"It's a weekly weekend family activity," continues Graybeal. "Head to the nearest grocery store or candy store on Saturday and bring the whole family to create their own bag of Swedish candy favorites. The majority of Swedish candy stores have a huge wall of loose candy and even the small convenience store down the street may have one too. Grab a bag and a scoop and mix as much candy as your heart desires. The Swedes are pros at living a relaxing life and planning when to take a break and candy is a huge part."
And for the Slightly More Health-conscious Swede?
For the health-conscious Swede who wants to show national pride without sacrificing their health, major companies in Sweden and the surrounding Nordic countries have embraced better ingredients.
"The Swedish candy world has been evolving to add more natural flavors and organic options," adds Graybeal, "There's even a vegan kexchoklad bar now! Karl Fazer's loose candies, for the most part are all vegan and made with natural colorants," adds Graybeal, "As well as BUBS godis, there are many options out there, so a health-conscious Swede may take a closer look at the ingredients."
Pro tip: Next time you're at IKEA, check out their sour jelly Lördagsgodis candies. No assembly required.