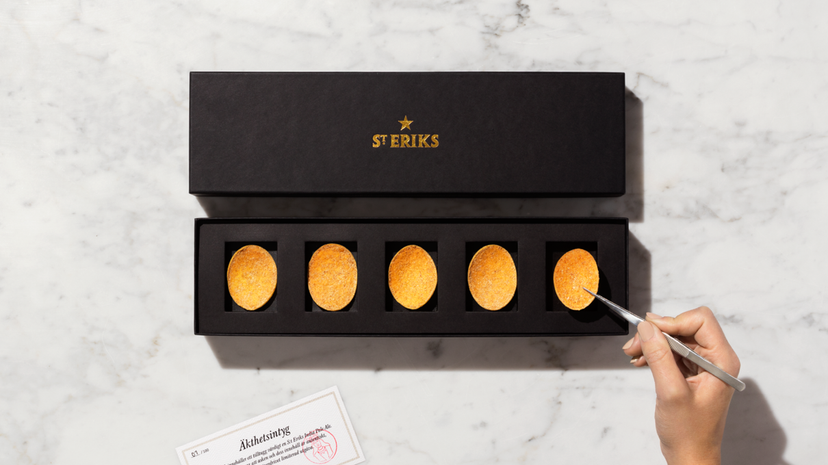 Beer and crisp, salty potato chips are a pretty obvious culinary match, but one brewery has taken it to a seriously pricey level. A Swedish brewery called St. Eriks has paired its craft-brewed pale ale with specially formulated potato chips — a set of five that cost $56.
No, not five bags of chips for 499 Swedish krona, equivalent to $56. Five single chips. Five! And that doesn't even include shipping! And get this: The brewery completely sold out of all 100 boxes of the expensive spud slices. The recipe was created by chef Pi Le, who made each chip by hand.
The hefty price tag doesn't just come about because of the notoriously high prices of the Scandinavian countries — nor is this some sort of government scheme to have snack food pay for universal health care and parental leave. The recipe for the aforementioned five chips incorporates potatoes that grow only on a certain hillside in Sweden's Ammarnäs region. The chips are seasoned with rare ingredients like matsutake mushrooms, truffle seaweed, India pale ale wort, and come served in an individually partitioned wooden container.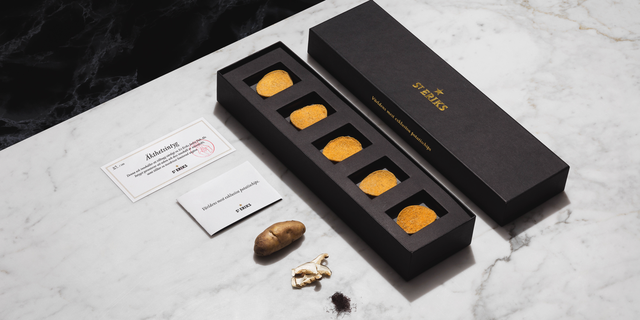 According to the company's website, all proceeds from the sale of the chips will go to charity.
You may still feel a little peckish after your potato chip snack, but luckily there are plenty of other treats to drain your bank account and fill your belly. The restaurant Fleur by Hubert Keller in Las Vegas serves a $5,000 burger made from Wagyu beef, which is intensely marbled and flavorful, and topped with foie gras and truffles.
For dessert, be sure to check out the $25,000 ice cream sundae served at Serendipity 3 in New York City. The dessert includes a blend of some of the world's most expensive cocoas, and is decorated with edible 23-karat gold before being served in a goblet lined with edible gold (detecting a theme here?). Other decorations include an 18-karat gold bracelet studded with white diamonds and a gold spoon ... also lined with diamonds. Kind of makes $56 for five chips seem like a bargain, doesn't it?
Learn more about the history of potato chips — the regularly priced ones — in this episode of our BrainStuff show: