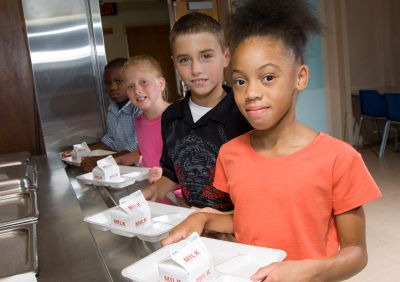 School lunches used to be notoriously unhealthy, but recent concerns about childhood obesity have encouraged cafeterias to offer healthier menu items and to implement new methods of food preparation. In addition to calcium from those cartons of milk, what kind of nutrients do school lunches have to offer?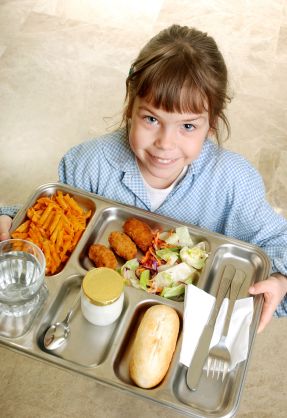 Many cafeterias still offer fried foods like chicken nuggets and french fries. These items are easy to make in bulk and cook quickly. Ask the school dietitian if the cafeteria uses oil that's free of trans-fats or if it's possible to get baked nuggets and fries. If not, encourage your child to supplement a golden-fried lunch with a green salad and yogurt.
A popular hot lunch combo is a hamburger with fries. If your child regularly opts for burgers at school, ensure that he or she is piling on the nutritious toppings. Lettuce, tomatoes, pickles -- every veggie counts!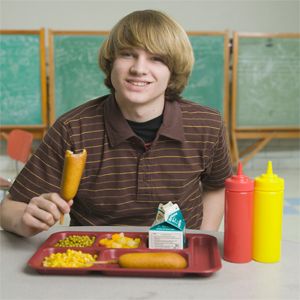 Ah, corn dogs. This school cafeteria classic, like many other fried foods served up when the lunch bell rings, has endured through the years because it's cost-effective and easy to whip up in large batches.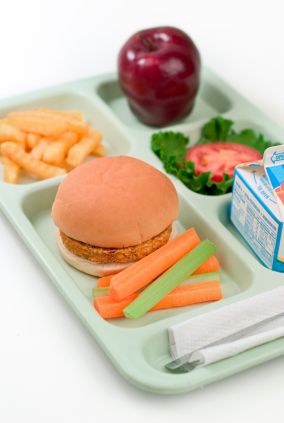 If your child has special dietary needs, selecting items from the hot bar can be a bit of a challenge. Some schools offer alternatives for children with vegan diets -- like soy chicken patty sandwiches in lieu of ham subs. This healthy-looking lunch complements such a sandwich with a juicy apple, carrot and celery sticks, a handful of french fries and milk.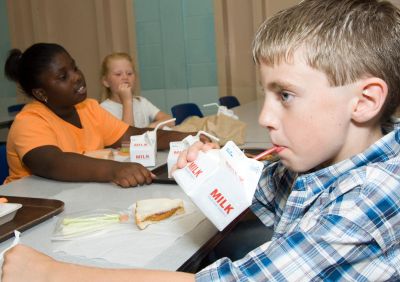 One of the best parts of lunchtime is socializing with classmates. Interacting with peers outside the classroom helps your child foster solid social skills. Now, that's something to raise a carton of milk to!
Baked chicken, beans and a banana comprise a well-rounded meal packed with protein, fiber and potassium. Your child needs these nutrients to score a good grade on that afternoon math test.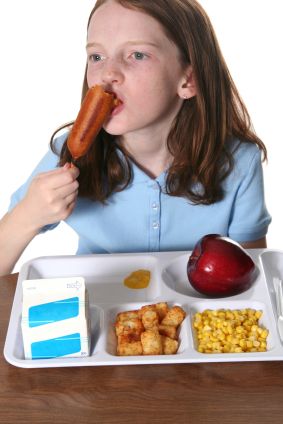 Corn dogs and tater tots aren't exactly nutritional powerhouses, but your child's school cafeteria might be willing to fry these items in peanut oil or bake them if enough parents express concern about healthy mealtime options.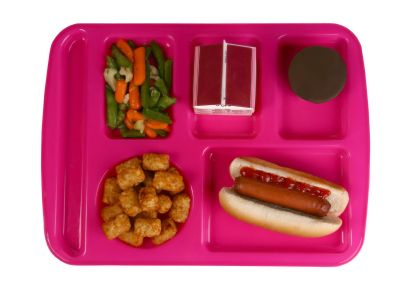 People often joke about the mystery meat in hot dogs, but it's no laughing matter. They're made of meat, meat fat, cereal filler, egg white and spices. Kosher hot dogs and ones made from turkey are far better lunchtime choices.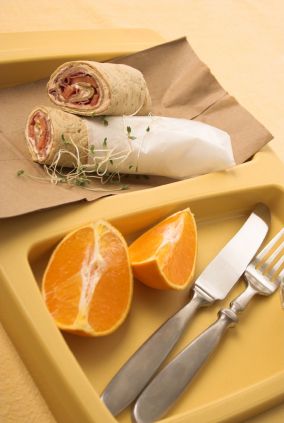 Some schools really think outside the deep-fryer when it comes to planning menus. A turkey, cheese and sprouts wrap on a whole-grain tortilla will give your child long-lasting energy throughout the day. Orange slices are sweet enough to pass for dessert, but they're also loaded with vitamin C.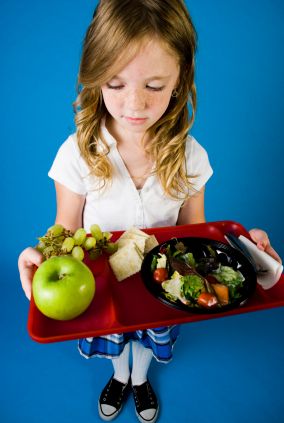 Talk to your son or daughter about the importance of eating greens and fresh fruit, and enjoy these meals with them on weeknights and weekends. When the cafeteria serves up a tray of salad, grapes and apples, your child will embrace it enthusiastically instead of turning up a nose at it.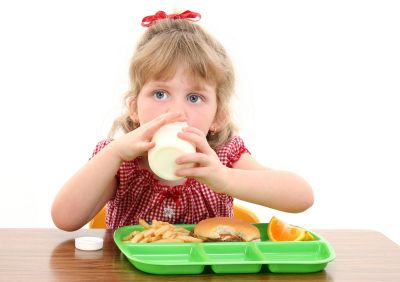 Of course, the healthy items in your child's school lunch won't do much good if he or she fills up on fried stuff and skips the fresh fruit. This little girl has the right idea: Chugging that calcium-rich milk is a surefire way to glean some nutrients from lunch.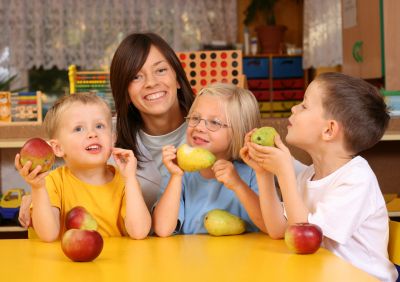 When it's time for a mid-morning or afternoon break, fresh fruit really hits the spot. Consider packing an exotic piece of fruit, such as a kiwi or starfruit in your child's backpack. He or she will love showing off this extraordinary treat to curious classmates.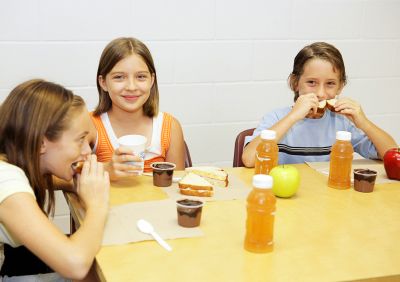 Pudding is a great option for dessert. Many varieties are fat-free, and most are loaded with calcium. The school cafeteria might even offer a cup of pudding with slices of banana or pineapple for a little extra boost.
Oh, oranges! What's not to love about this juicy fruit? School cafeterias love slicing and serving up oranges because kids can't get enough of them. This sunny fruit also contains calcium, potassium and vitamin B6.