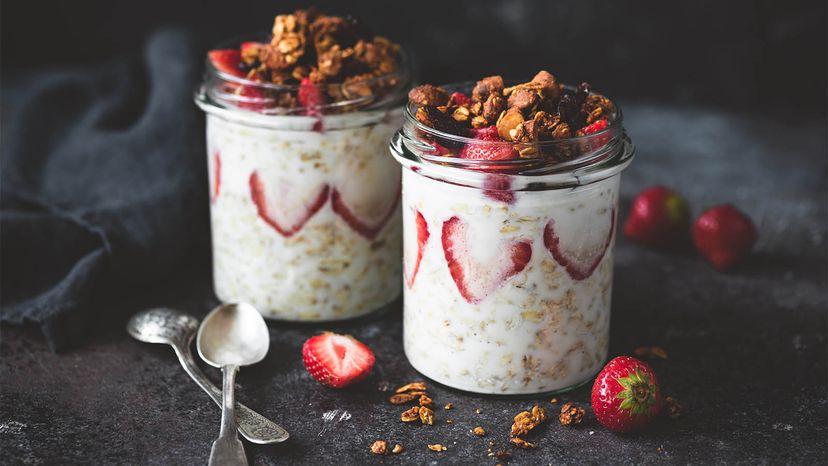 Overnight oats, like these yummy oats with strawberries and granola, are a healthy way to have breakfast.
Arx0nt/Getty Images
One of the most beloved morning foods is oatmeal but not everyone has or wants to take the time to cook it, especially the longer-cooking steel cut variety. So, what's a time-crunched person to do to stave off that morning hunger?
The best way to save time at breakfast — and still eat healthy oats — is to make it the night before. Good morning overnight oats!
Overnight oats are exactly what the name implies: oats that you prepare the night before you intend to eat them. You can use both rolled and steel-cut oats to make overnight oats, but you'll end up with different consistencies. The good news is that oats are extremely versatile and can satisfy either sweet or savory palates.
Slow Cooker Method
Long-cooking steel-cut oats are best when using the slow cooker method. It's a simple technique that requires little effort on your part.
Use only regular, long cooking steel-cut oats. Any other kind will be way too mushy after all the time in the cooker.

This method requires a ratio of 4 cups liquid (water, milk, nondairy milk) to 1 cup oats, plus a pinch of salt. This amount will yield four servings so you can adjust accordingly.

Use a generous amount of nonstick spray or a pot liner to avoid sticking.

Cook on low for 7 to 8 hours.

Know your slow cooker and adjust accordingly. For example, if your cooker runs hot, you might add more liquid or reduce the cook time to help avoid burning.
Refrigerated Overnight Oats
Most people prefer rolled oats prepared in this method. Generally, you don't want to substitute steel-cut oats for rolled oats but it can be done with some tweaking (like soaking the oats ahead of time.) These tips are for preparing overnight rolled oats.
Use a ratio of 2 cups liquid to 1 cup oats (rolled or quick oats work fine), which will yield a porridge-like consistency.

You still need that pinch of salt, so don't skip this step.

Time your add-ins carefully. Chia seeds and dried fruit can be added at night as they both need time to absorb moisture. You can mix in nuts, seeds, fresh fruit and other non-absorbent treats in the morning.

Make sure to stir again (or shake if you're using a Mason jar) before you dive in to ensure the flavors and textures are well-blended. (The oats on the bottom can be mushier than the oats on top.)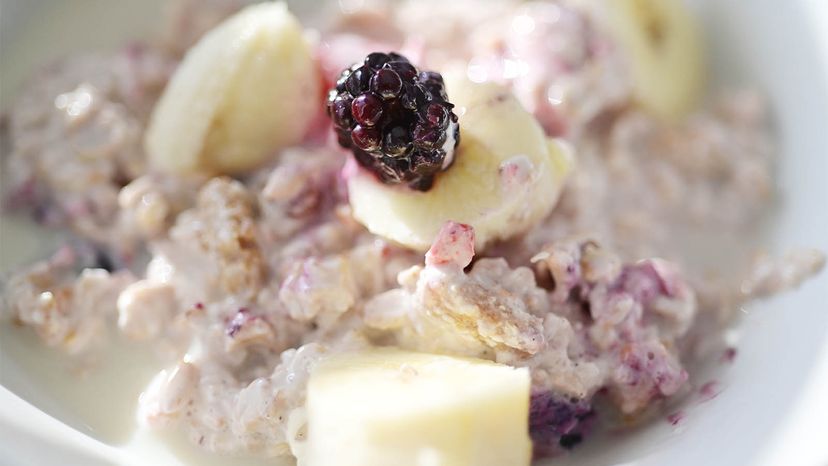 The flavors you can create with overnight oats are endless, like this dish with banana and mix berries.
Rafael Ben-Ari/Getty Images
Overnight Oats Flavor Combos
Now what about flavoring these oats? Variety is the spice, so here are a few suggestions for mixing it up.
Sweet flavorings: dried fruits, cinnamon, brown sugar, nutmeg, pie spice and other seasonings.
Savory flavorings: nuts, bacon, cheddar cheese, egg and just about any food that appeals to you.
Check out our list below for more flavor combo ideas.
Peanut butter, chocolate almond milk and banana

Cinnamon, crushed walnuts and sliced banana

Vanilla yogurt, chia seeds and fresh blueberries

Almond butter, flax, sliced almonds and sliced bananas

Fresh mixed berries and chia seeds

Mango, ginger and coconut milk

Lemon, thyme, honey and yogurt

Apples, brown sugar and vanilla

Bacon, maple syrup, chopped walnuts and cinnamon

Strawberry, banana, chia seeds and almonds