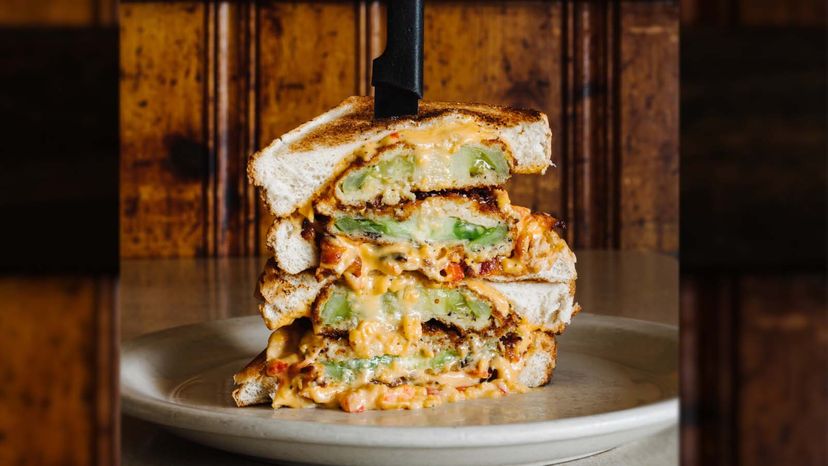 Home Grown's Grant's Stack sandwich includes thick-cut bacon, pimento cheese and fried green tomatoes grilled between slices of Texas toast. It's named for a customer who repeatedly requested it.
Andrew Lee/Home Grown
Pimento cheese may be a scrumptious staple that's super popular in the South, but this creamy cheese dish actually got its start up North — in New York of all places — just before World War I. Timing for this comfort food — a simple spread made with pimentos, cheese and mayonnaise — was fortuitous.
As cream cheese (that was the original ingredient in pimento cheese) hit the market in the late 1800s, Spain's sweet red pimiento peppers simultaneously entered America's food aisle. These mild peppers added a pop of pizzazz to dishes without overdoing it on flavor or spice.
American chefs and homemakers appreciated these muted tastes, and integrated cream cheese into everything from salads to hors d'oeuvres. As canned pimientos became readily available, they soon fused the two — and the comfort-food category has never been the same.
Of course, there's much more to the story than a simple marriage between cheese and pimiento peppers. The story of pimento cheese involves mass production, agricultural novelties and the addition of the South's signature influence: mayonnaise. Here's a snapshot of pimento cheese's history to whet your appetite.
From Novel Spread to Mainstream Must-have
As recipes for pimento-cheese sandwiches filled Good Housekeeping magazines and cookbooks — and yes, publishers dropped the "i" in "pimiento" along the way — cheese manufacturers began to notice. They mass-produced pimento cheese, and it soon became available in grocery stores across the country.
At the same time, Georgia was making headway with plans to grow the crop on U.S. soil, according to Southern Kitchen. The state's lead farmers requested seeds from the Spanish consulate in the early 1900s, and in 1916, they had their first successful harvest. As peppers proved fruitful, pimento cheese grew in popularity across the South. Southerners in towns and cities could buy canned pimento-cheese spread, but those in the country who didn't have access to it made their own. That's likely when mayonnaise made its way into pimento cheese.
"Growing up in the South, cream cheese wasn't something we ate," says Kevin Clark, co-owner of popular Atlanta restaurant Home Grown Ga. "It just wasn't available, so mayonnaise was a substitute. We used mayonnaise on everything; it's just what we had."
Pimento Cheese Becomes a Southern Staple
Pimento cheese saw its popularity spike before World War II, but according to Serious Eats, the enthusiasm waned postwar. While others forgot about the cheese, Southern chefs began experimenting with their own recipes in the years following. It became part of Southern culture, and Clark says families now boast their own special Southern pimento-cheese recipes — and his family's recipe is, of course, his favorite.
"Family recipes have more meaning to you anyway," Clark says. "Honestly, I don't think there are really a lot of differences in recipes, other than one may have sharp cheddar or mild cheddar. It's just a personal preference."
Clark introduced his pimento cheese recipe to the world at Home Grown, which has been serving up Southern comfort food in Atlanta since 2010. At first, pimento cheese wasn't even on the menu. But patrons loved his recipe so much he made a space for it; now it's one of his bestsellers.
"Pimento cheese slipped my mind, but a customer would come in every week and ask for it," Clark says. "I finally put it on the menu and it took off. We probably go through 50 to 60 pounds [22.6 to 27.2 kilograms] of cheese every week."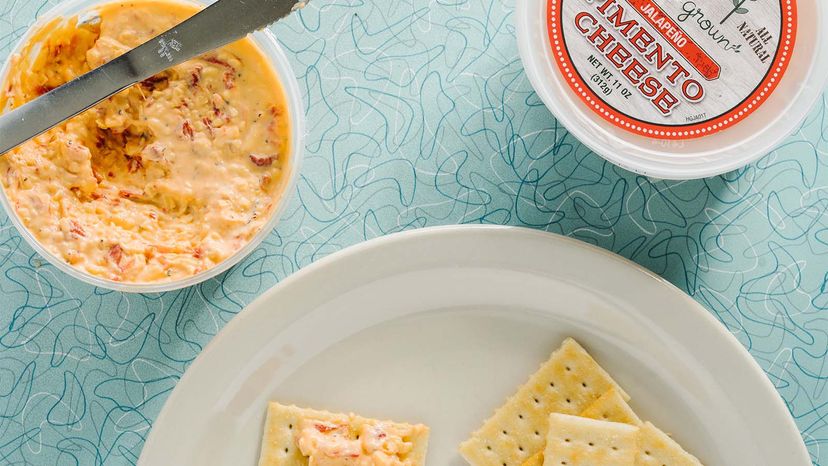 Home Grown's pimento cheese became so popular, the restaurant now markets and sells it to the masses.
Andrew Lee/Home Grown
How to Make Pimento Cheese
Pimento cheese is a simple recipe, and Clark says that's one of the best things about it. Today's most popular recipes call for cheddar cheese, pimento peppers, mayonnaise and ground black pepper, although some chefs experiment with ingredients like jalapeño peppers and Tabasco sauce for extra flair.
Pimento cheese is typically served cold as a spread, although per customer requests, Clark now serves his hot. He says customers come in from all corners of the country to try distinct Southern cuisine, and while it may not be the first thing that comes to mind, pimento cheese is an unexpectedly great way to enjoy authentic Southern fare.
"People are always taken back by a cold cheese spread, but I say just try it," Clark says. "It's really easy to make, and you don't have to use fancy ingredients. It's good cold or heated it up — there are just so many ways to use it."
Ingredients
2 cups shredded sharp cheddar

1/2 cup of mayonnaise

1/2 cup of diced pimento peppers

1 teaspoon of ground black pepper

2 to 4 dashes of Crystal hot sauce
Preparation
In a large mixing bowl, stir together all of the ingredients until the mixture is smooth and spreadable. Cover and chill. Let stand at room temperature for 30 minutes and stir well before serving. Store in an airtight container in the refrigerator for up to one week.
Recipe courtesy Home Grown Ga.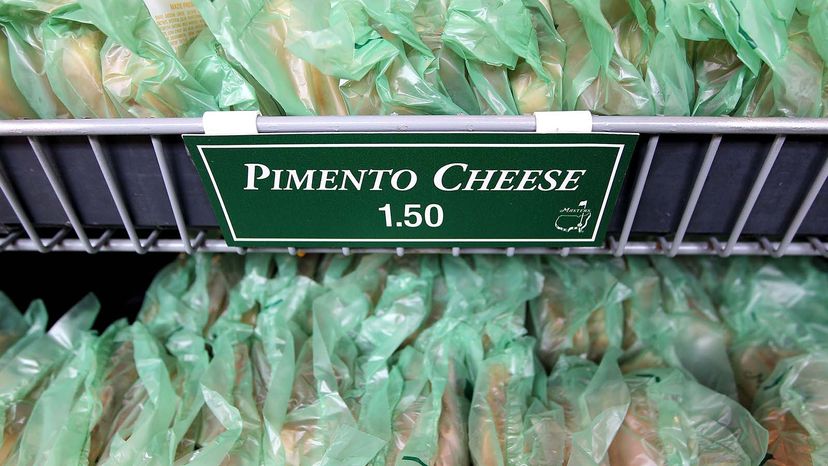 The $1.50 pimento cheese sandwiches sold at the Masters are nearly as famous as the golf tournament itself.
Photo by Jamie Squire/Getty Images