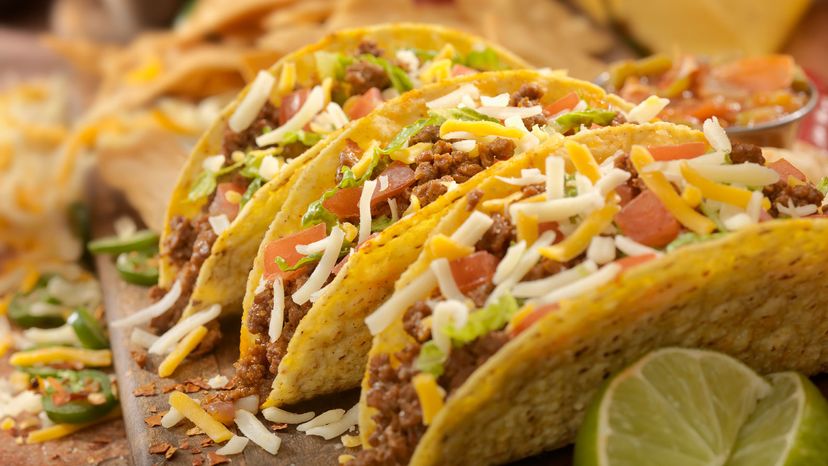 The longevity of the hard-shell taco had a lot to do with its eventual popularity in the U.S.
LauriPatterson/Getty Images
Americans eat more than 4.5 billion tacos each year. It's hard to believe that before the 1950s, tacos didn't really exist in the U.S. How did this Mexican street food become so popular stateside? One hint: fast food. Read on for five things you didn't know about this versatile food.
1. Tacos Have Been Around for Millennia
"Tacos have existed since there was a tortilla, even if they didn't exist by that name," wrote Gustavo Arellano in the book "Taco USA: How Mexican Food Conquered America." "The earliest mention of 'taco' as a food dates only to the late 19th century; previously, the word stood for everything from a pool cue to a hammer to getting drunk."
Tortillas are made from corn that's been ground into flour, formed into dough and then flattened out into thin rounds that are fried. They are a staple of Mexican cooking and have been around since perhaps 1500 B.C.E. If a tortilla is folded in half around some kind of filling, it becomes a taco, a Mexican version of a sandwich, if you will. One theory says the word taco comes from an indigenous Nahuatl wordtlahco, meaning "half" or "in the middle", which refers to the way a taco is formed. Another says that the word "taco" came from a type of explosive used in silver mines in Mexico. And a street taco can be spicy hot!
2. But Taco Bell Popularized Them in the U.S.
¿Yo quiero Taco Bell? Even if you don't, you might after reading this fun fact: Tacos came to the U.S. in the early 1900s, along with the Mexican migrants who worked in the mines and railroads. But fast-food chain Taco Bell made the product a household name. The hard-shell tacos that Americans used to think represented all tacos are a specific kind called taco dorado.
"The taco shell is crucial for taking Mexican food outside of Mexican communities," said food historian Jeffrey Pilcher in an interview with Smithsonian magazine. "Corn tortillas do not keep very well. ...If the taco shell is fried beforehand, you can wrap it up in plastic and keep it sitting around until somebody wants to use it."
In the 1950s, Glen Bell, who owned a few hamburger joints in Los Angeles, noticed the popularity of Mexican food with non-Mexicans and opened a taco stand called Taco-Tia, using ingredients Americans were familiar with, like ground beef, lettuce and shredded cheese. The first Taco Bell (named after Glen himself) opened in 1962. Franchising made Bell rich and spread the taco gospel around the U.S. In 2021, Taco Bell had 7,791 locations worldwide.
3. You Can't Get Tacos at Lunchtime in Mexico
Although Americans eat tacos at any time of day, in Mexico they don't. Tacos there are available on the street usually in the morning or late at night, but from noon to 6 p.m., they are nowhere to be found. That's because Mexicans normally eat their big meal in the afternoon. But once dusk rolls around, the taco carts are back, ready to fuel those going to or coming from a night of partying.
4. The Taco Truck Was Probably the First Food Truck
The first taco truck in the U.S. is believed to have been opened by Raul Martinez, a Mexican immigrant who converted an old ice cream truck into a mobile taco restaurant in 1974. He parked the truck outside an East Los Angeles bar and was so successful, he was able to open a restaurant (King Taco) just six months later. King Taco now has 22 locations in California.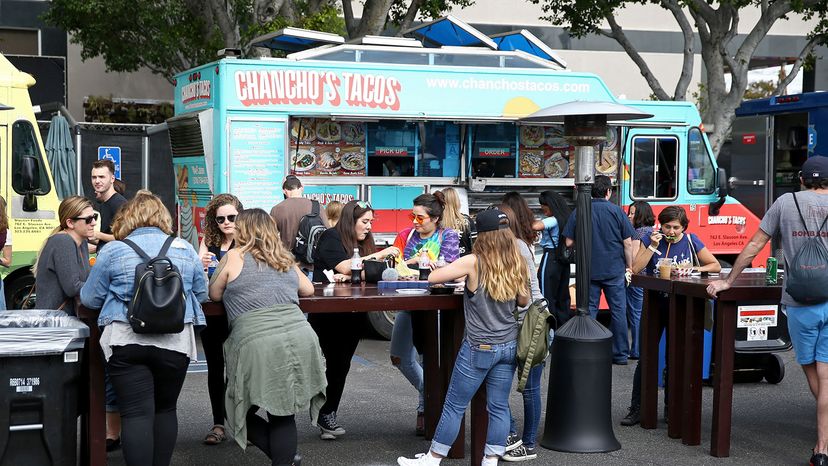 Festival goers enjoy Chancho's Taco Truck during Entertainment Weekly's PopFest at The Reef on Oct. 29, 2016, in Los Angeles.
Joe Scarnici/Getty Images for Entertainment Weekly
In addition to spawning thousands of other taco trucks, Martinez may have sparked the food truck trend that has been taking over much of America since the early 2000s.
5. You Can Fill a Taco With Anything
One of the most popular types of tacos is the taco al pastor, which is roasted pork, sliced thin, and accompanied by pineapple, onion and cilantro. This taco was an adaptation of the gyro, popularized by Lebanese immigrants in Mexico. Gyros traditionally feature thinly sliced lamb and pastor is the Spanish word for "shepherd."
Other popular Mexican tacos include barbacoa (usually barbecued beef), camarones (shrimp) and lengua (beef tongue), but other types feature organ meats (like tripe) or fried grasshoppers. Breakfast tacos have eggs, while fusion tacos might have ingredients associated traditionally with other cultures, like Korean barbecue. The taco possibilities are truly limitless.
Originally Published: Jan 8, 2019