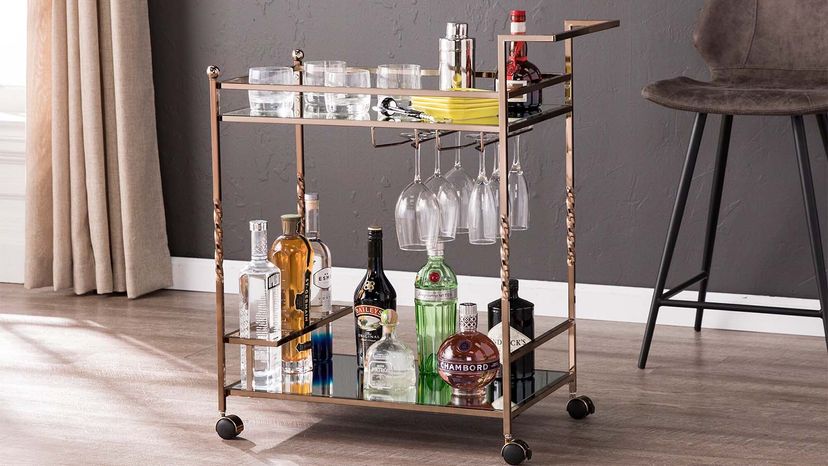 A bar cart can not only show your design style, but also serve as your cocktail station if it's well stocked.
Wayfair
A well-stocked bar cart serves two main purposes. First, it can be a gorgeous decorative element in your home's main entertaining spaces. And second, it can showcase your design preferences — think classic Hollywood glam or sleek mid-century modern.
But perhaps most importantly, a properly appointed cart can also function as your bar. Of course, to craft the perfect cocktails at home, you need to have that bar cart stocked with all the booze, bitters, mixers, tools and other essentials. Otherwise, it's really just a pretty cart.
To find out how to stock a bar cart like a pro, we tapped an industry expert to share her insider knowledge. Sam Montgomery, the national brand ambassador for Kentucky's Bardstown Bourbon Company, is a passionate whiskey enthusiast and has been tending bar for a decade.
The Booze
Let's start with the most important step for stocking a bar: the alcohol. Montgomery says she likes to keep her bar stocked with at least one of each of the following: bourbon, scotch, rum, brandy, tequila, gin and vodka.
"I use my bar the most when I have guests over and it's hard to disappoint ... with [this] basic selection," she explains. As for what brands, embrace your favorites, though Montgomery says she prefers to stay away from big name brands and instead looks for more craft and local producers.
Choosing local can also be a great conversational piece when hosting friends and family. "A great suggestion, if you are a traveler," she says, "is to go into a local liquor store while vacationing and ask the employees if there are any local producers around the area and see what they suggest." Shopping local also means you're directly supporting distilleries in your area, or your favorite vacation spot, and it makes for a more interesting, less basic bar cart set up.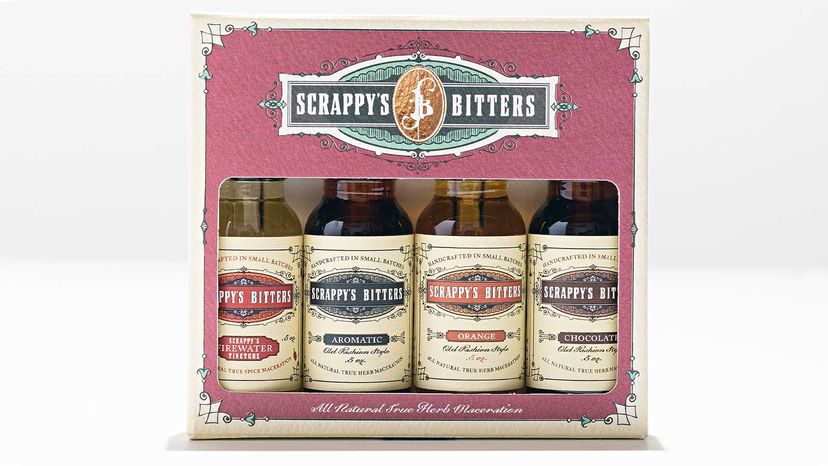 A variety of bitters are a must on any home bar cart. Consider them the "spice rack" of your cocktail station.
Scrappy's
Bitters and Vermouth
Next up, let's tackle another key bar cart ingredient, bitters. Bitters are made from botanicals, like fruit, aromatic herbs and roots. According to Encyclopaedia Britannica, they're used as tonics, liqueurs, digestives, flavorings and ingredients to "add tang" or smoothness to alcoholic drinks.
Bitters are usually named according to the ingredient giving the predominant flavor, such as orange bitters and peach bitters. The percentage of alcohol varies but is generally about 40 percent by volume. Bitters are an absolute must on your bar cart, and Montgomery says they're like the "spice rack" of the bar.
"I would start with angostura bitters as they are amongst the oldest, most traditional, and most often called for in classic cocktail recipes, but definitely experiment with others," Montgomery says. "The great thing about bitters is that they are deemed non-potable by the government (kind of like red wine vinegar) and therefore you can buy them online. Scrappy's is a great brand with some more unique flavors."
Beyond the traditional angostura, Montgomery also suggests having at least one "red bitter" liqueur such as Campari or cappelletti. She also says you should have one each of sweet and dry vermouth, which are technically fortified wines flavored with aromatic herbs and spices, not bitters.
"These three bottles will allow you to play around with many classic cocktails," Montgomery says. "It's important to note, however that vermouth should be refrigerated after opening and consumed within two to three weeks to keep it the freshest."
Specialty Liqueurs, Mixers and Tools
When it comes to specialty liqueurs, Montgomery says there are endless directions you can go, but she loves chartreuse, in particular. It's available in both yellow and green varieties. "[These] are extremely herbaceous and can really elevate a cocktail when used in moderation. The yellow variety is a bit sweeter and easier to start with than the green option," she explains.
And no bar cart would be complete without a wide range of nonalcoholic mixers. Montgomery says she would never be caught without tonic, soda water and ginger beer on hers.
What about bar tools? "Obviously, you'll need some tools for mixing and my advice is to buy something beautiful, even if it means it takes you a little bit longer to acquire the whole collection," Montgomery says. "You'll be more excited to use them and making cocktails is in fact a part of the experience and should be enjoyed." Cocktail Kingdom is her go-to source for bartender tools, but she says she also loves antiques when she can find them.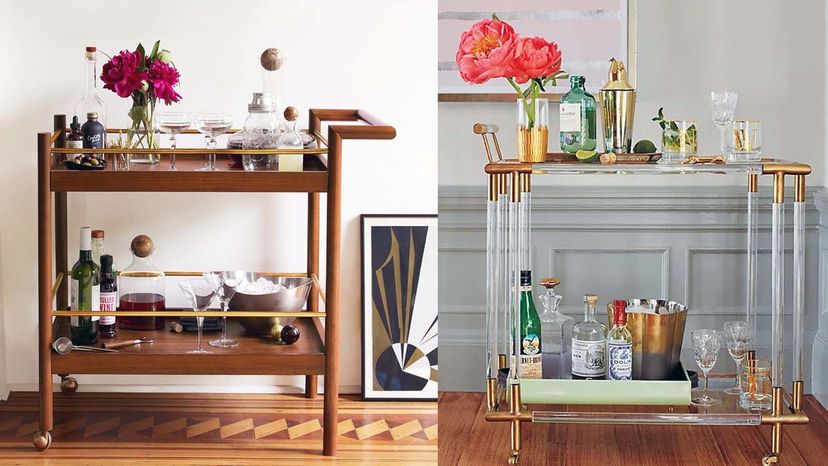 The final touches on any beautiful bar cart could include fresh flowers, metal ice buckets and your favorite bar tools.
West Elm/Anthropologie
Décor and More
The final step, if room on your cart allows, is to add decorative elements to aesthetically elevate your bar cart. Displaying extra pretty tools or a vintage metal ice bucket can add retro glam. Or adding a simple vase with fresh flowers before guests arrive offers a nice pop of nature.
Montgomery also suggests choosing bottles based on looks. "I'm a bit biased here but there is nothing more beautiful on my bar than my Bardstown Bourbon Company collection," she admits. "They have a sleek modern look with a different etched design on each expression and stick out like a sore thumb amongst the sea of typical bourbons."