With all the right tools at home, you can be your own mixologist.
HowStuffWorks
Trendy bars lure in cocktail lovers with fresh new drink recipes, but about when you want one of these drinks at home? Well, if your home bar is stocked, you can try your hand at being your very own mixologist, and never have to leave the house unless you want to.
Home bars offer cocktail hobbyists and emerging mixologists the chance to experiment with classic drink recipes and their own new creative concoctions. But it's not as simple as buying a few types of booze and bitters and calling it a day. A really impressive home bar must be chock-full of everything from the proper tools to crystal-clear ice — as well as the aforementioned booze and bitters. So if you're ready to finally take your home bar up a notch, here are 10 must-have items to get it there.
1. Glassware
There's a reason mixologists serve drinks in uniquely shaped glasses — and it has nothing to do with how cool or swanky they look. Just like the right glass can make your wine taste better, cocktails and mixed drinks have their own glass styles, too. Stock up on rocks glasses for whiskey or old fashioned drinks; Collins glasses or highball glasses for lighter carbonated drinks; and coupe glasses for drinks like martinis. Don't forget wineglasses and pint glasses, too.
If you don't have the shelf space or the budget for dozens of glasses, don't worry. The common rocks glasses, also known as "double old fashioned" glasses, work for most drinks.
2. Bar Spoon
While most mixed drinks require shaking, recipes like the Negroni call for stirring. That's where the bar spoon — a must-have necessity for any home bar — comes into play. At-home mixologists use the spoon to mix ingredients to an ideal temperature and dilution level. But its uses don't stop there. You can measure ingredients (the spoon side is equal to about 1 teaspoon), layer different spirits or use the end as a muddler for mashing fruit and herbs.
The bar spoon comes in three main styles: the American bar spoon, which has a twisted handle and a signature red cap on the top; the European bar spoon, which replaces that red cap with a hammer or disk for muddling and layering; or the Japanese bar spoon, a thinner alternative with a small teardrop spoon shape.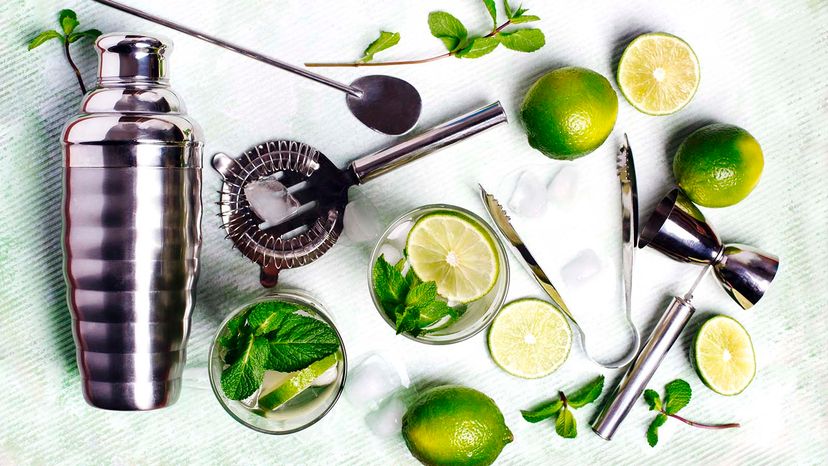 A variety of bar tools are shown here, including (clockwise from left) a cocktail shaker, spoon, strainer, tongs and a jigger.
Anjelika Gretskaia/Getty Images
3. Shakers and Strainers
Like we mentioned, many cocktail recipes require shaking, which means shakers are a home-bar staple. The two most popular cocktail shaker styles are the Cobbler shaker and the Boston shaker. The traditional Cobbler shaker is the best for beginners; it comes with the metal tin, a cap and a built-in strainer. The cap itself is typically 1 ounce, which means it also doubles as a booze-measuring tool.
Trained mixologists prefer the Boston shaker, but it does require a bit more skill. The shaker includes a metal tin and mixing glass tin; the two cups fit into each other tightly to keep liquid from seeping out while shaking. Unlike the traditional shaker, this one doesn't come with a strainer. Instead, mixologists use the Hawthorne strainer; it's the preferred strainer for Boston shaker drinks.
For drinks made in a mixing glass, not shaker, try the Julep strainer. You can also use this affordable and handy strainer as an ice scoop.
4. Citrus Juicer
Fresh fruit juice can take cocktails like a gin and tonic from ordinary to extraordinary. That's why a citrus juicer for fruits like grapefruits, oranges, limes and lemons is essential. These handheld citrus juicers are simple — you place your fruit sliced-side down in the juicer then squeeze — and the citrus juice drops right into your shaker or mixing glass. If you're in a pinch, you can also use a citrus reamer, although the handheld juicer is your best bet.
5. Jiggers
Cocktail recipes are exact for a reason. Too much booze or too little juice could change the dynamic of a drink entirely. That's why mixologists swear by the jigger. These small, hourglass-shaped measuring tools are double-sided for versatility. The large side holds a certain amount (usually 2 ounces) while the smaller side is typically 1 ounce.
Can you experiment with cocktail quantities? Of course — it's your bar after all. But don't be surprised if your cocktails taste funky. Most mixologists who do free pours tend to only do so after much experience. And, those who do free pour usually do so for easier mixed drinks like the rum and Coke.
6. Muddler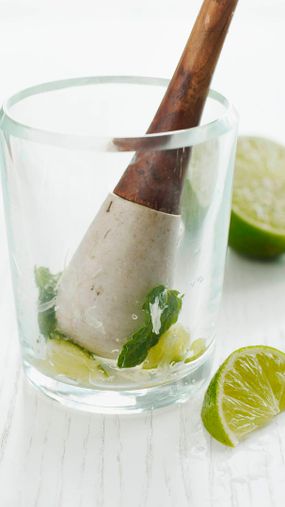 You'll definitely need a muddler if you're a fan of drinks like the Moscow Mule or Mojito.
Alexandra Grablewski/Getty Images
While not essential, muddlers can drastically improve your at-home cocktails. Mixologists muddle by pressing ingredients like herbs, fruits and spices up against the glass. This mashing unleashes each ingredient's flavor into the drink. But don't go overboard. Muddling is a subtle act — too much can bring out bitter flavors — and it's often done with ingredients like mint, rosemary or lime. Muddlers can match your home bar theme; they come in styles like bamboo, stone, steel, wood and metal.
7. Ice Bucket
All ice cubes are not created equally, and this is particularly important to remember with cocktails. You want cocktail ice cubes to be as clear and cloud-free as possible. That's why many mixologists swear by cocktail-specific ice-making supplies like the ice ball mold, 2-inch square ice tray, or, for those who can splurge a bit more, this crystal-clear ice ball maker.
When the cocktail ice is ready, you can keep it handy and cold in a home-bar ice bucket. These buckets do more than keep your ice chilled; they add a pop of pizzazz to your bar. Ice bucket styles vary, and include options like stainless steel, glass, rustic metal and ceramic.
8. Booze
A home bar is nothing without its booze, but where do you start with stocking up on liquor? It comes down to prioritizing which drinks you prefer — Moscow Mule enthusiasts need vodka, while Manhattan fans should head to the whiskey aisle, for example. But if you're ready to experiment beyond your go-to recipes, make sure you have these six staple liquors on hand: rum, whiskey (bourbon or rye), tequila, vodka, gin and brandy.
9. Bitters
If your cabinets are filling up, fear not: You don't need dozens of bitters to have a great home bar. Three bitter varieties will do the trick. Aromatic bitters are the most common. They work well in rum and whiskey drinks like the old fashioned, and have notes of cinnamon, cardamom and cloves. Orange bitters are flavored with orange peels, and include spices such as caraway, coriander and cardamom. They're best used in small doses for drinks like the gin martini or Negronis. The third and less common style, celery bitters, bring a subtle veggie tang to drinks like the bloody mary.
10. Mixers
The final ingredient for your well-stocked home bar is the mixer. You can unleash your creativity with unique mixer options, but some of the most common mixers to stock up on include club soda, tonic water, simple syrup, soda, tomato juice, pineapple juice, and citrus fruits like lemons and limes. If you're ready to innovate even further, invest in some cocktail garnishes. Ingredients like cocktail olives, horseradish, Tabasco, salt, sugar, pepper and cocktail onions will help your home bar rival that hip and trendy spot down the street.
HowStuffWorks may earn a small commission from affiliate links in this article.