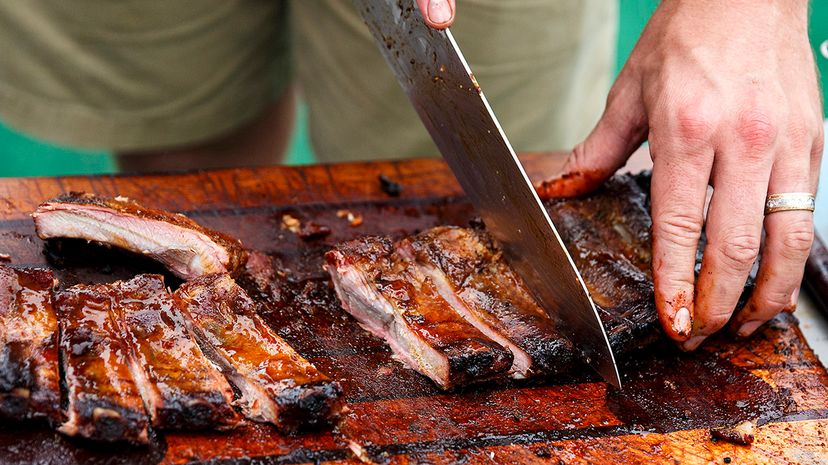 If you love both music and food, there's no better place to be than the world-famous month-long festival Memphis in May. It kicked off May 4 with the Beale Street Music Festival and segues into the mid-month feasting phase at the four-day World Championship Barbecue Cooking Contest. This year it's held May 16 to 19 at the Tom Lee Park along the banks of the Mississippi River. More than 200,000 people attended in 2017, and those in the know get their tickets early — which can pose a problem for contest-attending rookies.
If you're attending, navigating the more than 230 teams can be, well, a bit overwhelming, so let's start with the basics: Getting in. You'll need an admission ticket; they're available in single day for $10 or $40 for the entire four-day event.
And this is a contest after all, so you definitely want to scout out your favorite teams. They're competing in four categories: whole hog, shoulder, ribs and a "patio porker" category for amateurs. (They're all vying for more than $120,000 in prize money.) Download a contest map to help navigate through the park where teams are grouped by category.
The majority (about 85 percent) of the 2017 teams who placed in the top 10 in the ribs, shoulder and whole hog categories are returning this year. Big Bob Gibson, 2017's Grand Champion, who placed first in the shoulder category, is returning to defend his titles (he's won five Memphis in May World BBQ Grand Championships). Yazoo's Delta Q/Melissa Cookston (first place whole hog) and 10 Bones BBQ (first place ribs) also will be back.
Even though more than 230 teams from 25 states and around the world are competing this year, don't even try to plan a strategy to sample barbecue from them all. Health regulations keep competitors from serving their barbecue to attendees. You will, however, be able to get your fill.
The first spot is BBQ Alley, which features three well-known barbecue restaurants, plus Big Green Egg serving up all sorts of the stuff, including ribs, pulled pork, beef and chicken, complete with sides.
If you're more inclined to eat and cast your vote for the best barbecue, you'd have to be one of the lucky people to have scored a ticket for the Kingsford Tour of Champions. (Unfortunately — tickets for the 2018 KTOC are sold out.) Each tour is about 90 minutes, and guests get to listen to the teams explain their barbecue while tasting and judging. There are three tours each on Thursday and Friday, and guests visit at least three different barbecue teams. These tickets are add-ons, and there are only 90 spots for each tour.
But the best experience you can buy comes with the VIPit Pass — a ticket that gets you a friendly contest guide, a private dining area and a chance to go behind-the-scenes with up to six teams. These tickets are limited — and also sold out for 2018.
You can also pick up some tips to impress at your next family reunion. Do the free Cooker Caravan tour — a visit to some of the best competitors in each category. You'll be inspired with an insider look at smokers, grills, cooking techniques and tools.
Finally, bring cash: All the food is cash only, and you can count on lines at the ATMs. And don't get swindled — avoid the scalpers and get your tickets from TicketMaster or inside the grounds.