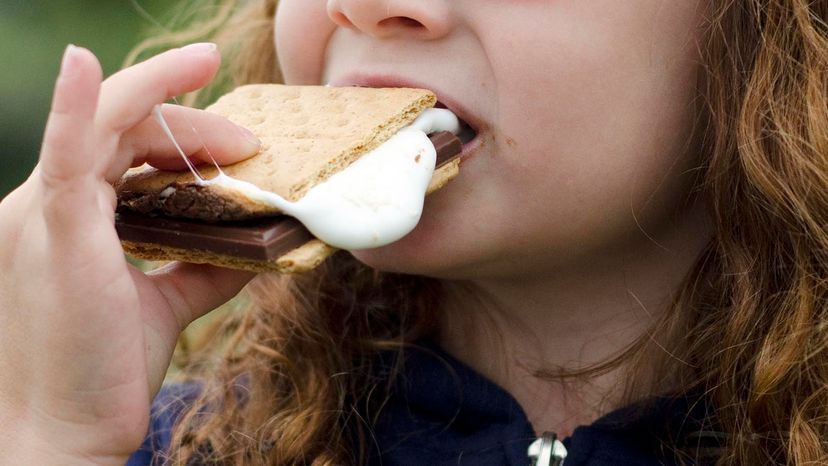 Eating s'mores probably conjures up all sorts of childhood memories — everything from backyard campfires to cozy nights in front of the fireplace. But who came up with this rich and gooey chocolate and roasted marshmallows mess?
No one knows the exact date, but sometime in the late 1920s, someone came up with the brilliant idea to take a graham cracker, smack a few pieces of chocolate on top and then add a toasted marshmallow to create the ooey, gooey, sticky sandwich we know and love. The first official recipe was published in the 1927 Girl Scout guidebook "Tramping and Trailing with the Girl Scouts," so they definitely get most of the credit.
The guidebook included all types of tips and advice on how to be a Girl Scout — think hiking, building campfires and cooking in the wild. That's where the "Some More" appeared, with a recipe for what we now know as the s'more. That famous recipe calls for 16 graham crackers, eight bars of chocolate and 16 marshmallows. Then it says to toast the marshmallows to a "crispy, gooey state," and place a marshmallow on top of a chocolate bar and between two graham crackers.
The kicker is at the end of the recipe: "Though it tastes like 'some more' one is really enough." They were right about that!
If you're craving a s'more but don't have a campfire, you can still make the treat right in your kitchen. (Children should be sure a parent or other adult supervises, of course.) Using a gas or electric stovetop (or even a candle if the power has gone out), put your marshmallow on a stick, skewer or cooking fork and hold it over the heated cooking element or low flame just like you would the campfire. Wait until it is toasted to your liking and then, smear the marshmallow onto a graham cracker and top with chocolate bar, and you've got an indoor s'more!
The recipe and method for making s'mores created by the Girl Scouts has remained the same for nearly a century. But for a fancier twist, you can experiment with different ingredients. In place of milk chocolate, try chocolate frosting, white chocolate, hazelnut spread, peanut butter or even fruit spread. Swap out the graham crackers for another type of cookie or even salted crackers. The flavor combinations are endless, but there's still really just one s'more.