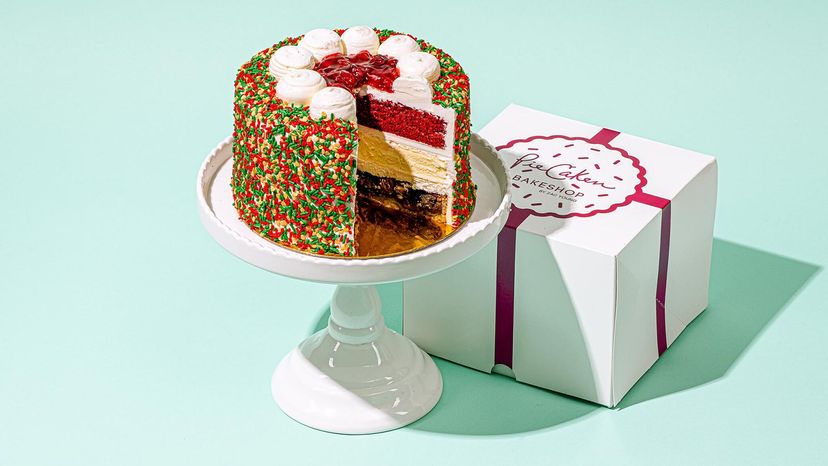 The Christmas PieCaken includes pecan pie on the bottom layer, eggnog cheesecake in the middle and red velvet cake on top, all layered together with amaretto buttercream frosting topped with cherry pie filling.
Zac Young/PieCaken
Do we need to stuff two kinds of pie into a cake and cover it with buttercream? Absolutely not. But it brings us joy to do so, and what better excuse do we need than sugar-induced happiness? We're talking, of course, about the PieCaken.
"PieCaken is essentially the poster child for excess for the sake of excess," Katina Talley, owner and head baker at Sweet Magnolia's Bake Shop in Omaha, Nebraska, says. "Aside from taking half a day to prepare, PieCaken is also good for efficiency. [It's] the quickest way to eat all your dessert favorites and land yourself in a food coma." And if that's not reason enough for eating it, nothing is.
But where did this bizarre dessert that's perfect for holiday fun get its start, and more importantly, where can you get one? There's no better time than now to learn about the PieCaken — from its origins, to its ingredients, to how to get your hands on one just in time for the holidays. Read on for PieCaken 101.
History of the PieCaken
In 2015, acclaimed New York pastry chef Zac Young and his team wanted to create a dessert that could compete with the turducken, and the PieCaken was born. He posted pics of his creation on his Instagram and before long, followers were begging to order them. Soon after, Young's PieCaken was a viral sensation, and copycat versions of it have spawned up in bake shops and kitchens across the country.
So what's actually in one of these things? A PieCaken epitomizes the best of the best in terms of traditional holiday flavors and textures: The Christmas PieCaken, which is available now if you hurry, is layers of pecan pie, eggnog cheesecake and red velvet cake with amaretto buttercream topped with cherry pie filling. The 8-inch (20-centimeter) round cake weighs almost 6 pounds (2.7 kilograms) and serves between 12 and 16 people.
Where Can You Get One?
Don't want to tackle this epic dessert on your own? Fear not, sweet tooths. You can order one of Young's PieCakens from Goldbelly and have it delivered for $99. And if you're in the mood for one of these monster cakes after the holidays, there's a Summertime Red, White and Blueberry Piecaken; a St. Patcaken; and a Mother's Day PieCaken.
Now, if you really want to go all out and create one yourself, you can do that, too, though be prepared to spend all day in the kitchen. Start by baking your pecan pie. (Pro tip: For an easier option that saves time, use a store-bought pie.) Then, make your cheesecake so it has time to chill. Next make your cherry pie topping. The next step is to bake your red velvet cake. Follow that up with the amaretto buttercream. The final step is to assemble and frost the PieCaken. Click here for Young's step-by-step directions and full recipe, including ingredients, notes and tips.
Originally Published: Nov 16, 2021