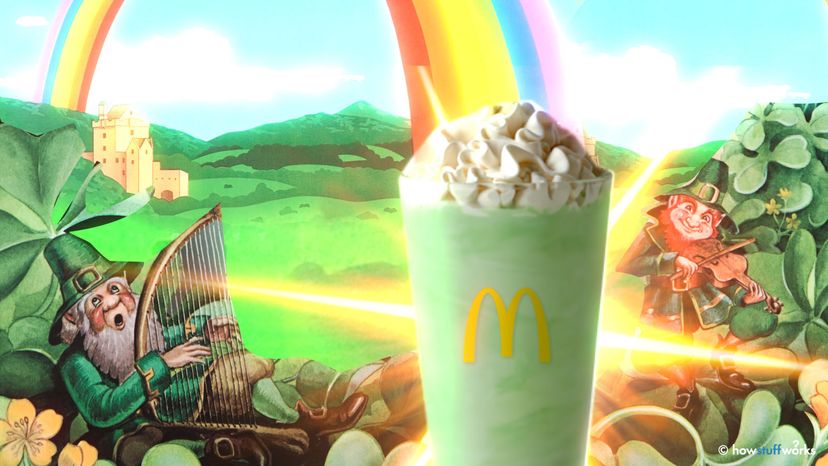 McDonald's Shamrock Shake has reached legendary status. It's been on the menu now for 50 years and has a real-life cult following.
McDonald's/©HowStuffWorks
You know spring is coming when you start seeing those quirky ads for McDonald's Shamrock Shake. This minty milkshake has been a staple of the fast-food giant since 1970, outlasting other McD's icons like the McRib (1981) and Chicken McNuggets (1983).
In honor of this long-lasting treat, we're diving into the history behind this iconic minty green milkshake.
History of the Shamrock Shake
While the Shamrock Shake made its official debut back in 1970, it was actually dreamt up in 1967 by a Connecticut McDonald's owner and operator Hal Rosen, who created the green shake to celebrate St. Patrick's Day. The shake debuted on McDonald's menus three years later.
Those fans who look back fondly on the shake might remember that the frozen dessert wasn't always a minty green delight. Surprisingly, in its first iteration, the Shamrock Shake was more citrusy in flavor. Back then the Shamrock Shake customers sipped down on was a vanilla ice cream mashup with lemon/lime sherbet and vanilla syrup. ZERO mint.
Three years after that shake was introduced, McDonald's did away with the sherbet altogether and sold it as a simple vanilla shake with green food coloring.
In 1983, a significant milkshake moment occurred in fast-food history (OK, we're getting silly here) when McDonald's officially added mint flavor to the recipe, forever solidifying the Shamrock Shake as a one-of-a-kind — albeit fleeting — addition to the menu. Why did McD's wait more than a decade before deciding to shake things up with this minty flavor? The world may never know.
Minty or not, from the moment of its arrival, the Shamrock Shake proved to be a massive hit. Sales from the 1974 shake even paid for Philadelphia's very first Ronald McDonald House.
OK, But How Does It Taste?
McDonald's has a way with its ice cream and the Shamrock Shake is no exception. It's smooth and creamy with a distinct-but-not-overpowering minty flavor. Plus, it's topped with whipped cream. Who doesn't love whipped cream? And this thing has been a success for over 50 years, so McDonald's is obviously doing something right.
Part of what they've done right is marketing (and charity). On St. Patrick's Day in 2010, for instance, the "World's Largest Shamrock Shake" (it was 24-feet [7 meters] tall) was dumped into the Chicago River in honor of a $10,000 donation to help build a new Ronald McDonald House in Chicago (see image below).
When it comes to ingredients, the shake is surprisingly simple: vanilla reduced fat ice cream, Shamrock Shake syrup (whatever that is, though we presume it includes some leprechaun magic) and whipped light cream.
If you're watching your weight or sugar intake, though, don't let the reduced fat ice cream and light cream fool you. A small Shamrock Shake comes in at 460 calories with 13 total grams of fat (8 grams of saturated fat) and a whopping 63 grams of sugar. The large is even worse at almost 800 calories and 112 grams of sugar. Yikes!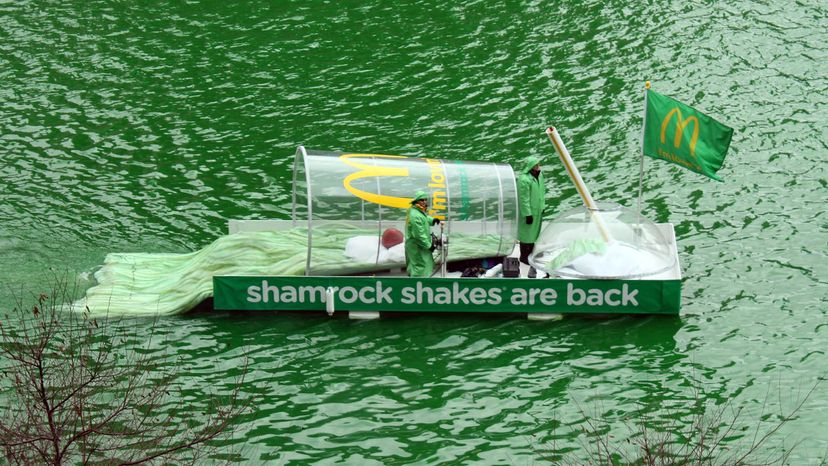 On St. Patrick's Day in 2010, McDonald's dumped the "World's Largest Shamrock Shake" into the Chicago River to help raise money to build a new Ronald McDonald House.
U.S. Army Public Affairs, Midwest
When Can I Get It?
Like most good things at McDonald's (the McRib!), you can only grab the Shamrock Shake once a year — generally between early February right up through at least St. Patrick's Day. (That's part of what makes it so popular.)
But the Shamrock Shake didn't become a national treasure until McDonald's decided that every state in the U.S. deserved it — that was in 2012. Before then, the milkshake's cult following jonesing for one had to use McDonald's Shamrock Shake Finder app (yes, there was an app for that) to track down the locations of every single Shamrock Shake-serving McDonald's restaurant in the U.S. Talk about dedication!
Throughout its run, the Shamrock Shake has taken many different tastes and forms: the Shamrock Chocolate Shake, the Shamrock Chocolate Chip Frappé, the Shamrock Mocha, the Shamrock Hot Chocolate and an extremely short-lived Shamrock Sundae.
McDonald's added a new twist on the fan favorite in 2017: the OREO Shamrock McFlurry. You'll be able to get it again this year, too.
Originally Published: Feb 25, 2020