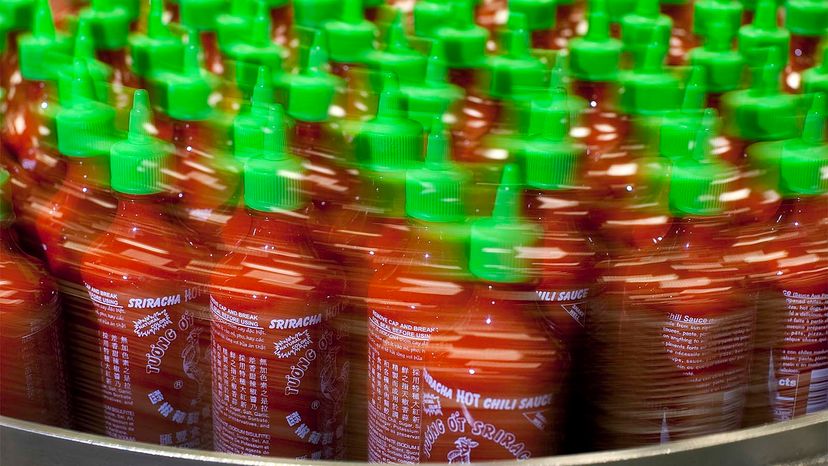 Bottles of Sriracha move through a conveyor belt ready for packaging at Huy Fong Foods in Irwindale, California. It's one of the most popular brands of Sriracha on the market today.
Gina Ferazzi/Los Angeles Times via Getty Images
White sands. Chipper dolphins. Teal, tranquil waters lapping rocky shores. The Gulf of Thailand has all the ingredients for a perfect beach vacation.
Located in the South China Sea, this inlet paradise borders Vietnam, Cambodia and, naturally, Thailand. The latter country is the home of Si Racha, a seaside town about 60 miles (96 kilometers) southeast of Bangkok.
Even if you've never set foot in Asia, the name Si Racha might ring a bell. After all, this is where Sriracha hot sauce was born.
Today, it's one of the world's favorite condiments, a garlicky showstopper that you can pair with everything from eggs and bacon to tacos and pizza. You can even find recipes for Sriracha cocktails. (Sriracha bloody mary, anyone?)
The Right Stuff
You'd be hard pressed to find a bigger Sriracha enthusiast than documentary filmmaker Griffin Hammond. His 2013 indie doc "Sriracha" explores the origins of the sauce and its growing international fan base.
"I love Sriracha on basic mac and cheese, or lasagna — really any pasta or pizza," Hammond says via email. The sauce has five major components: garlic, salt, sugar, vinegar, and either jalapeño or chili peppers.
For millions of discerning diners, it's an irresistible mix.
"A lot of popular American hot sauces are very vinegary (like Tabasco) or produced to be crazy spicy (with habaneros or ghost peppers), so I usually say Sriracha is a hot sauce that actually adds flavor," Hammond says. "It's hot, but still lets you enjoy the taste of the ... jalapeños and garlic."
In its native Thailand, a good Sriracha should be what's known as "klom klom" which means it's perfectly sweet, sour, garlicky and spicy.
Flavor Town
As far as the origins of who created the first Sriracha, many people credit it to a woman named Thanom Chakkapak of Si Racha, Thailand. Yet her granddaughter, Saowanit Trikityanukul, told a different story when she spoke to NPR in 2019.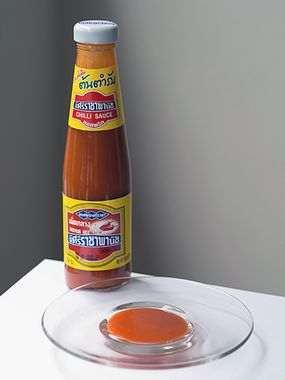 Sriraja Panich is considered the first Sriracha sauce.
Wikimedia/(CC BY-SA 2.0)
According to her story, it was Saowanit's great-grandfather, Gimsua Timkrajang, who created the recipe that started it all. His plan was to make a versatile new condiment, something that could be poured over all different kinds of foods.
Called Sriraja Panich, this sauce used pickled garlic and vibrant red chili peppers. The family recipe launched a commercial sauce brand, which they sold to Thai Therapos Food Products in 1984. Reportedly, the sauce has to age for three months or longer before it hits the market.
English-users don't always spell Thai words in a consistent manner. Hence, the sauce goes by a few different names (like "Si-racha," "Siracha," and of course, "Sriraja Panich"), with "Sriracha" being the most widely used in America.
Gathering Prosperity
There's no bigger player in the U.S. Sriracha market than Huy Fong Foods. The California-based company was founded in 1980 by entrepreneur David Tran. A native of Soc Trang, Vietnam, Tran served in the South Vietnamese military and later earned his daily bread as a full-time hot sauce creator.
Tran was among the millions of refugees who fled the region after North and South Vietnam unified under a communist government in 1976. He arrived in America on a Taiwanese freighter called the "Huey Fong" (or "Gathering Prosperity") and named his company Huy Fong Foods in honor of the vessel.
Tran's take on Sriracha uses fresh California jalapeños. It's exploded into a full-blown cultural phenomenon; the sauce is now a restaurant mainstay and generates upward of $150 million per year for Huy Fong.
Variations on the Original
Some of this success fits a broader pattern. Between the years 2000 and 2014, the market for hot sauce in the United States expanded by 150 percent. Sriracha helped lead the charge; Bon Appétit magazine named it the ingredient of the year in 2009.
"It's both a culinary and entertainment trend," Hammond says. "The rise of unscripted, documentary-style food television helped inspire Americans to seek out more adventurous flavors, like Sriracha sauce. And in my film 'Sriracha,' chef Jet Tila says rising U.S. demand for sushi (specifically spicy tuna rolls) — plus Vietnamese phở — has driven up demand for Sriracha."
Besides the Huy Fong version and the old-school Sriraja Panich, you can find countless other styles of Sriracha these days. Fusion brands now available in stores combine the traditional Sriracha ingredients with agave, dates and raisins, or Korean chili paste.
And then there's Taco Bell, which got in on the fun by releasing a short-lived "Sriracha Quesarito" in 2015.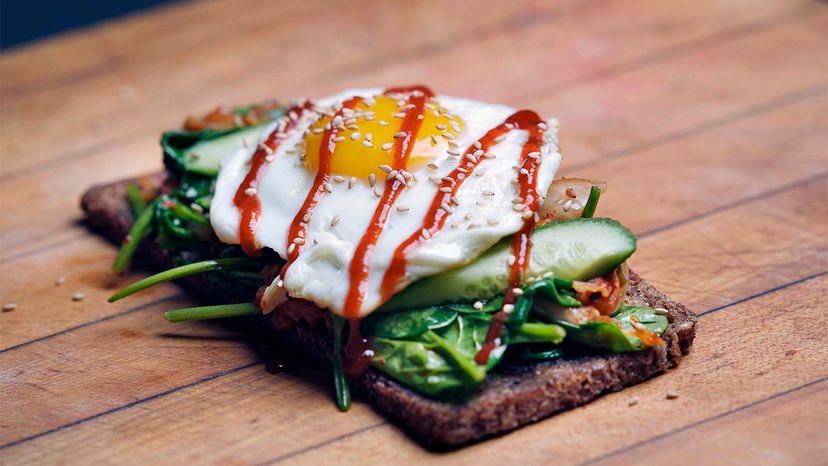 Sriracha goes well on just about any food, like fried egg on toast with sautéed spinach and kimchi.
Gregory Rec/Portland Press Herald via Getty Images
Originally Published: Apr 8, 2022