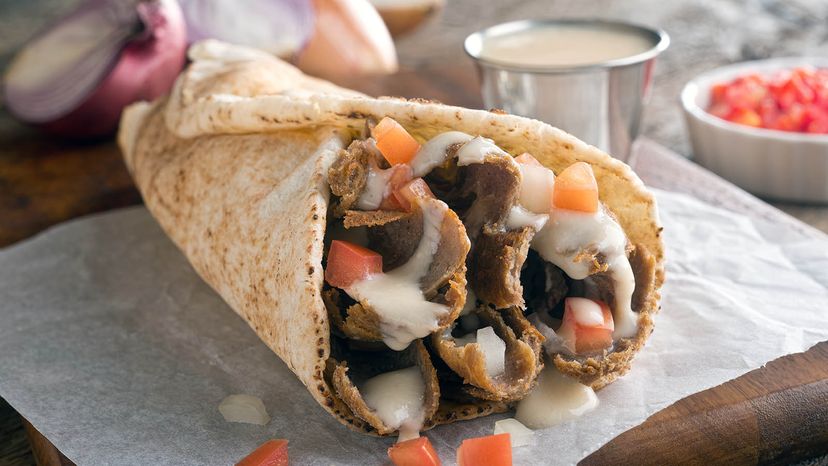 Canadians have a reputation for being kind, thoughtful and patient people. And we can thank Canada for some wonderful contributions to the world: lacrosse, Drake, Celine Dion, and even insulin.
But one thing Canada isn't so known for is its cuisine. Sure, in 1884 Montreal pharmacist Marcellus Gilmore Edson patented peanut paste, the precursor to what we now know as peanut butter, and Canada's national dish is poutine. But aside from those, there's not much to what we would consider as "Canadian cuisine." (How many times have you suggested to friends, "Hey, let's go out for Canadian tonight"?)
But there is one sloppy sandwich whose reputation precedes itself, at least in Nova Scotia. And like its Canadian cousin-in-hangover-protection poutine, it's a smattering of ingredients doused in sauce. We're talking about the Halifax donair.
Its story goes like this: Sometime in the 1970s, Greek immigrant Peter Gamoulakos opened up a restaurant in Halifax and tinkered with classic Greek dishes to blend the tastes of Greece and his new home country. One thing he did was swap lamb meat for beef in the famous gyro sandwich and cover the new creation in a signature "donair sauce." Voila. The craze was born.
The pita-filled Halifax donair is a savory and sweet combination of spit-roasted shaved beef, served topped with onions and tomatoes and that special signature donair sauce. And it's the sauce that makes the sandwich. According to Food Network Canada, it's "addictively sweet" and made of a "blend of evaporated milk, vinegar, garlic powder and sugar." The entire thing is messy, juicy, and perfect for long nights or hangover-tinged mornings.
In 1973, Gamoulakos opened King of Donair, a chain of restaurants in Halifax now owned by Nicholas Nahas his two brothers, Norman and Andrew. Nahas is a lawyer by trade and a "donair man by choice."
"I like to think of the Halifax donair as the gyro's cooler and better-tasting cousin," Nahas says. "It's a variation of the Greek gyro, which is more than likely a variation of the Turkish Doner kebab. The donair and sauce recipe have Greek origins while the pita has Lebanese origins. We use grilled Lebanese pita bread instead of the thicker bread you see with gyros."
Nahas calls the donair "a staple late-night drunk food" and says pop culture and social media are to thank for its graduation to an any-time-of-the-day food.
Now that you're dying to try the kitschiest Canadian food we know of, Halifax is a the place to start. And the good news is you don't even have to be drunk — or hungover— to eat one.