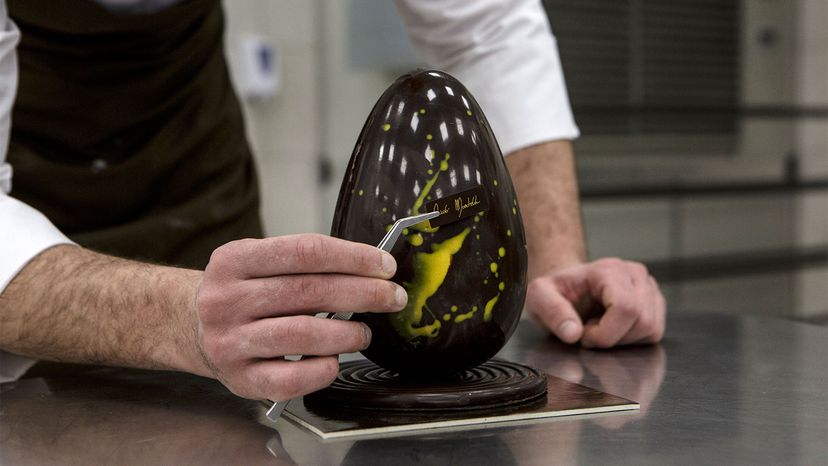 What comes to mind when you think of Easter? Church? Bunnies? Eggs? You might find it strange that chickens' offspring have come to be associated with the resurrection of Christ, but it actually makes sense. People have been celebrating spring and the renewal of the seasons with eggs for thousands of years, long before Christianity was an organized religion. Eggs symbolize fertility and new life, and the ancient Greeks, Romans, Egyptians and Persians all used dyed eggs in their spring celebrations. It was only natural that the tradition be incorporated into the Christian holiday, which also focuses on rebirth and renewal.
OK, so eggs and Easter have been partners for a while, but how did chocolate get involved? It's impossible to say who invented the chocolate egg, but these confections started appearing in France and Germany in the early 19th century. The first were solid dark chocolate eggs that tasted grainy, coarse and bitter.
The truth is, chocolate wasn't really all that great back then. It contained around 50 percent fat, which made it incredibly hard to digest. Confectioners were forced to add various starches and other ingredients to make chocolate more palatable. In 1866, however, the Cadbury chocolate company imported a revolutionary press that cut out half the candy's fat content, making a smoother, better-tasting form of dark chocolate. The press also allowed the company to easily mold its chocolate. In 1875, Cadbury released its first line of chocolate Easter eggs, which were hollow and filled with sugared almonds.
It wasn't long before Cadbury's business was booming, and by 1893, the company had 19 different Easter patents -- a lot in those days! Easter candy production went into overdrive in 1905, when Cadbury introduced milk chocolate Easter eggs. To say they were successful would be an understatement: The majority of chocolate Easter eggs sold today are made from milk chocolate.
Cadbury's eggs are still incredibly popular, but the confectioner hardly has a universal hold on the market. Today, you can get chocolate eggs of all kinds from countless candy companies, whether you like them solid, hollow or filled with anything from flavored crème to expensive, gourmet chocolate candies.