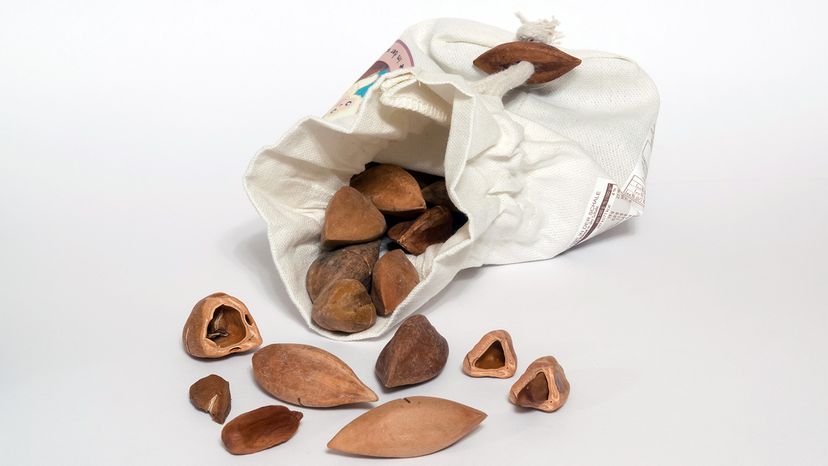 If you read the ingredients of certain vegan foods, you'll probably find many of them contain nuts (hello almond milk) as their main source of protein. That also includes vegan yogurt (I know — vegan yogurt? But that's another story entirely).
Most vegan yogurts on the market are made with dairy alternatives like coconut milk, cashew milk and of course soy milk. But the brand Laava has a plant-based yogurt that uses pili nuts. Never heard of pili nuts before? Well allow us to introduce you.
Pili nuts (pronounced pee-lee) are nutritious teardrop-shaped nuts that could be on the cusp of becoming the newest healthy go-to snack. They hail from Southeast Asia, Papua New Guinea and Northern Australia, and most commercial cultivation takes place in the Philippines. These nuts are the fruit of tall trees that grow in volcanic soil, and they're packed with vitamins and minerals. They're also incredibly tasty.
But the perks of snacking on these curious and mysterious nuts go way beyond just the taste. Pili nuts are also high in heart-healthy monounsaturated fat (around 13 grams of good fats in 1 ounce [28 grams]), making them rich, soft and buttery with a taste reminiscent of sunflower seeds mixed with almonds and macadamias.
And it's not just the monounsaturated fat that makes pili nuts a nutritional powerhouse. These tiny nuts are also packed with antioxidants, vitamin E and oleic acid. And a single ounce contains 85 milligrams of magnesium — that's 20 percent of the recommended daily intake for adults.
There's also about 3 grams of protein in 1 ounce (28 grams), tons of vitamin E (a natural immune system booster), and phosphorous for strengthening our bones and teeth.
So, what else can you do with the pili nut? Surprisingly, a lot. [The pulp is edible when cooked, but the main food source is the roasted nut. The uncooked nuts are sometimes used as a laxative, while the sweet oil is used in confectioneries. Roasted and powdered pili nuts are sometimes used to extend chocolate.
So the question remains: Why in the world isn't the pili nut taking over the health food market? It's partly because these nuts are super hard to cultivate. It takes about five to six years for a pili tree to bear fruit, and the nuts can only be harvested from May to October.
But that's not all. Pili nuts have rock-hard shells that even machines have a tough time cracking open. Often the machines crush the nuts in the process of shelling them, so it's typically done by hand so not to waste the meat. That alone makes them pretty unappealing for commercial export.
Change could be coming, though. Pili Hunters, one popular brand of the nuts, was featured on the hit TV show "Shark Tank" in November 2019. Owner Jason Thomas explained on the show how he discovered the nut on a kitesurfing trip in the Philippines and instantly fell in love. Even though he didn't get a deal with any of the Sharks, it did give the pili nut major exposure.
It's safe to say that the pili nut is on the same trajectory as kale or Acai berries were years ago. Sitting on the edge of health food fame, the pili nut is more than ready to burst onto the scene and hold the title of one of the most delicious and nutritious nuts out there.