Ah, dessert! The highly-anticipated closing statement of the meal, desserts and pastries are an art form all to themselves. The folks at Brasserie T in Chicago recommend choosing a dessert for flavor instead of form, but that's easy for them to say. Co-owner Gail Gand is a pastry chef. All of their offerings are gorgeous.
"A pastry chef has to combine the skills of a jeweler, a physicist, a chemist, an artist, a perfumer, and an assembly-line worker," she writes in the introduction of "butter sugar flour eggs," a book she co-authored with her husband and restaurant partner Rick Tramonto and food writer Julia Moskin.
For this memorable finishing touch to your meal, don't be afraid to do what Couch Restaurants at the University of Oklahoma do: Call in the experts. With seating capacity for 750 customers at a time, the award winning, cook-to-order eatery serves about 3,000 meals each day during the school year [source: University of Oklahoma]. But when it comes to dessert, they contract with a local bakery to provide a suite of delicacies for their bakery case that's as irresistible to the eye as it is to the palate.
"We offer many fantastic from-scratch desserts developed in our own bake shop in Couch Restaurants," said Lauren Royston, Marketing and Public Relations Specialist for University of Oklahoma Housing and Food Services, "but when you have a local resource like La Baquette at your fingertips, it makes sense for us to use some of their products to complement our own."
You've worked hard enough on this meal. When it comes time for dessert, let the pros do the heavy lifting. All you'll need to do is serve, smile and accept the compliments.
Related HowStuffWorks Articles
Sources
Altman, Joey with Jennie Schacht. Without Reservations: How to Make Bold, Creative, Flavorful Food at Home. Hoboken, New Jersey: John Wiley & Sons, 2008.

Barker, Ben and Karen. Not Afraid of Flavor: Recipes from Magnolia Grill. Chapel Hill, North Carolina: The University of North Carolina Press, 2000.

Conant, Scott with Joanne McAllister Smart. Bold Italian. New York: Broadway Books, 2007.

Corrigan, Damian. "What is Tapas?" Spain Travel. About.com. (Accessed July 1, 2009). http://gospain.about.com/od/fooddrink/qt/tapasdefinition.htm

Gand, Gale, Rick Tramanto and Julia Moskin. Butter Sugar Flour Eggs. New York: Clarkson N. Potter, Publishers, 1999.

Henderson, Jeff. Chef Jeff Cooks. New York: Scribner, 2008.

Hirsch, David. The Moosewood Restaurant Kitchen Garden, Revised. Berkeley: Ten Speed Press, 2005.

Kalish, Susan. The Art of Napkin Folding: Completing the Elegant Table. Philadelphia: Running Press Book Publishers, 1988.

Lagasse, Emeril with Marcelle Bienvenu. Emeril's Creole Christmas. New York: William Morrow and Company, Inc., 1997.

Lagasse, Emeril with Marcelle Bienvenu and Felicia Willett. Every Day's a Party: Louisiana Recipes for Celebrating with Family and Friends. New York: William Morrow and Company, Inc., 1999.

Lynch, Francis Talyn. Garnishing: A Feast for Your Eyes. Los Angeles: HPBooks, 1987.

Morton's The Steak House. "Restaurant-Quality Meals in the Comfort of Your Home." November 17, 2008. (Accessed 06/23/2009). http://www.thebeststeakanywhere.com/item.php?date=2008-11-17

Neufeldt, Victoria, editor in chief. Webster's New World Dictionary, Third College Edition. New York: Simon & Schuster, Inc., 1988.

Oliver, Jamie. Jamie's Italy. New York: Hyperion, 2006.

Oliver, Lynn, editor. "The Food Timeline." Updated June 13, 2009. (Accessed July 1, 2009). http://www.foodtimeline.org/foodfaq7.html#appetizers

Online Etymology Dictionary. Search: "truck garden." November 2001. (Accessed June 29, 2009). http://www.etymonline.com/index.php?search=truck+garden&searchmode=none

Tramonto, Rick with Mary Goodbody. Osteria: hearty Italian fare from Rick Tramonto's kitchen. New York: Broadway Books, 2008.

United States Department of Agriculture, Food Safety and Inspection Service. "Inspection and Grading of Meat and Poultry: What Are the Differences?" Fact Sheets: Production and Inspection. Last modified August 22, 2008. (Accessed July 1, 2009). http://www.fsis.usda.gov/FactSheets/Inspection_&_Grading/index.asp

University of Oklahoma. "Couch Restaurants." Housing and Food Services. (Accessed July 3, 2009). http://housing.ou.edu/content/view/1002/

Word.com. Merriam-Webster Online Newsletter. June 2006. (Accessed June 29, 2009). http://www.word.com/unabridged/archives/2006/06/from_the_mail_s_10.html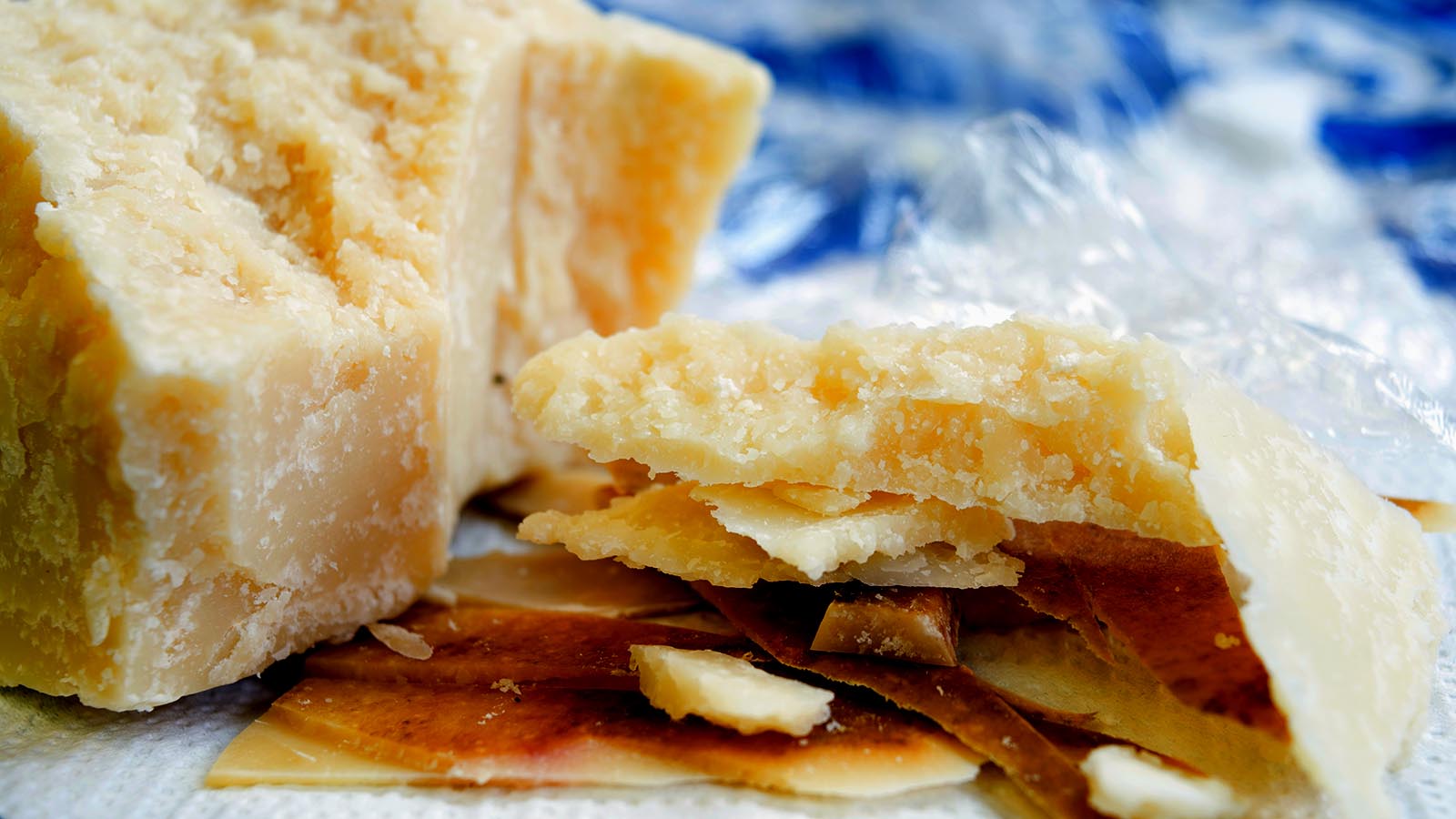 Up Next
Those leftover cheese rinds can be valuable ingredients that you can harness into new recipes. We'll show you ways to use them as flavor enhancers.
---