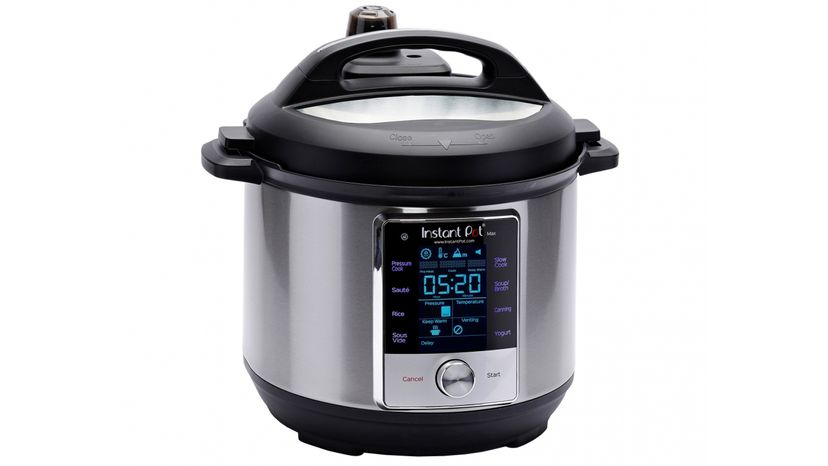 The hugely popular Instant Pot takes a new approach on pressure cooking.
Instant Pot
So you've got your eye on a new Instant Pot. Maybe you nabbed a sweet deal on Black Friday. Or maybe you're hoping Santa will put one under your tree this year. Whatever it is, you're caving into the pressure (get it?) to get one, after all your friends have raved about theirs.
But what is it that makes the Instant Pot so great? Well, first, Instant Pot is a brand name for a small kitchen appliance that takes a new approach to pressure cooking, which, in a nutshell, is a sealed pot that uses steam and high pressure to help food cook faster.
The creators of the Instant Pot wanted to take that technology to the next level by offering a machine with more speed, convenience and multiple functions. And it seems they succeeded because the Instant Pot has become extremely popular since it debuted in 2009: There's even an official Facebook group, the Instant Pot Community, with 1.5 million members globally as of this writing.
Two Instant Pot cookbooks ranked among the top 10 bestselling cookbooks of 2017 ("The Instant Pot Electric Pressure Cooker Cookbook" by Laurel Randolph, and "Instant Pot Miracle" by the editors at Houghton Mifflin Harcourt).
Instant Pot 101
Amazon made Instant Pots popular on its 2016 Prime Day (in July, just the time when no one wants to heat up the kitchen for very long, if at all): The Instant Pot was a top seller. Jennifer Stewart, an Instant Pot lover in Tennessee, bought hers on Amazon on Black Friday that year. She says the stories of old-style pressure cookers exploding didn't put her off buying an improvement over the classic. "I knew many friends who swore by theirs, so I trusted that pressure cooker technology had improved since the days of the rotary phone," she says in an email interview.
And while there are dozens of uses for the Instant Pot, her most common go-to is pretty simple. "My favorite use is hard boiled eggs. Peeling boiled eggs makes me Hulk smash everything. The Instant Pot makes the shells slip off," she wrote. "It's a damn miracle."
So here are the basics: An Instant Pot can speed up your cooking by six times with the pressure cooker function. And depending on the model, it also acts as a slow cooker and a rice cooker; you can sauté, steam, sear, warm and more. But Instant Pots also feature a number of programmed buttons to make cooking super-easy. And there's a 24-hour delay so you can start cooking later — that means your food is ready when you want it. Basically this thing does just about everything. And we mean everything. Just keep reading for eight easy creations you can make with one.
1. Breakfast in Less Than 5
Steel cut oats cook in three to five minutes, or you can make quick oats in about three minutes. Great for an early morning crowd.
2. Mac and Cheese
Using the Instant Pot's pressure cooker function, you can cook dry macaroni elbows in four minutes — that's less time it would take you to boil water for the blue boxed stuff. After that, it's just a matter of adding grated cheese, cream and seasonings. Here's a recipe.
3. Taco Tuesday!
Making pork carnitas used to be an all-day process. Not anymore. Pork butt carnitas in an hour? You bet. Just brown the meat in the Instant Pot on all sides before cooking it through for 15 minutes per pound. That'll give you just enough time to prep your taco toppings and warm the tortillas.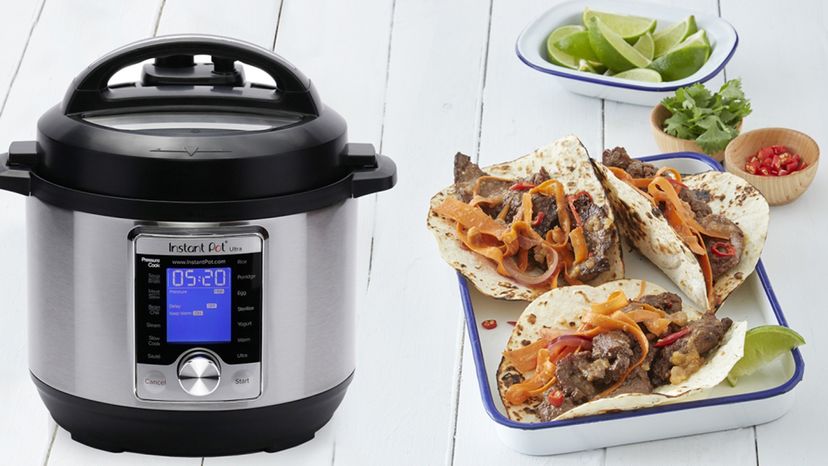 You can take your taco Tuesday up a notch by making pork butt carnitas in about an hour.
Instant Pot
4. Yummy Yogurt
Homemade yogurt tastes better — and is so much better for you. But before the Instant Pot, you had to use a separate yogurt maker, and who wants a one-trick-pony taking up more counter space? Just use the Instant Pot to boil milk, and after it cools in the pot, stir in your yogurt culture. Use the yogurt setting to get the bacteria to do their thing.
5. Boiled Eggs
Whether you're making deviled eggs for a crowd or making a big batch of boiled eggs for salads, the Instant Pot does make cooking and peeling eggs easier, and you can cook a dozen at a time.
6. Layers of Lasagna
A traditional lasagna bakes for 40 minutes to an hour, and you'll spend who knows how much time prepping and layering it. Use the Instant Pot's pressure cooking feature and you'll cut the actual cook time to just 20 minutes.
7. Satisfy a Sweet Tooth
This pressure cooker isn't just for savory dishes. The Instant Pot is perfect for making cheesecakes, chocolate pudding, flan and other custardy desserts, including bread pudding and rice pudding.
8. Two-hour Chicken Stock
This stuff tastes like it cooked overnight. The process and ingredients are the same as the traditional chicken stock method, but thanks to pressure cooking, you can get the more intense flavor of a long-simmered stock in just a couple of hours. (Bone broth can be done in an Instant Pot, too.) Don't stop with stock: A whole world of soups, stews and chilis are simple to make.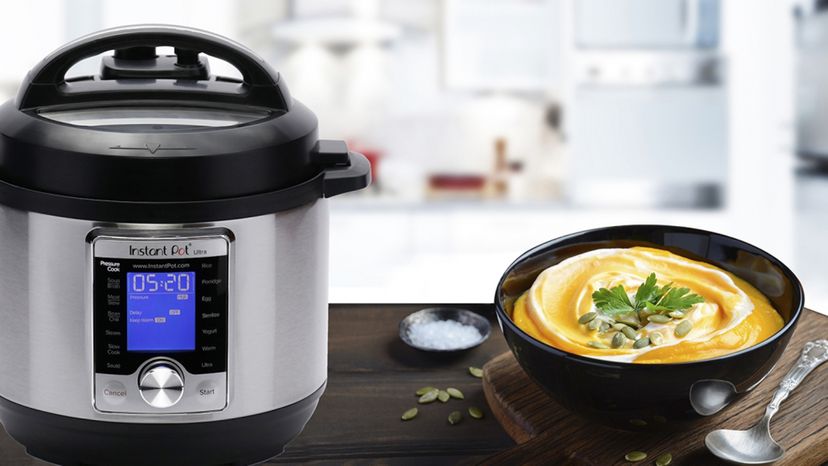 Super-rich chicken stock no longer takes 24 hours. It takes just two and becomes the base for many different soups.
Instant Pot
Originally Published: Dec 4, 2018