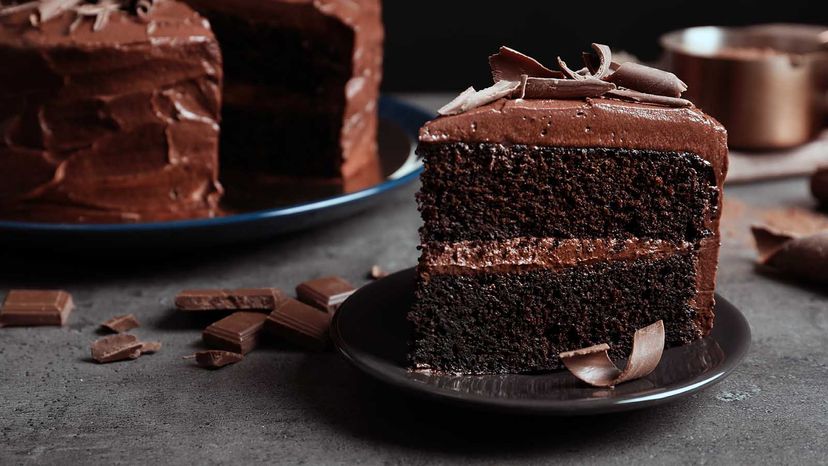 Your favorite chocolate cake could be even better if you make it with mayonnaise. Yes, mayonnaise.
New Africa/Shutterstock
Quick. What's the most popular condiment in the United States? If you think the answer is ketchup or mustard, think again: It's mayonnaise, the workhorse of condiments. Americans eat $2 billion worth of the stuff annually on burgers, in pasta salads, in dips and sauces, and even on french fries.
And if you ask Ashley Strickland Freeman, author of "The Duke's Mayonnaise Cookbook," it's the secret ingredient to nearly every one of the best recipes.
"To me, mayonnaise is a magical ingredient. It adds moisture to baked goods and makes cakes and doughnuts super tender," she says. "It creates the flakiest pie crust, and it makes scrambled eggs fluffy."
Mayonnaise Makes Everything Better
Mayonnaise, which is a combination of egg yolks, oil, vinegar or lemon juice, and sometimes a few basic spices, is primarily fat, but it's not all bad news. Mayonnaise has protein and tons of vitamin E. It's also loaded with vitamin K, which helps in everything from maintaining bone strength to aiding in blood clotting.
But Freeman says mayonnaise is just delicious. She uses it in everything from scrambled eggs to toffee pudding. The good thing about cooking with mayo is there's no hard-and-fast rule about how to integrate it or how much to use. But keep a few things in mind.
"Because mayonnaise has eggs in it, I've seen a substitution table mention that you can use 3 tablespoons of mayonnaise in place of an egg," Freeman says. "However, I'd be cautious about that when baking. There are many other things to consider. Some mayonnaise brands don't have as many eggs in their recipe as others."
Ready to start baking with mayo? Check out simple mayonnaise hacks for your favorite recipes.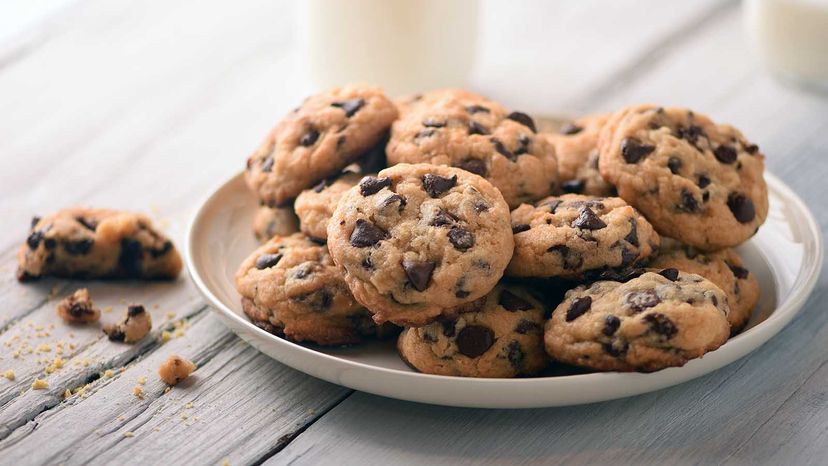 Nothing goes better with chocolate chip cookies than a glass of cold milk. Well, maybe mayonnaise.
Martin Gardeazabal/Shutterstock
Baking With Mayonnaise
Chocolate chip cookies. You'll find all types of tweaks to chocolate chip cookies if you scour the internet. Some chefs swear by adding half a banana to the batter while others say brown sugar is the secret. But look for a recipe that uses mayonnaise instead of butter for crispier, more flavorful cookies. The extra oil can also help prevent the bottoms from getting burned to the baking sheet.
Chocolate cake. Sure, telling guests you put half a cup of mayonnaise in your homemade chocolate cak e may raise some eyebrows, but it'll also score high points for taste. Swap it for oil, as mayo gives your cake a creamy consistency while also lending a bit of extra flavor and creaminess you won't get from store-brand vegetable oil.
Quiche. Try adding a few tablespoons of mayonnaise to your favorite quiche recipe. The extra bit of acid from the mayo will add an extra tanginess to the flavor and help it from drying out (which could be the reason your quiche is coming out of the oven a little too flat).
3-ingredient dinner rolls. You read that right. You can make quick-and-easy rolls with just 2 cups of self-rising flour, 1 cup of milk and 3 heaping tablespoons of mayonnaise. Mix it all together until just moistened and bake in muffin tins at 375 degrees for about 15 minutes. Voila. Homemade dinner rolls.
Grilled cheese. OK, so technically it's not baking, but who doesn't love a good grilled cheese? And most of us probably put butter on ours so we can achieve a crispy crust. Next time brush the bread with a light layer of mayo instead; the oil from the mayo will give the bread a crunchy texture, while it also keeps it moist.
Bread. Baking bread had a moment during 2020's stay-at-home orders, so whether you're a pro at yeast breads or prefer quick breads like Freeman's Bananas Foster Bread (recipe below), try them all with mayo. The baking powder and acid react slowly as the dough heats up, unlike when the dough is mixed with just baking soda.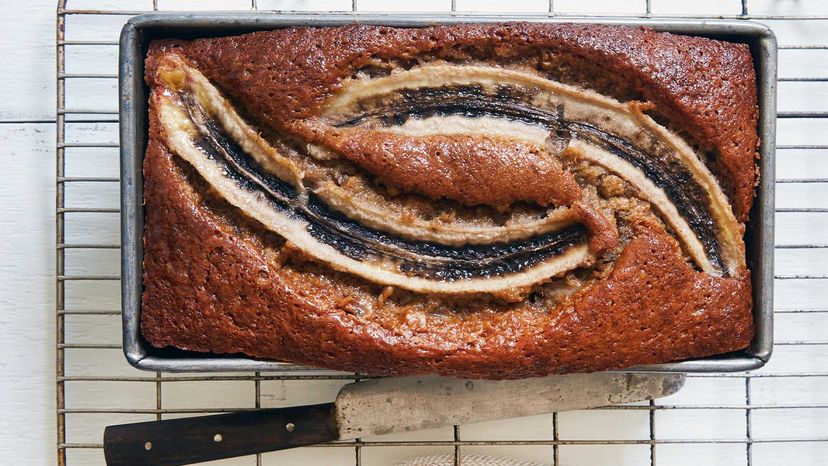 Cookbook author Ashley Strickland Freeman says the trick to her Bananas Foster Bread, which is made with Duke's Mayonnaise, is to let the bananas get so ripe that you think you have to throw them out.
Photography by Mary Britton Senseney
Bananas Foster Bread
Ingredients
1 cup mashed very ripe banana (3 to 4 large bananas)

3/4 cup firmly packed light brown sugar

1/4 cup salted butter, melted

1 large egg

2/3 cup Duke's Mayonnaise

3 tablespoons golden or dark rum

1 teaspoon vanilla extract

1 1/2 cups all-purpose flour

1 teaspoon baking soda

1/2 teaspoon salt

1/2 teaspoon ground cinnamon

1 banana, sliced lengthwise

Browned Butter-Rum Glaze (recipe follows)
Preparation
Preheat the oven to 350 degrees Fahrenheit. Grease a 9- x 5-inch loaf pan.

Beat together the mashed bananas, brown sugar, butter, egg, mayonnaise, rum and vanilla in a large bowl with an electric mixer until smooth.

Mix together the flour, baking soda, salt and cinnamon in a medium bowl. Add to the banana mixture and stir just until combined.

Pour the batter into the prepared pan. Top with the sliced banana, cut sides up. Bake the bread at 350 degrees for 1 hour and 5 minutes, or until a toothpick inserted in the center comes out clean.

Let the bread cool in the pan on a wire rack. Make the Browned Butter-Rum Glaze while the bread cools.

Remove the bread from the pan and drizzle with the Browned Butter-Rum Glaze.
Brown Butter-Rum Glaze
Ingredients
2 tablespoons salted butter

2 tablespoons golden or dark rum

1/2 cup powdered sugar
Preparation
Cook the butter in a small skillet over medium heat for 2 to 3 minutes, swirling the pan occasionally, until the milk solids begin to brown and smell nutty.

Remove the pan from the heat and carefully stir in the rum. Return to the heat and cook for 30 seconds to 1 minute longer to cook off the alcohol. (If using a gas burner, carefully flambé the mixture.) Transfer the glaze to a small bowl and whisk in the sugar until smooth. Makes about 1/2 cup.
Recipe courtesy of Ashley Strickland Freeman from "The Duke's Mayonnaise Cookbook."