How to Make Homemade Pasta with a Machine
You don't have to make pasta by hand to make it from scratch. Follow are tips on using a pasta machine.
Combine 2 cups plus 2 tablespoons all-purpose flour, 3 eggs, 1 tablespoon milk, 1 teaspoon olive oil and 1/4 teaspoon salt in food processor. Process until dough forms; shape into a ball.
Place dough on lightly floured surface; flatten slightly. Cut dough into 4 pieces. Wrap 3 dough pieces in plastic wrap; set aside.
Knead dough with pasta machine. Set rollers of pasta machine at widest setting (position 1). Feed unwrapped dough piece through flat rollers by turning handle. (Dough may crumble slightly at first but will hold together after two to three rollings.)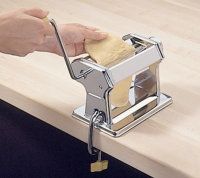 Lightly flour dough strip; fold strip into thirds. Feed through rollers again. Continue process 7 to 10 times until dough is smooth and elastic.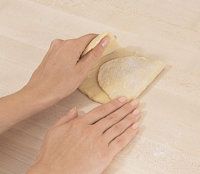 Roll out dough with machine. Reduce setting to position 3. Feed dough strip through rollers. Without folding strip into thirds, repeat on positions 5 and 6. Let dough stand 5 to 10 minutes until slightly dry.
Attach desired shape and size of pasta roller and feed dough through, catching finished pasta with free hand as it emerges. Repeat kneading and rolling with reserved dough pieces.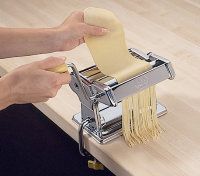 Pasta can be dried and stored at this point. Hang pasta strips over pasta rack or clean broom handle covered with plastic wrap and propped between two chairs. (Or, twirl pasta into nests and place on clean kitchen towels.) Dry at least 3 hours; store in airtight container at room temperature up to 4 days.
Introduce the Italian tradition of making pasta into your home by following the easy steps outlined in this article. Your stomach will thank you!
Want more information? Try these:
Cooking: Learn the ins and outs of some basic cooking techniques in this helpful article.

Italian Cooking: Italian cuisine is not just spaghetti and meatballs. Learn all about Italian cooking in this article.

Italian Recipes>: You're sure to work up an appetite when you take a look at the Italian recipes featured here.
Pasta Recipes: Our collection of pasta recipes offer excellent ideas for an authentic Italian pasta meal.