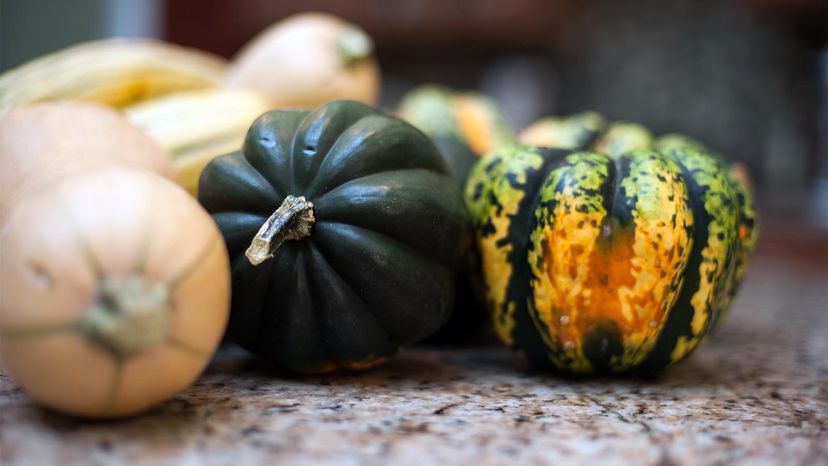 There are many varieties of winter squash, including (from left) butternut squash, acorn squash and carnival squash.
Holly Mahaffey Photography/Getty Images
If you miss eating fresh summer veggies during the winter months, then you don't know your winter vegetables. Let us introduce you to winter squash. These gourds are ideal for roasting, grilling and making hearty soups — everything you want to eat during the coldest season of the year.
Winter squashes are actually grown in the summer months. They require a long growing season of 75 to 100 growing days and harvested in late fall. The "winter" in winter squash comes from the fact that some varieties, including butternut keep through winter if you store them in a cool, dark place — about 40 to 50 degrees Fahrenheit (4.4 degrees to 10 degrees Celsius).
"You store [them] in a dark, cool environment with a pretty steady temperature," Sarah Mobley says. She's the co-founder of Thyme to Party, an edible and ecological landscaper business in Atlanta. Mobley recommends washing your winter squash before storing them, ideally in your kitchen or basement — somewhere without too much humidity.
Choosing the right winter squash at the grocery store is similar to harvesting it in a garden, Mobley says. "A good indicator for knowing when winter squashes are ready to harvest is when the color deepens and the rind hardens so that it dents (but doesn't break) when you press your thumbnail into it," she says.
There are so many different varieties of squash, it's easy to get overwhelmed. So, what kinds should you try, and how do you prepare them? Here are five types of winter squashes and how to pick and prepare them.
Butternut Squash
Taste: Butternut squash is sweet, earthy and slightly nutty; it works well in soups and when paired with cinnamon accents.
How to buy: An excellent pear-shaped butternut squash will have skin that's hard and has a deep pink-tan color. Make sure there are no dents, soft spots or cuts on the skin. Pick one that's relatively small, up to 3 pounds (1.3 kilograms). Butternut squash will keep about three months.
How to prepare: Butternut squash is wonderful pureed in soup and topped with savory ingredients like blue cheese and bacon. You can also use a spiralizer for roasted noodles and top with pasta sauce. It's also excellent just roasted with salt and pepper.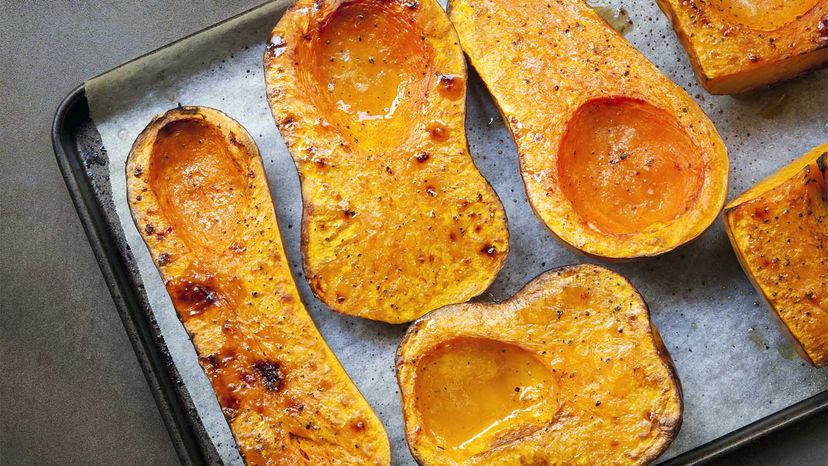 Butternut squash (seen here roasted) is delicious when pureed for soup or served hot out of the oven with salt and pepper.
Robyn Mackenzie/Shutterstock
Acorn Squash
Taste: Acorn squash has a mild flavor that's not very sweet. It's slightly nutty and buttery so it pairs well with either savory or sweet ingredients.
How to buy: Acorn squash is primarily round and is deep green with a few orange spots on the skin. When choosing acorn squash at the store, test for firm skin and skip those with soft spots or blemishes. Unlike other squashes, acorn squash only keeps up to a month.
How to prepare: Acorn squash is ideal for stuffing and roasting, which is Mobley's favorite way to prepare it. Ree Drummond of The Pioneer Woman suggests a combination of ground meat, cheese, a grain and a cooked green like kale for stuffing acorn squash. You can eat the skin too.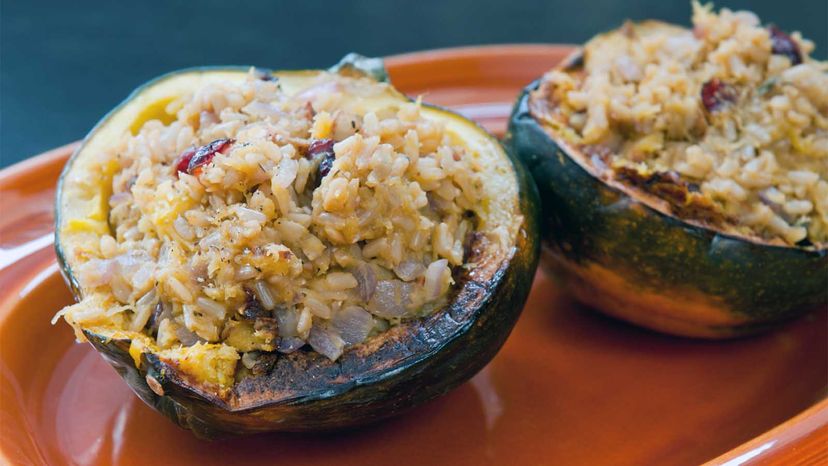 Acorn squash is ideal for stuffing. Here two halves are stuffed with rice, cranberries and onions.
JacobVanHouten/Getty Images
Spaghetti Squash
Taste: Spaghetti squash is very versatile because of its mild flavor — no sweetness here. This squash is all about texture as it pulls apart into noodle-like pieces.
How to buy: Spaghetti squashes are hefty — about 5 pounds (2.2 kilograms). Look for those that are mostly bright yellow and without any spots. Select the firmest one at the store; it should feel sturdy in your hands. Like acorn squash, spaghetti squash will keep about a month.
How to prepare: After cutting it lengthwise, drizzle the spaghetti squash with just a bit of olive oil, salt and pepper, and poke a few holes into the flesh with a fork. Roast in a 400-degree Fahrenheit (204-degree Celsius) oven for about 30 to 45 minutes. Scrape the flesh into strands when done and eat them with lemon pesto.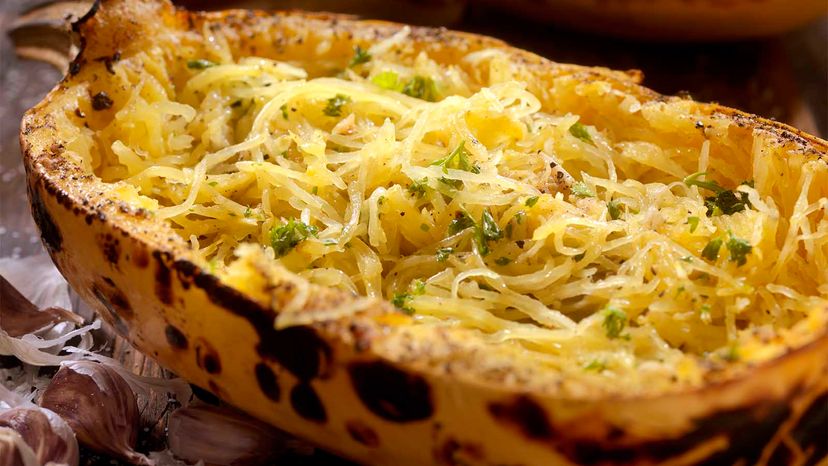 Spaghetti squash can roasted and served in its skin. It easily "spirals" with just a fork.
LauriPatterson/Getty Images
Delicata Squash
Taste: Delicata squash's creamy texture pairs well with its mild flavor. Often people describe the taste as similar to sweet potato.
How to buy: You can identify a delicata squash by its long shape and yellow and green stripes. Its skin is thinner than other winter squash, so it doesn't keep for long — only a couple of weeks. Make sure you grab one with no blemishes, soft spots or bumps. When stored properly, delicata squash can keep for about three months.
How to prepare: Easier to cut than many winter squashes, delicata is best prepared by slicing it into 1-inch (2.5-centimeter) rings and tossing the rings in olive oil, salt and pepper. Roast the rings in a 425-degree Fahrenheit (218-degree Celsius) oven until brown. The browner, the better.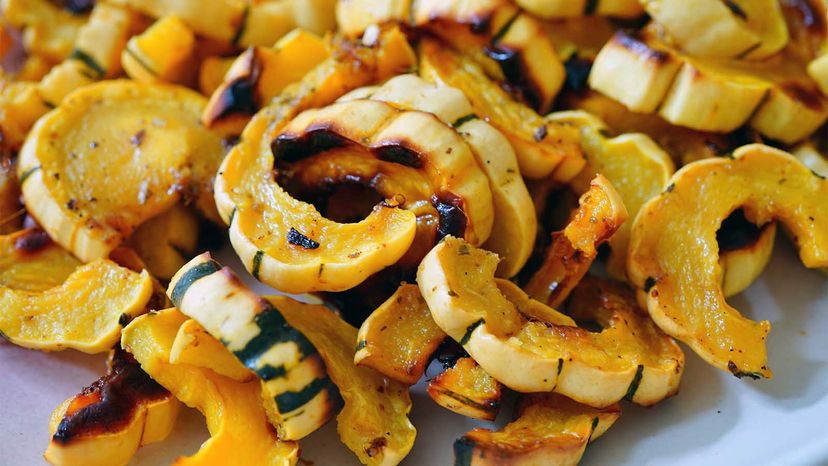 Roasted delicata squash is best when sliced and roasted until golden brown.
EQRoy/Shutterstock
Kabocha Squash
Taste: Kabocha squash is very similar in taste to pumpkin. It's sweet, slightly nutty and dense, with a smooth texture.
How to buy: Kabocha has a few bumps on its round shape, so don't be deterred by them. It should have a dark green coloring with firm skin. Just keep an eye out for soft spots. Kobacha can keep for about four months.
How to prepare: Kabocha's skin is thick and tough, so don't try to peel it off before cooking; plus the skin is edible. The best way to eat kabocha is sliced and roasted. Pop it in the oven for 10 minutes to soften, scoop out the seeds and then slice it, suggests Jeanine Donofrio of Love and Lemons. Then, cut wedges, coat with olive oil, salt and pepper, and roast in a 425-degree Fahrenheit (218-degree Celsius) oven until they're nice and brown.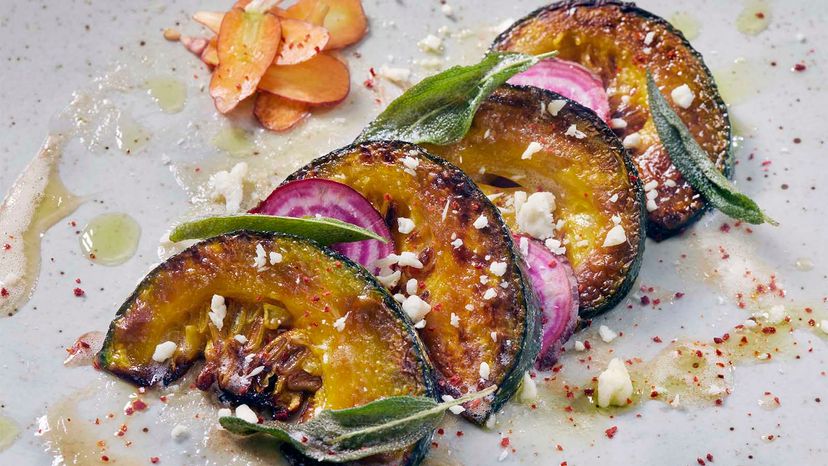 Kabocha squash is another winter squash that is best when sliced before being roasted. Here it's served with beets, goat cheese, and brown butter and sage vinaigrette.
LauriPatterson/Getty Images
Growing Your Own Winter Squash
If you want to attempt your own winter squash garden, be sure to check the seed details before you make any purchases. You'll need to buy seeds that thrive in your plant hardiness zone — a number that indicates what plants grow well in your area.
"Squash needs full sun, meaning six-plus hours a day. Generally speaking, any plants that produce a flower and then a fruit need full sun. The bigger the fruit, the more sun needed," Mobley says. "If you're in a very humid environment like the Southeast, be sure to water at the plant's base and avoid getting water on the leaves to avoid issues like powdery mildew."
Mobley's hardiness zone in Atlanta, for example, is 7B. Mildew-resistant and pest-resistant squash seeds will grow better in her area. Depending on the size of the winter squash, you can grow them in garden beds, grow bags for the smaller varieties, or on the ground like pumpkin patches.
"One of our favorite winter squashes to grow is the North Georgia Candy Roaster (a large pink, long winter squash), and we make a pie with it for Thanksgiving every year, much like a pumpkin pie," Mobley says.