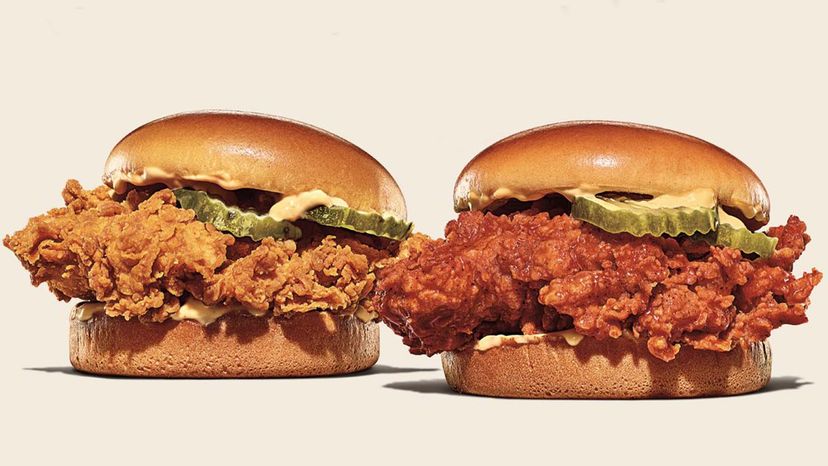 Burger King's new Ch'King sandwich (left) is hand-breaded and served on a toasted potato bun with pickles and a signature sauce. The Spicy Ch'King (right) is topped with, what else, a spicy glaze.
Burger King
The culinary world is one of mystery, intrigue and secret spices. Take the fried chicken sandwich. By the looks of it, there shouldn't be anything remotely controversial about such a simple sandwich of bread, chicken and toppings.
But instead there's a war that's been raging over who has the best in this battle of the burgers, ahem, sandwiches. Burger King introduced its new Ch'King sandwich — a direct competitor to Popeyes' fried chicken sandwich June 3, heating up the chicken sandwich wars yet again. Even Pringles announced a partnership with Wendy's to turn its spicy chicken sandwich into a new limited-edition Pringle flavor. Who's next? Taco Bell? Too late. The chain already offers a Crispy Chicken Sandwich Taco. How did we get here?
Who's the First?
There have been a lot of rumors swirling around the origins of the first fast food fried chicken sandwich. Most believe the honor goes to a guy named Truett Cathy, who in 1946 stuck a piece of chicken between two hamburger buns and called it Chick-fil-a. This cute, but unfortunately totally unsubstantiated, claim tells a nice tale, but it's now widely regarded as marketing propaganda. Fun story, though!
Regardless of its origins, a chicken sandwich — whether it be fried, grilled or chopped — is a fast food staple that's recently exploded in popularity since the 2019 drop of Popeyes now famous fried chicken sandwich.
Not only did Popeyes' new menu quickly make the rounds on social media, it also garnered the attention of YouTubers and news publications like Time — who said the sandwich lived up to the hype. Because of its popularity, Popeyes saw a whopping 38 percent spike in same store sales as reported during the fourth quarter of 2019, recontextualizing the simple four-ingredient sandwich as a cash cow (chicken?). Naturally, other brands wanted in on the action and so began the fast food fried chicken wars.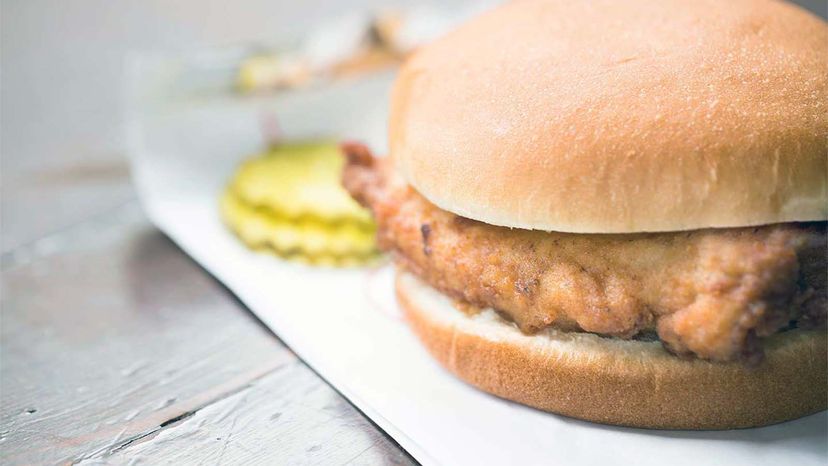 Chick-fil-A's classic chicken sandwich, which is also a breast of fried chicken served on a toasted, buttered bun with dill pickle chips, has been around the longest.
Chick-fil-A
The Best Beef Begins on Twitter
Widely considered the opening shots of war was an interaction on Twitter between Popeyes and Chick-fil-A when the latter released a suspiciously well-timed tweet touting love for its chicken sandwich. Popeyes commented on the brand's celebratory tweet with the infamous "... y'all good?", signaling to Chik-fil-A that the Louisiana chain was onto them.
According to HuffPost, Google searches for "Popeyes chicken sandwich" skyrocketed nearly 1,000 percent after the wry tweet, opening the proverbial floodgates for a new era of fast food. Soon, the debate started making the rounds, prompting this generation's fast-food version of Letterman versus Leno: Who made the best chicken sandwich? Popeyes or Chick-fil-A? But the fun didn't stop there.
"The media really branded it a war," says Restaurant Business & FoodService Director senior editor, Pat Cobe. "Now every chain that enters is adopting that tag. But I think it's longer lasting than a skirmish. There are now over 30 chains that are vying for 'chicken sandwich supremacy,' and new entries are coming on the market almost every week. Most try to differentiate their sandwich with a signature sauce or 'hand-crafted' breading, but the basic elements are the same: a breaded chicken breast filet, fried crispy and topped with pickles and mayo or a sauce on a brioche bun or potato roll. Some chains do two versions: a classic and spicy, like Nashville Hot."
By January 2021, it's estimated that more than two dozen fast food chains had their own version of the fried chicken sandwich — from KFC's double-breaded extra-crispy chicken fillet to Shake Shack's Korean-style Fried Chick'n Sandwich. It wasn't too long before some of the other fast food giants would notice.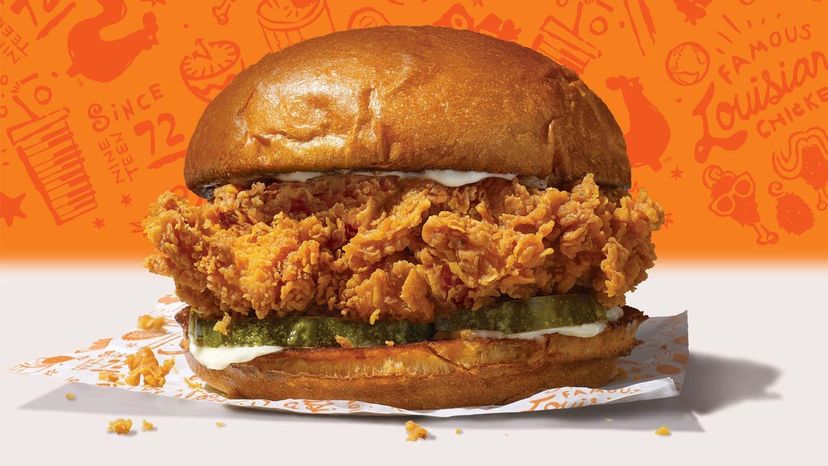 Popeyes chicken sandwich took the fast food world by storm in 2019. It's a buttermilk battered and hand-breaded chicken filet on a toasted brioche bun with two pickles and your choice of classic mayo or spicy Cajun spread.
POPEYES
McDonald's Gets in on the McGame
Enter McDonald's Crispy Chicken Sandwich. In February 2021, the renowned burger joint bet it all on a new sandwich that would make the McChicken look like McGarbage.
A February 2021 story in The New York Times spoke about McDonald's contribution to the fried chicken wars, calling this current altercation "the fiercest food-world fights in recent years." Fried chicken sandwiches were the second most requested item on DoorDash (just behind chicken fingers), with an estimated 65 percent of the U.S. population having ordered a breaded chicken sandwich in the last six months.
Back in 2019 and 2020, it wasn't just an influx of delicious sandwiches fueling this gruesome battle for white meat supremacy, but rather a decline in the beef industry prompted by coronavirus as well as a spiked interest in chicken.
"Fried chicken is the ultimate comfort food," Cobe says, "and that's what consumers were seeking during the pandemic. Plus, chicken sandwiches are portable, delivery-friendly and relatively inexpensive. All these attributes add up to their popularity. But the increase in demand by restaurants and consumers is pushing chicken prices up, especially with breasts and wings, and making it hard to find supply."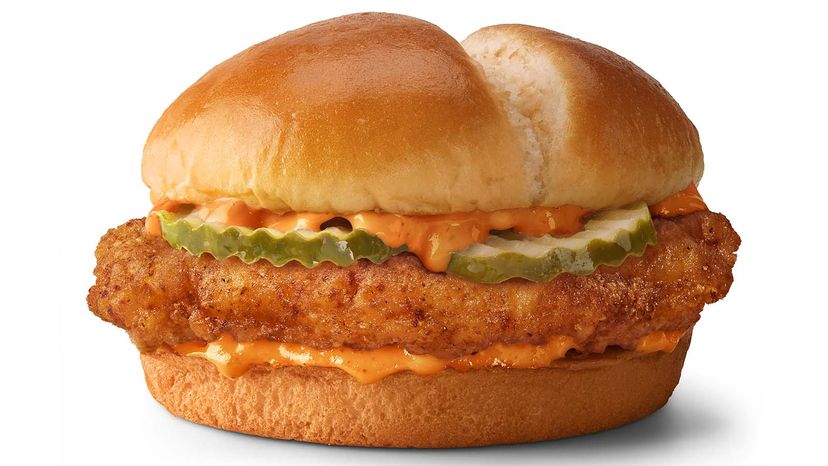 McDonald's got in on the chicken sandwich game in February 2021 with not one, but three different versions. The original (seen here), which is topped with pickles and served on a toasted, buttered potato roll; a spicier version of that topped with a pepper sauce; and a deluxe, which includes all the fixings.
McDonald's
Cobe also says both Popeyes and Chick-fil-A have a hand in raising the popularity of fried chicken as well as the so-called war.
"Chick-fil-A was really the first out with a premium fried chicken sandwich," Cobe says. "It's been on the menu for years, so it's a tossup between that chain or Popeyes for ownership, but the current war was definitely started by Popeyes. It created a lot of buzz on social media, caused long lines to form outside locations, and sold out in several areas. Meanwhile, other chains had been working on their own upgrades, including KFC and McDonald's, but Popeyes was first out of the gate."
With brand after brand releasing sandwich after sandwich, it's hard to know when this war will end. At the very least, we'll have plenty of delicious fried chicken sandwiches to snack on while we watch the action.
Originally Published: May 19, 2021