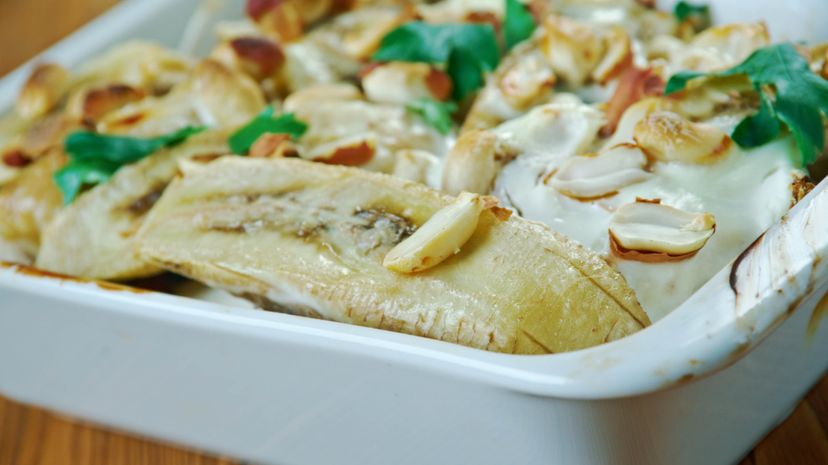 Sweden, 1976. The story goes that an air freight worker named Ove Jacobsson submitted a recipe to Swedish food magazine Allt Om Mat (All About Food) with a list of ingredients that read like a page out of Mad Libs: grilled chicken, Italian salad seasoning, whipped cream, chili sauce, bacon, peanuts and bananas. It sounds like the fever dream of a buffet janitor with a unique culinary sensibility. This mismatched cornucopia of conflicting flavors is none other than the Swedes' unique take on the casserole 'Flygande Jakob,' or Flying Jacob.
Sweden was a lot like America back in the 1970s — good vibes, pastel colors and ABBA all the way. Socialism was pretty big, too; but that was Sweden's vibe. Amongst the melodic pop and weekly candy runs, another social custom was blossoming in the tiny Nordic country: the dinner party. So, what was it about the Flying Jacob that struck a chord with Swedes when the ingredients sounded like a literal compost pile?
"Three things actually led to the popularity of this dish," says proud Swede and owner of Big Swede BBQ in Phoenix, Johan Magnusson. "The first thing was the communal eating in Sweden during the '70s. People in the middle class often had friends over, but it wasn't appropriate to serve fancy food back then, that was what the 'rich people' did, and it was frowned upon," Magnusson says. "So stews, casseroles and soups were very popular. You could feed a whole group of people, but it wasn't a 'show-off dinner.' The second thing that happened was that the middle class and working class started to fly on charter trips on their vacations to exotic locations and, by doing so, explored new flavors and ingredients."
Magnusson goes on to say these new jetsetters wanted to be reminded of their experiences upon their arrival back home in Sweden, fueling a nostalgia-powered foray into the culinary scene. Among some of the most desired "exotic" ingredients at the time were pineapples, bananas and peanuts.
And the third thing that helped popularize Flying Jacob? Allt om Mat — the culinary magazine that thrust the Flying Jacob into the limelight. In the '70s, anyone who considered themselves a Swede had an Allt om Mat subscription.
"The Flying Jacob recipe was published in the magazine in 1976, and due to its unique ingredients but also the fact it is so simple to make, quickly made it a household staple in Sweden," Magnusson says. "My mother also used to make it when I had friends over or when we had a party, so it has always been associated with laughter, friendship and joyful moments during my childhood. It is unique, it is different, and it tells a story about Sweden in the 1970s. And I like it when food tells stories. And when I give it to my American friends, I am almost guaranteed that nobody has ever had this dish before."
So, how do you make it? Easy! Grab some chicken breast, Italian salad spice, bananas, whipped cream, chili sauce, bacon and peanuts, and follow the original Allt om Mat recipe below: