White Wines
White wines tend to be lighter in taste than the red wines and are usually served chilled. Here are some of the traditional varietals:
Chardonnay
The world's most popular varietal, Chardonnay (shar-doh-NAY) is considered to be the greatest white wine, though Riesling lovers will dispute this. Chardonnay is grown in virtually all wine-producing countries; the result is a wine that is difficult to characterize in terms of flavors and aromas. The style varies dramatically and can range from elegant, refined, and somewhat austere to full-bodied, rich, and opulent. It all depends on where the grapes are grown and the winemaker's techniques. Contrast, for example, the more full-blown Californian and Australian versions with their French counterparts, Chablis and the white Burgundies of the Cote de Beaune, which tend to be more restrained and exhibit higher acidity.
Of all the white wines, Chardonnay takes to oak-barrel treatment the best; oak-influenced aromas and flavors of toastiness and smokiness sometimes dominate Chardonnay's fruit flavors, which include (depending on the origin of the grapes) apple, pear, peach, white melon, citrus, and tropical fruits such as pineapple, papaya, guava, and banana.
Most Americans seem to prefer Chardonnays that have a rich, buttery mouth feel and layered flavors that result from barrel aging and malolactic fermentation, a winemaking technique that converts tart malic acid (think about biting into an unripe green apple) into rounder, softer lactic acid.
California wineries particularly noted for Chardonnay include Chalone, Chateau Montelena, Far Niente, Ferrari-Carano, Kistler, La Crema, Sanford, and Shafer.
French Chardonnay is named for the growing area (rather than for the grape). Examples include Chablis, Mersault, Chassagne-Montrachet, Puligny Montrachet, and Corton-Charlemagne. Frequently, the specific vineyard will be indicated on the label, along with the official quality designation premier cru, sometimes written as ler cru (first growth), or, even better, grand cru (great growth). Excellent producers include Domaine Leflaive, Joseph Drouhin, Louis Jadot, Louis Latour, Leroy, Morey, Pernot, Antonin Rodet, and Laboure-Roi.
Gewurztraminer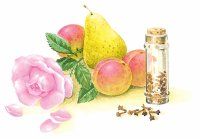 Considered a noble wine in Alsace, Gewurztraminer (geh-VAIRTZ-trah-mee-ner) has the distinction of being one of the easiest wines to recognize and the hardest to spell and pronounce. It is spectacularly fragrant, with heady scents of lychee nut, rose petal, apricot, pear, and clovelike spice (gewurz is German for spice). The flavors are similar to the aroma and quite pronounced; the texture is soft and velvety.
Gewurztraminer is most often made in a dry or off-dry style, though sweet versions (designated vendange tardive or, even sweeter, selection de grains nobles) can also be found.
The best examples come from Alsace and are labeled with the name of the grape, sometimes also with a vineyard designation. Notable producers include Ernest Burn, Domaine Bott-Geyl, Josmeyer, Albert Mann, Trimbach, and Zind-Humbrecht. Most of the excellent American versions come from the Anderson Valley in Mendocino, California. Look for such producers as Edmeades, Handley, Lazy Creek, and Navarro.
Muscat
Another very fragrant wine (even more so than Gewurztraminer), Muscat (MUHS-caht) features grapey, floral aromas that smell sweet, though the wine is usually made in an off-dry style. The best examples come from Alsace and are made by many of the same producers who make fine Gewurztraminer.
Pinot Blanc
A dry wine similar to Chardonnay but not as complex, with aromas and flavors of white melon and citrus, usually made with little or no oak. Again, the best examples come from Alsace and are made by many of the same producers who make fine Gewurztraminer. Oregon Pinot Blancs are also quite good, offering clean, fruity flavors and mild spice; look for wines made by Amity, Foris, and WillaKenzie. Other respected names of Pinot Blanc (PEE-noh blahnk) include California's Au Bon Climat, Chalone, and Mirassou and Alsace's Zind-Humbrecht and Trimbach.
Pinot Gris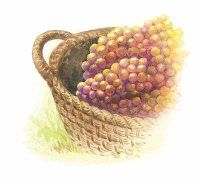 A dry wine whose broad flavor profile ranges from apple, pear, and peach to melon, citrus, banana, and tropical fruit. Occasionally, there's also a vaguely smoky, nutty, or vanilla taste that suggests oak, which may be enhanced if oak is actually used in making the wine. Pinot Gris (PEE-noh gree) is known for its inherently opulent texture and good acidity; few dry white wines are as silky smooth as a good Pinot Gris. The wine is called Pinot Grigio in Italy, where it is made in a leaner style with crisp acidity.
Long an important wine in Alsace, fine Pinot Gris is also made in Germany (where it's labeled Grauburgunder) and California and Oregon (where it may be labeled as either Pinot Gris or Pinot Grigio). Notable California producers of Pinot Gris/Grigio include Byron, Navarro, Long Vineyards, Mosby, and Swanson. Respected names in Oregon Pinot Gris include Amity, Bethel Heights, Chehalem, Elk Cove, Erath, King Estate, Oak Knoll, Ponzi, Rex Hill, and WillaKenzie.
Riesling
Regretfully underappreciated in the United States, Riesling (REECE-ling) is considered by most connoisseurs to be one of the world's greatest (if not the greatest) white wine. It can be made in the full spectrum of styles, from bone dry to incredibly sweet and rich. Unlike most white wines, Riesling can be cellared for many years, developing remarkable depth and complexity over time. Forward fruit, crisp acidity, purity, and low alcohol are Riesling's hallmarks.
Riesling is Germany's greatest and most important wine; superb bottlings are also made in Alsace and Austria, mostly in a dry style. Its aromas are fruity, but not grapey, and range from apple and lemon to peach and apricot, sometimes with a floral component (lemon blossom), sometimes with a minerallike edge that is usually quite complex, especially with age. When made with riper, late-harvest fruit, Riesling displays varying intensities of a honeylike character. The naturally crisp acidity gives the body a certain firmness and balances the residual sugar in the wine, so that it comes across as ripe rather than sweet, except when made in a dessert style.
In general, European Rieslings tend to be far more complex and flavorful than those made in the United States, mainly in California, Washington, and New York, because the special growing conditions found in the Old World can't be duplicated in this country. American Rieslings are made mostly in an off-dry to slightly sweet style. Dry-style Rieslings from Australia are quite impressive.
Germany's finest Riesling producers include Fritz Haag, Donnhoff, Gunderloch, von Simmern, Robert Weil, Kunstler, J. J. Prum, von Buhl, Burklin-Wolf, and Dr. Loosen. Highly recommended producers from Alsace include Zind-Humbrecht, Trimbach, Schlumberger, Marc Kreydenweiss, Marcel Deiss, Hugel, and Domaine Weinbach. Austrian producers of excellent Riesling include Hirtzberger, Prager, Pichler, Jamek, Knoll, Nikolaihof, Brundlmayer, and Nigl. In Australian Riesling, look for bottlings from Grosset, Henschke, Leasingham, Leeuwin Estate, Penfolds, Petaluma, and Wolf Blass.
Sauvignon Blanc
A dry wine made in a variety of styles, sometimes called Fume Blanc (FOO-may BLAHNK) in the United States. In France, the wine is usually labeled with the name of the producer and the region (for example, Pouilly-Fume), though "Sauvignon" sometimes appears on the labels of wines from the Loire Valley.
The hallmark of Sauvignon Blanc (SAW-vee-nyonh BLAHNK) is a pleasant grassiness or green herbaceousness, which may be quite subtle or very pronounced, depending on the winemaker. This characteristic accents aromas and flavors ranging from white melon, citrus, and subtle fig to white peach and mango. Sauvignon Blanc can be made as a lean, racy wine with crisp acidity or as a barrel-fermented wine with another varietal, usually Semillon, blended in for a richer palate. White Bordeaux wines are prime examples of the latter style; New Zealand offers excellent Sauvignons of the racy style with quite obvious grassy qualities.
California wineries make Sauvignon Blancs in all possible styles. Some of them are especially noted for the wine, including Brander, Chateau St. Jean, Dry Creek Vineyard, Geyser Peak, Mason Cellars, and St. Supery.
Viognier
An exotic, fragrant dry wine with an alluring array of aromas and flavors, Viognier (VEE-oh-nyay) makes for an intriguing drinking experience. The wine's heady perfume consists of all or some of the following: honeysuckle, citrus blossoms, oriental lychee nuts, very ripe white melon, freshly picked peaches and apricots, and ripe pears just after they've been peeled. Your nose tells you the wine will be sweet, but your palate is surprised to encounter a dry nectar offering flavors of ripe pear, lemon-lime citrus, almond, spice, peach, and apricot, sometimes with a honeyed nuance. Lush and sticky on the palate, with more body than most Chardonnays, the wine's aftertaste is not at all cloying, but fresh and vibrant, impelling you to take another sip.
Viognier originated in the Rhone Valley in France. Here the wine is labeled by producer and growing area. Chateau Grillet is famous for the varietal. In the New World (particularly California, where Rhone varietals are increasingly popular), Viognier has found a niche with distinctive bottlings (labeled as Viognier) from Alban, Bonterra, Calera, Jade Mountain, and Joseph Phelps.
White Zinfandel
Not a true white varietal, White Zinfandel (TZIN-fan-dell) is the product of winemaking techniques that quickly separate the juice from the skins of Red Zinfandel (which would otherwise provide color and tannin) when the grapes are crushed. This results in a blush wine, which is a white wine made from red grapes. Most White Zinfandel is made from grapes grown in California's San Joaquin valley. Although a popular drink (more than 20 million cases are sold each year), it's not considered a serious wine.
White Zinfandel is pink or coral in color, with a light body, usually somewhat sweet or at least off-dry, with simple aromas and flavors of strawberry or cherry and a note of citrus, such as orange zest. It may also be slightly spritzy.
Of course white wines only tell half the story. In the next section and you'll discover the elegant and flavorful world of red wines.