Red Wines
Red wines are made from, you might suspect, red grapes, but they actually get their color from the grape skin that is used in the fermentation process. White wine, on the other hand, can be made from any variety of grapes because the juices are almost always clear.
Cabernet Franc
One of the main Bordeaux varietals, Cabernet Franc (cah-burr-NAY FRAHNK) is somewhat similar to Cabernet Sauvignon, but less distinctive. Although it can be found as a varietally labeled wine, it is more commonly used for blending; it adds a bit of blueberrylike fruit, a violet floral note, and some green herbaceousness. However, when tended carefully in the vineyard and treated with respect by the winemaker, it can be an exceptionally good wine. California wineries that bottle fine examples of Cabernet Franc include Beringer, Chimney Rock, Gundlach Bundschu, Imagery, Jekel, Lang & Reed, La Jota, Niebaum-Coppola, Pride, and Reverie.
A fair amount of Cabernet Franc is grown in Washington state, where it makes a medium-bodied wine with good acidity and bright red fruit flavors. Look for Badger Mountain and Columbia Winery.
In the Loire Valley of France, Cabernet Franc is made into a lighter wine called Chinon. In Bordeaux, it is a reliable blending component, achieving particular greatness when blended with Merlot as in Chateau Cheval Blanc (St.-Emilion).
Cabernet Sauvignon
The undisputed king of red wines, Cabernet Sauvignon (cah-burr-NAY saw-vee-NYONH) is grown throughout the winemaking world and displays a certain family resemblance wherever it is made despite nuances that come from variations in soil, climate, and other growing conditions. The wine's classic aromas and flavors are black currant (sometimes called cassis), dark berry, plum, and black cherry. Cabernet Sauvignon can display herbaceous qualities, sometimes dried herbs (anise and sage), sometimes green herbs (green olive and bell pepper), along with mint and cedar; the oak barrels used for aging the wine can impart spice and vanilla notes as well.
Young Cabernet Sauvignon is generally a ripe and powerful wine that may seem somewhat harsh and astringent because of its tannins (chemical compounds that come from the grape's skin and seeds when crushed to make the wine). Thanks to those tannins, Cabernet can age for many years, developing a softer texture, greater complexity, and more mellowness, elegance, and grace along the way. Winemakers can, and often do, employ techniques to make their Cabernets less astringent for the many consumers who enjoy young, robust, fruity wines.
In France, Cabernet Sauvignon is a principal component in the red wines of Bordeaux, where it is customarily blended with other classic varietals, notably Cabernet Franc and Merlot. These wines are not labeled varietally, instead bearing the name of the estate winery, such as Chateau Margaux or Chateau Haut-Brion, and the particular growing area (called an appellation) from which the grapes came, such as Graves, Pauillac, St.-Estephe, or St.-Julien.
In the United States, the best Cabernet Sauvignons are produced in California's Napa Valley. Well-respected leaders include Beaulieu Vineyard (BV), Beringer, Caymus, Far Niente, Groth, Robert Mondavi, Joseph Phelps, Shafer, and Stag's Leap Wine Cellars.
Merlot
Found wherever Cabernet Sauvignon is grown, Merlot (mehr-LOW) is one of the classic Bordeaux varietals. Although the wine bears a resemblance to Cabernet, it is plumper and softer, with pleasant sweet-fruit flavors that focus on currant and cherry (both red and black) fruit. It also exhibits less tannic astringency when young. The hallmark of fine Merlot is a rich, supple texture.
In Bordeaux, Merlot is blended into the wines of the region to tone down some of Cabernet Sauvignon's rougher, tannic qualities. It is the most important component in the wines of the Pomerol and St.-Emilion regions. Merlot can be found under a varietal label in wines from southern regions of France, such as Languedoc-Roussillon.
California and Washington grow most of the Merlot in the United States, producing wines in a variety of styles. Merlots that contain a fair amount (up to 25 percent) of Cabernet Sauvignon tend to be full-bodied wines that require some cellaring before they should be consumed. Another style relies less on the presence of Cabernet Sauvignon, yielding a softer, medium-bodied wine with less tannin and brighter, cherrylike fruit. Merlot specialists in California include Beringer, Chateau St. Jean, Duckhorn, Mason Cellars, Matanzas Creek, St. Clement, St. Francis, Shafer, and Whitehall Lane.
Washington's Merlots are the state's best red wines and are generally made to be more approachable young than California's Merlots. Names to look for include Canoe Ridge, Chateau Ste. Michelle, Leonetti, L'Ecole No. 41, Northstar, and Snoqualmie.
Nebbiolo
Considered noble by the Italians, Nebbiolo (neb-bee-OH-low) is the grape variety used to make Barolo and Barbaresco -- powerful, dramatic, long-lived wines named after two important wine-producing towns in the region of Piedmont in northwest Italy. Wines made from Nebbiolo feature very deep color (almost black), high tannins and acidity, aromas and flavors of raspberry and dark berry, floral accents of violets and roses, exotic spice (such as star anise), a full body, and fine concentration of flavor. They are usually made in small quantities and are thus expensive. Names associated with the best of these wines include Antinori, Ceretto, Angelo Gaja, Pio Cesere, Albino Rocca, and Luciano Sandrone.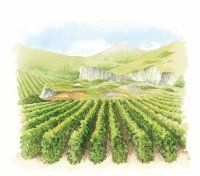 Petite Sirah
Produced almost exclusively in California, this is a bold, tannic red wine with flavors and aromas of dark berry, blueberry, cinnamon-clove spice, and, often, black pepper. Sometimes called Durif (its true grape name), Petite Sirah (puh-TEE see-rah) should not be confused with Syrah, a very distant relative that makes classic, much more elegant wines. Producers best known for their Petite Sirahs include David Bruce, Concannon, Foppiano, Guenoc, Ridge, Rosenblum, and Stag's Leap Wine Cellars.
Pinot Noir
Close on Cabernet Sauvignon's heels as one of the world's greatest red wines, Pinot Noir (PEE-noh NWAHR) is made in much smaller quantities because the grape requires just the right growing conditions to produce excellent wine. Pinot Noir reaches its height of perfection in the Burgundy region of France, where it is labeled by the name of the growing region (such as Nuits-St. -Georges, Vosne-Romanee, Chambolle-Musigny, Pommard, or Gevrey-Chambertin), the producer, and the specific vineyard. The best of these wines will also have the quality designation, "premier cru," (or, "ler cru") or, "grand cru," on the label.
Classic Pinot Noir is a silky smooth wine with a soft, round, medium-full body. Flavors of ripe, sweet red or black cherry, plum, raspberry, currant, and spice correspond wonderfully with fragrant aromas, accented by notes of wilted roses, cola, and sometimes a mushroomy earthiness. Vineyard conditions and location have a greater impact on Pinot Noir than on any other red wine.
The best red Burgundy is very expensive and scarce, and quality depends very much on the success of the vintage. The most celebrated producers are Bouchard, de Vogue, Bruno Clair, Domaine de la Romanee-Conti, Domaine Dujac, Faiveley, Robert Groffier, Louis Jadot, Louis Latour, Domaine Dominique Laurent, Leroy, Meo-Camuzet, Denis Mortet, Mommessin, and Daniel Rion.
Fine examples of Pinot Noir can also be found in California, Oregon, and, to a lesser extent, Australia. California producers include Acacia, Au Bon Climat, David Bruce, Calera, Chalone, Dehlinger, Gary Farrell, Kistler, Rochioli, Saintsbury, and Sanford. For Oregon Pinots, look for the wines of Archery Summit, Bethel Heights, Chehalem, Domaine Drouhin, Erath, King Estate, Panther Creek, Ponzi, Rex Hill, and WillaKenzie.
Sangiovese
This is the principal grape variety used to make Italian Chianti (kee-AHN-tee), as well as better renditions called Chianti Classico, Chianti Classico Reserva, Vino Nobile di Montepulciano, and Brunello di Montalcino, all from Tuscany in northwest Italy. Outside Italy, Sangiovese (san-joe-VAY-say) may be varietally labeled.
The wine offers a sprightly, cherrylike fruit quality, hints of dried roses or violets, comparatively high acidity, and firm tannins.
Textbook examples of Sangiovese-based wines come from Italian producers such as Antinori, Castello de Brolio, Castello Banfi, Fontodi, Frescobaldi, Lanciola, Le Corti, and Nozzole.
Sangiovese is a relative newcomer to California vineyards, and success with the varietal has been spotty so far. Some of the better efforts are made by Altamura, Benessere, Flora Springs, Luna, and Swanson.
Syrah
This variety is used to produce the magnificent wines of the Northern Rhone Valley in France, where they are labeled not by grape variety but by specific growing area and producer. Cotes-Rotie, Hermitage, Crozes-Hermitage, Cornas, and St. Joseph are considered the finest examples of the varietal. In the Southern Rhone Valley, Syrah (sear-RAH) is blended with up to ten other varietals to create the wine named for the region, Chateauneuf-du-Pape.
The hallmarks of a fine varietal Syrah are its deep, dark color and attractive, distinctive, complex aromas of dark berry, black cherry, plum, black pepper, brown spice, violets, dark chocolate, tar (actually akin to subtle asphalt), licorice, and leather (reminding one of a saddle shop or glove leather), and often a gamy or meaty smell that one might encounter in a butcher shop (fresh red meat or aged venison). The rich, generous flavors should correspond to the aromas. It has a softer, rounder, and fuller body than most other red wines; a smooth, supple texture; and none of the rougher tannins found in many young Cabernet Sauvignons, though the tannins are ripe and firm.
Northern Rhone Syrah producers include Paul Jaboulet Aine, Chapoutier, Bernard Chave, Jean-Luc Colombo, Delas Freres, Domaine Courbis, Domaine du Colombier, Domaine Desmeure, Pierre Gaillard, E. Guigal, Gentaz-Dervieux, Robert Jasmin, Rene Rostaing, and Sorrel.
Shiraz
Made from exactly the same grape variety as Syrah, Shiraz (Shih-RAHZ) is the name by which the wine is known in Australia, where it is the country's greatest wine, and South Africa, where several producers have been quite successful (Helderberg, Rust en Vrede, Slaley, Spice Route, Waterford). Some California Syrahs are also labeled as Shiraz. Shiraz was a town in ancient Persia (modern-day Iran), where the Syrah grape is thought to have originated. Respected Australian Shiraz producers include Jim Barry, Grant Burge, Chateau Reynella, Coriole, d'Arenberg, Elderton, Hardy's, Henschke, Jasper Hill, Peter Lehmann, Mount Langhi Ghiran, Penfolds, Rosemount, St. Hallett, and Yalumba.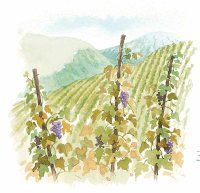 Syrah is a relative newcomer to California vineyards, but it has emerged in recent years as an exciting and successful development. Top-flight producers include Arrowood, Dehlinger, Domaine de la Terre Rouge, Foxen, Geyser Peak, Hanna, Havens, Lewis, McDowell, Meridian, Nyers, Joseph Phelps, Qupe, Swanson, and Truchard.
Some good-quality Syrahs are also made in Washington (Cayuse, Columbia, Columbia Crest, Covey Run, Glen Fiona, Hogue, Kiona, L'Ecole No. 41, Terra Blanca), Chile (Carmen, Crucero, Santa Rita, Vina Montes), and Argentina (Bodegas Balbi, Bodegas y Vinedos Santiago Graffigna, Finca Flichman, Luca, Vina Patagonia).
Zinfandel
California claims this grape variety as its own and produces virtually all the Zinfandel (TZIN-fan-dell) to be found. Unlike other major grape varieties found in California, whose ancestry is pretty well documented, no one can say for certain where Zinfandel originally came from. Well suited to California's growing regions, Zinfandel is made into various styles of wine, most of which feature a spicy element.
Zinfandel's basic varietal profile features aromas and flavors of berry and cherry, almost always a certain spiciness, often black pepper or brown spice, and lively acidity. In a well-behaved claret (rhymes with "carrot") style, Zinfandel has mild tannins; a smooth, round texture; and various shadings of oak that come from the barrels used for aging--coconutlike scents when American oak is used, vanilla when the winemaker uses French oak. In a medium-full style, Zinfandel displays exuberant berry fruit and more intense elements of pepper, spice, and oak. Full-bodied Zinfandel is made from ultraripe fruit and is intensely flavored with medium-full or full tannins. Late-harvest and Port-like styles are also made; these are rich in body with raisinlike fruit and chewy tannins and are quite peppery and high in alcohol.
Check the alcohol level on the label to determine which style is in the bottle. Generally, the higher the alcohol, the bigger the style. Claret style is between 12. 5 and 13. 5 percent; medium-full is 13. 6 to 14. 8 percent; full-bodied is 14. 9 to 15. 9 percent; late harvest is 16 percent and higher.
Producers noted for excellent Zinfandel include Robert Biale, Cline Cellars, De Loach, Edmeades, Fife, Folie a Deux, Gallo-Sonoma, Greenwood Ridge, Hartford Court, Haywood, Hendry, Kenwood, Limerick Lane, Pezzi-King, Rancho Zabaco, Ravenswood, Ridge, Rosenblum, St. Francis, and Seghesio.
As you have probably gathered from some of our descriptions, many of these wines are mixed together to create different tastes and textures. In the next section, we will explore blended wines.