Blends
Blends are wines that do not carry a single varietal designation. Some of the finest wines in the world -- from Bordeaux, Burgundy, and the Rhone Valley in France, for example -- are in this category, as are Opus One, Insignia, and Monte Bello from California wineries. In some cases, the wine label will include the varietal components of the blend, sometimes with exact percentages. This is frequently the practice in Australia and Washington.
The practice of blending different varietals together to create a particular style of wine is hardly new. Winemakers have known for centuries that finely honed varietal blending techniques can result in a complex wine in which the whole is greater than the sum of its parts. Bordeaux and the Rhone have traditionally provided the models for these blends, yet modern winemakers have brought their own innovative concepts into play to entice the wine lover to try something new and exciting.
Bordeaux-Style
By tradition, and today by regulation, Bordeaux wines may be made only from certain, specified grape varieties. For red wines, that means Cabernet Sauvignon, Merlot, Cabernet Franc, Malbec, and Petit Verdot. Virtually no Bordeaux winemaker uses only one, very few use all five. For whites, Sauvignon, Semillon, and Muscadelle are specified, and at least two are almost always used.
Winemakers in other countries have used these two models in their efforts to emulate the successful wines of Bordeaux. In California, for example, a varietal wine must contain at least 75 percent of the grape variety named on the label. Winemakers who want to produce a wine in which no component reaches that level create their blend along Bordeaux lines. Most of these wines bear a fanciful name that the winery has the exclusive right to use. Examples of these "proprietary Bordeaux-style blends" include Insignia from Joseph Phelps and Monte Bello from Ridge Vineyards. Opus One, from the winery of the same name, is another example.
A small number of such wines, from Guenoc Winery and St. Supery, for example, are labeled simply as "Meritage" (rhymes with heritage), a word that was coined in 1981 to represent the concept of a California wine made as a Bordeaux-style blend.
Rhone-Style
This is a red blend similar in concept to the Bordeaux-blend model, however the grape varieties are those of the Rhone Valley, particularly the southern Rhone growing region known as Chateauneuf-du-Pape. Up to 13 grape varieties can be used, including Grenache, Mourvedre, Carignan, Cinsaut, Syrah, as well as a couple of white grapes, including Viognier.
California wines in this style, in which no one varietal comprises at least 75 percent of the blend, are labeled under a fanciful, proprietary name, such as Le Mistral from Joseph Phelps, Bonny Doon's Le Cigare Volant, and Fife Vineyards' L'Attitude 39.
New-Age Blends
Using any combination of grape varieties that strike their fancy, modern winemakers are creating some exciting wines that go well beyond the traditional blends mentioned above. They might combine Cabernet Sauvignon with Syrah, for example, as Swanson Vineyards does for a wine called "Alexis. " In some vintages, Alexis may have more Syrah than Cabernet in its blend, other vintages will be just the opposite, and in still others it may be a 50-50 blend. Another example is "Paraduxx" from Duckhorn Vineyards, which blends together Zinfandel, Cabernet, and Merlot. There are no rules, and anything goes!
Wines referred to as "super Tuscans" are nontraditional blends and varietals from the Tuscany region of Italy, representing the creativity and energy of a new generation of winemakers. They are, for the most part, superior to the traditional wines of the region, such as Chianti Classico, Vino Nobile di Montepulciano, and Brunello di Montalcino. Many super Tuscans are made from Bordeaux varietals, such as Cabernet Sauvignon and Merlot, and from Syrah. Some blend the region's traditional Sangiovese with Cabernet or Merlot. Examples include Col d'Orcia's pure Cabernet Sauvignon called Olmaia, as well as the Sangiovese blend called Camartino from Agricola Querciabella. You won't find the words "super Tuscan" on the label because this is a category of wine, like "Bordeaux-blend."
Most of these New-Age blends (both reds and whites) have fanciful, proprietary names, like Alexis and Paraduxx, whereas others are labeled with the varietal components, sometimes giving the percentages, as is often the case with Australian versions.
Champagne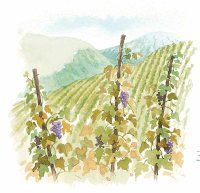 Two or more grape varieties are almost always used to create Champagne. For French Champagne, the varieties that may be used are Pinot Noir, Chardonnay, and Pinot Meunier, exclusively.
Winemakers in other countries who make sparkling wine in the style of Champagne use these varieties as well.
However, when the wine is labeled "blanc de blancs," which means a white wine from white grapes, only Chardonnay is used to make the Champagne.
We have already alluded to some of the information you can get from a wine label, such as the percent of a varietal in a blended wine. In the next section, we will tell you how to decode a wine label and how it can help you pick the right bottle.