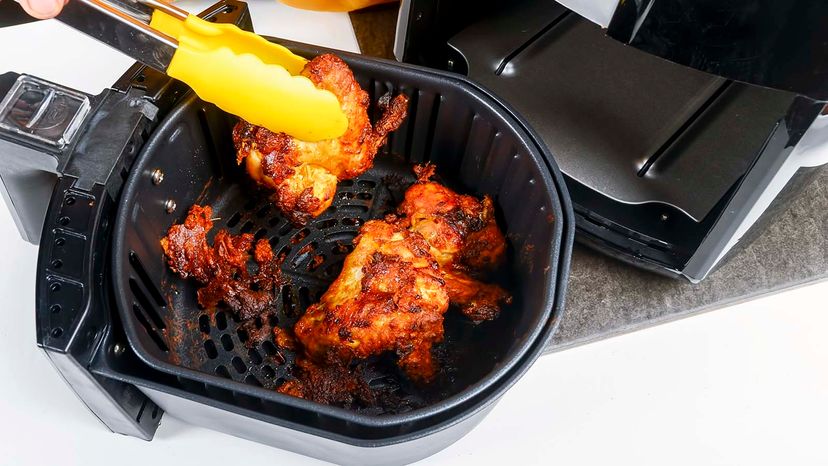 Air fryers let you "fry" everything from chicken legs and french fries to fish filets and cookies, using nothing but hot air.
iam/Getty Images
An oven that promises crispy foods, less fat and quick heating times may sound like a far-fetched miracle, but it's not these days. We're talking about air fryers. Yes, the same air fryer your friends, family and even you probably have, like millions of fellow air-frying Americans.
The compact air fryer has been flying off the shelves since its introduction in Europe in 2010. Almost 10 million air fryers sold in the U.S. between May 2017 and March 2019, according to the NPD Group research firm. And, nearly 2 million more air fryers sold in the four months before July 2020 than the same time in 2019. The air-fryer market is expected to keep soaring, reaching a $1,425.7 million market size by 2026, according to Allied Market Research, with both consumers and the hospitality industry as primary buyers.
Why are these mini ovens selling like air-fried hot cakes? It's largely due to those promises of calorie cutting and quick heating speeds.
Inside the Air-frying Process
The health promises may sound lofty, but the air-frying process is hardly revolutionary. These small kitchen appliances, which work like convection ovens, use fans to circulate hot, dry air to cook and crisp foods like potatoes, chicken wings and jalapeño bites with a faux-fry effect. The process mimics deep frying, but unlike, say, the typical french fry process where potatoes are fried in oil, air frying relies mostly on, well, air. This fat-curbing measure can help people reduce up to 80 percent of calories, according to the Cleveland Clinic.
Speed is another attractive air-fryer promise. Air-fryer brand New Air says the mini ovens can go from room temperature to 300 degrees Fahrenheit (148 degrees Celsius) in less than three minutes. Meanwhile, the average time required to preheat a standard-size oven from room temperature to 350 degrees Fahrenheit (176 degrees Celsius) is about 15 minutes. Plus, with traditional deep frying, you'll have wait for the oil to heat to the right temperature before cooking. With the air fryer, you just plug it in, turn it on, place your food in the basket and go.
How to Cook With an Air Fryer
Of course, cooking with an air fryer does require some prep work and understanding. The first thing to know is whether an air fryer is the best choice for cooking your desired dish. Foods dipped in liquid batter — like onion rings — aren't ideal because the batter can seep through the air-fryer basket's holes, creating a mess and equally unappetizing food.
It's best to stick with dry-seasoned items — from baked potatoes and bacon to mozzarella sticks and cookies. According to Food Network, some of the most unexpected air-fry-friendly foods include hard-boiled eggs, croutons, quiche and even ravioli.
When it's time to cook, it's best to follow the manufacturer's directions, but typically you want to set the air fryer to preheat before adding the food. This will allow the food the best chance to cook evenly. Usually a temperature between 350 and 375 degrees Fahrenheit (148 degrees and 190 degrees Celsius) is ideal for frying most foods.
The time it takes to cook is usually anywhere from several minutes to an hour depending on the meal. Bacon needs between eight and 12 minutes, while denser foods like whole chicken could take up to 65 minutes, according to Cook Smarts. Vegetables typically require between five to 15 minutes, although whole potatoes may need up to a half-hour.
Here's where things get tricky: Most air-fryer baskets are small (hence the compact fryer size). They come in a 2 or 5.8 quarts (2 or 6.5 liter) capacity; that's ideal for one to two people and, sadly, no leftovers, according to Simply Recipes.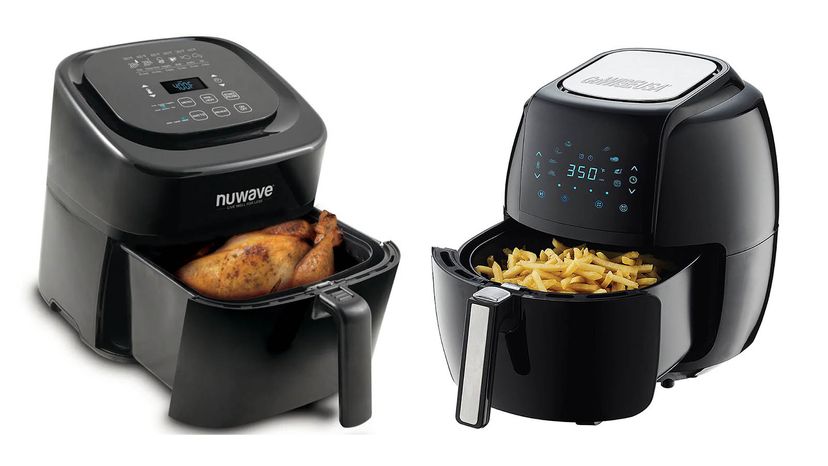 Consumer Reports named the NuWave 37001 (left) and GoWise GW22731 (right) two of the hottest air fryers on the market.
Amazon
The Best Air Fryers on the Market
With air fryers in such high demand, it's not surprising there are many options on the market. Consumer Reports tested dozens of the industry's leading air fryers, and chose the 3.4-quart Elite Platinum EAF-1506D, the 3.2-quart Farberware HF-919B, and the GoWise GW22731 as some of the best air-fryer buys around. The 5.8-quart NuWave 37001, almost double the capacity of other top air fryers, is a great option for families or those who rely heavily on leftovers.
If you're ready to start cooking with yours, we turned to the air-frying enthusiasts behind the blog Air Fryer World for some recipes. They create each recipe — and then test them — on multiple air fryers to ensure readers yield delicious results. Here are five recipes for air-fry beginners:
HowStuffWorks may earn a small commission from affiliate links in this article.
Originally Published: Sep 30, 2020