Cakes Around the World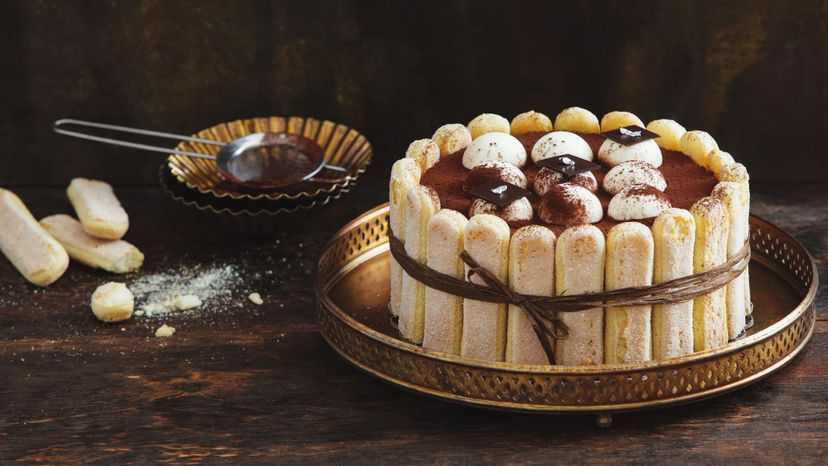 Just about every region in the world has some version of a cake. North America is particularly fond of cakes. In fact, the Indian pound cake was developed soon after Europeans settled, and incorporates corn meal into the recipe. Later, enslaved African-Americans created several cakes now known for being ubiquitously Southern, such as the Lady Baltimore Cake, the pound cake and the coconut cake. Many of these bakers had a working understanding of ingredients seldom used in the United States until that point, such as coconut.
The Boston area, in particular, is credited with the development of the classic chocolate layer cake, at the encouragement of chocolate companies who hired women to develop new uses for the ingredient [source: Martyris]. Strawberry shortcake is a seasonal favorite that made its way over from the Old World. Today, it pairs sponge cake (or sweetened biscuits) with berries and whipped topping [source: Marks]. The Dole pineapple company helped to propel its product into popularity via a 1926 contest calling for use of the fruit in a recipe. Of the tens of thousands of recipes submitted, 2,600 were variations on pineapple upside-down cake, still a beloved confection today [source: Avey].
Meanwhile, a small poll in Great Britain recently showed that the Victoria sponge cake is the favorite (or should we say, favourite?) cake to bake (although chocolate cake was the favorite to eat) [source: Sunday Express]. A traditional tea-time dessert, the Victoria sponge— named for Queen Victoria — is a standard two-layer cake, except it uses a fruit jam for a filling in place of icing [source: Berry].
Italians developed tiramisu, which layers lady fingers dipped in coffee with sweetened mascarpone cheese and cocoa. The Pavlova (named for the ballerina Anna Pavlova), is so beloved that New Zealand and Australia have fought bitterly over its country of origin. It turns out that the fruit-topped meringue emerged in New Zealand in 1927, much to the chagrin of proud Aussies everywhere [source: Li].
In South Africa, people love malva pudding, a very sweet pudding served with a sauce, while Latin Americans like tres leches, a sponge cake soaked in three milks: condensed, evaporated and whole milk. In Japan, there is a special treat called dorayaki, which consists of two pancakes with a filling of anko (sweet red bean paste) inside.
With thousands of cake recipes worldwide, we could go on ad nauseam about the variations of the beloved dessert. The beauty of cake is that the sky is the limit.
Cake FAQ
Why is cake called cake?
The word cake is derived from the Old Norse word, "kaka."
How do you make a cake from scratch?
A standard cake recipe typically includes flour, a type of sweetener, eggs, some kind of fat, a liquid, a leavening agent to help it rise and flavoring. The ingredients interact with each other to produce cakes of varying density, texture and taste.
Why do you add boiling water to chocolate cake?
It helps the cocoa powder to dissolve and brings out the chocolate flavor.
How can I make my cake soft and moist?
A fat source is usually included to improve texture, moistness and overall flavor. Sour cream or pudding are good additions for moistness. Liquids also help make the cake moist and improve its overall texture.
What are the four methods of cake making?
A cake usually falls into one of these categories: creaming method, no-aeration method, egg foaming method and all-in-one method.
Originally Published: Jun 28, 2017
Author's Note: How Cakes Work
In these uncertain times, at least most of us can agree that a celebration of any type isn't complete without a cake. My personal favorite is a highly unattractive, yet delicious Southern yellow cake that I dubbed "chocolate cement cake" as a child because the fudge icing hardens to the point that you can actually knock on it without doing damage. Yum!
Related Articles
More Great Links
Sources
Avey, Tori. "American Cakes Throughout History." PBS. July 8, 2015 (May 11, 2017) http://www.pbs.org/food/the-history-kitchen/american-cakes-history/

Baking Industry Research Trust. "Ingredients and Their Uses." 2017 (May 22, 2017) http://www.bakeinfo.co.nz/School-Zone/Baking-Basics/Ingredients-and-their-uses

Berry, Mary. "Mary Berry's Perfect Victoria Sandwich." BBC. 2017 (May 7, 2017) http://www.bbc.co.uk/food/recipes/mary_berrys_perfect_34317

Coffman, Rich. "The History of the Birthday Cake." Hankering for History. Jan. 16, 2013 (May 21, 2017) http://hankeringforhistory.com/the-history-of-the-birthday-cake/

CraftBaking. "Mixing Methods." (June 23, 2017) http://www.craftybaking.com/howto/mixing-method-basics

Davidson, Alan. "The History of Cakes." Penguins History of Food (May 8, 2017) http://www.devlaming.co.za/the-history-of-cakes

Daily Express. "Victoria Sponge, chocolate or carrot? Britain's favourite cake REVEALED." April 29, 2016 (May 8, 2017) http://www.express.co.uk/news/uk/665594/Britain-favourite-cake-revealed-Victoria-sponge-chocolate-carrot-lemon-drizzle-fruit

Field, Jenni. "Ingredient Function: How do Eggs Function in Baking?" Pastry Chef Online. 2017 (May 8, 2017) https://pastrychefonline.com/2015/03/14/how-do-eggs-function-in-baking/#

Horn, Jason. "10 Secrets to Baking Perfect Cakes." Cooking Light. June 1, 2010 (June 18, 2017) http://www.cookinglight.com/cooking-101/techniques/cake-baking/view-all

Huff, Tessa. "Baking School Day 6: All About Butter and Baking." The Kitchn. Oct. 12, 2015 (June 18, 2017) http://www.thekitchn.com/baking-school-day-6-all-about-butter-and-baking-222484

Hunt, Patricia. "The History of Icing and Frosting." Leaf TV. 2017 (May 21, 2017) https://www.leaf.tv/articles/the-history-of-icing-frosting/

The Foods of England. "Marchpane Cakes." 2016 (May 21, 2017) http://www.foodsofengland.co.uk/marchpane.htm

Lauterbach, Sharon and Julie A. Albrecht. "Functions of Baking Ingredients." Digital Commons @University of Nebraska. Jan. 1, 1994 (June 18, 2017) http://digitalcommons.unl.edu/cgi/viewcontent.cgi?article=1412&context=extensionhist

Li, Zoe and Maggie Hiufu Wong. "Cakes of the world: Tiramisu, baklava, cheesecake and more national treats." CNN. April 2, 2017 (May 11, 2017) http://www.cnn.com/2016/08/22/travel/world-national-cakes/

Lovejoy, Rachel. "What are the functions of flour in baking?" The Bump. 2017 (May 8, 2017) http://living.thebump.com/functions-flour-baking-8798.html

Malgieri, Nick. "Cakes: Recipes and Tips." Epicurious. 2017 (May 8, 2017) http://www.epicurious.com/archive/howtocook/primers/cakestypes

Marks, Gil. "American Cakes – The History of Strawberry Shortcake." Tori Avey. 2017 (May 11, 2017) http://toriavey.com/toris-kitchen/2013/05/history-strawberry-shortcake-recipe/

Martyris, Nina. "Make America Bake Again: A History of Cake in the U.S." NPR. Nov. 7, 2016 (May 8, 2017) http://www.npr.org/sections/thesalt/2016/11/07/501032393/make-america-bake-again-a-history-of-cake-in-the-u-s

Masibay, Kimberly Y. "What Every Baker Needs to Know About Sugar." Fine Cooking. 2017 (May 8, 2017) http://www.finecooking.com/articles/how-sugar-affects-baking.aspx

Naylor, Sharon. "Wedding Cake Prices: 20 Ways to Save Big." Huffington Post. June 12, 2013 (May 8, 2017) http://www.huffingtonpost.com/2013/06/12/wedding-cake-prices_n_3423921.html

The Nibble. "A Brief History of Cakes." 2017 (May 8, 2017) http://www.thenibble.com/reviews/main/cookies/cakes/glossary.asp

Nowak, Claire. "Here's why you should thank the ancient Greeks for your birthday cake." Reader's Digest. 2017 (May 21, 2017) http://www.rd.com/culture/origin-of-birthday-cake/

Park, Michael Y. "A History of the Cake Mix, the Invention That Redefined 'Baking.'" Bon Appetit. Sept. 26, 2013 (June 18, 2017) http://www.bonappetit.com/entertaining-style/pop-culture/article/cake-mix-history

Sowder, Amy. "What's the difference between banana bread and banana cake?" Chowhound. April 30, 2016 (June 18, 2017) https://www.chowhound.com/food-news/176143/whats-the-difference-between-banana-bread-and-banana-cake/

Thomson, Julie R. "Cake Baking Mistakes Everyone Needs to Stop Making." Huffington Post. June 6, 2012 (June 18, 2017) http://www.huffingtonpost.com/2014/06/30/common-cake-baking-mistakes_n_1571776.html

Woods, Judith. "Please don't kill off the wedding cake!" The Telegraph. June 9, 2015 (May 8, 2017) http://www.telegraph.co.uk/foodanddrink/11659503/Please-dont-kill-off-the-wedding-cake.html
Cite This!
Please copy/paste the following text to properly cite this HowStuffWorks.com article: